I love to eat, (that's probably why I eventually loved running) and two of my favorite styles are Japanese and Western. Korean and Vietnamese are slowly making my top list too. Anyway, I love Japanese for their sushi and simply how fresh everything seems. The meat is so tender and the sauces are just right. On the other hand, I love American food for its exaggeration of flavors! I love salty food, I love burgers and I definitely love steak! So what happens when these two styles collide? You get Ma Maison.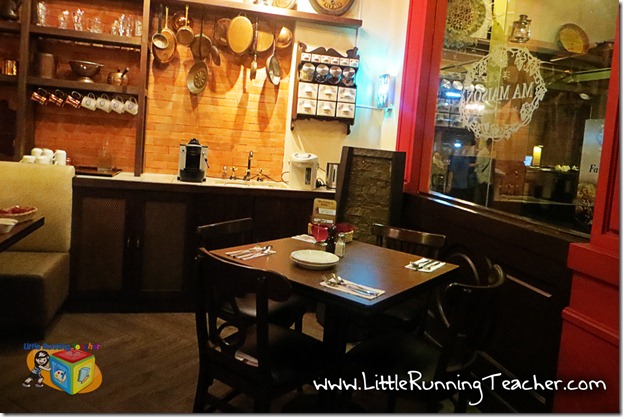 Ma Maison: A Fusion of Western and Japanese Food
Ma Maison is a restaurant that serves a mixture or fusion of Western and Japanese dishes. It's a unique way to go especially if you're tired of the usual dishes. Looking at the venue, you can clearly see how this is no ordinary Japanese or American restaurant. The walls and pillars make it look like a Western restaurant, but the tablecloth and other decorative pieces give it that Asian taste. A perfect blend if I must say.
Dinner Time!
I went to Ma Maison with a 5 other friends for the first time late last year. I enjoyed the food so much that we weren't able to take photos of ourselves – something not usual for me. So what's to eat?
Chasoba Salad (P425)
Cold green tea soba, ham, egg, tomatoes with cucumber in Japanese mayonnaise and sesame dressing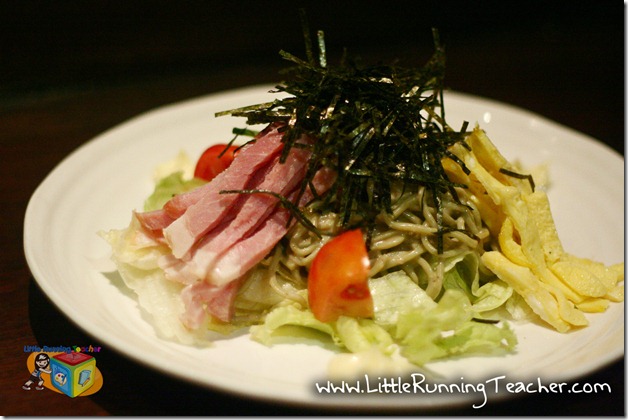 The Chasoba Salad is one of Ma Maison's house specialties. It was very pleasing visually, the mixture of meat and vegetables made the colors vibrant and stand out. Despite my bitter relationship with green tea, (I'm really not a fan! weird huh?) I actually enjoyed it on the Chasoba Salad. It tasted like a different kind of spice.
Camembert Cheese Fritters (P385)
Deep fried beer battered camembert cheese slices with honey vinaigrette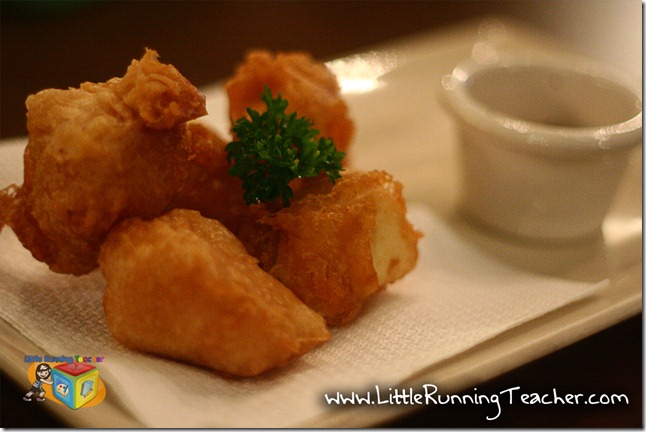 I love mostly anything that has cheese in it and this is no exception! At first, I didn't really think that the vinaigrette would taste good with the cheese, I was even hesitant to try it out. Once I did, I was in cheesy-vinegar heaven. (does that make sense?) It was a weird fusion but really good, they just compliment each other. Moreover, I enjoyed the crunchy covering and the soft insides of the cheese fritters. Yum! Oh, and did I mentioned this is battered with beer? Uh-huh!
Pork Dumplings (P225)
Ground pork stuffed steamed dumplings served on a bed of red and green cabbage and special donburi sauce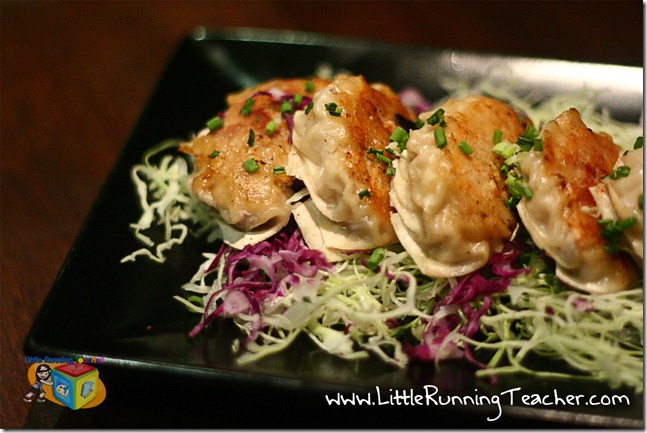 There was something different about the dumplings. specifically the covering that I couldn't quite put my finger on. Don't worry, by different I mean good. One thing I loved about it though is that the covering did not just "sink" in with the meat as others do. It somehow tasted as if the meat was cooked separately and just inserted inside by some form of wizardry! hehe
Japanese Style Spaghetti (P295)
Mushrooms, onions, bacon, shimeji mushroom and egg in Japanese style-sauce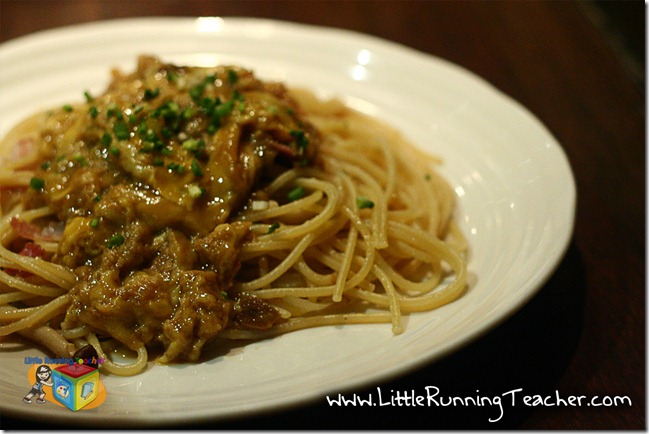 Who doesn't love spaghetti? I'm sure you've tried Italian style and Filipino style spaghetti, but have you tried Japanese spaghetti?  Oh you should! I'm not sure about other versions of Japanese spaghetti, but Ma Maison's version was slightly creamy and the meat was sweet and tender. Yakiniku sauce was used to add flavor to the sizzling beef on this delicious pasta.
Ma Maison's House Specialty Tonkatsu (P395 for 160g)
Wafu-style pork cutlet covered with Nama Panko, fresh, crispy Japanese bread crumbs. Perfectly matched with Ma Maison's homemade Tonkatsu sauce.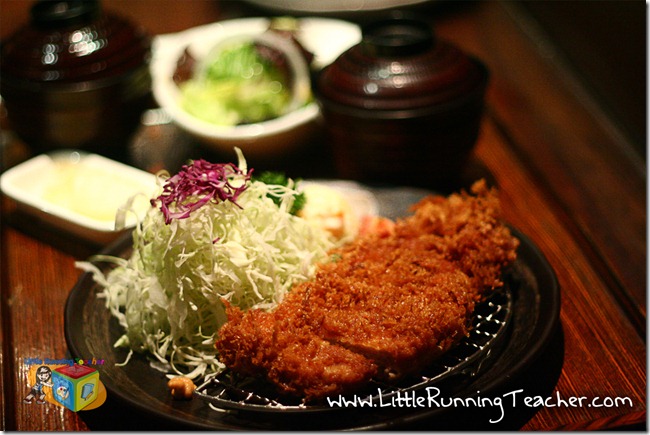 I love Tonkatsu but often get bored after a while because of the breading. However, Ma Maison uses special Yamapangco breading which really added flavor to the pork.  It actually kept me wanting more. The sauce used for the Tonkatsu was also really good. It had a slight hint of barbeque sauce in it, but it was nothing like it. Not sure if I made sense there. It had just the right amount of saltiness to compliment the Pork Tonkatsu.
Mixed Seafood Katsu Set (P450)
Served with miso soup, side salad and Japanese rice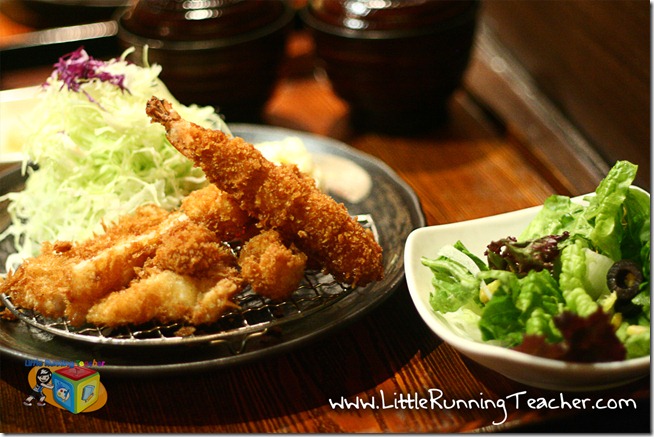 Ooohh… PRAWN! I love seafood. When we eat seafood, specifically squid, I'm sure you've noticed how when not cooked properly, it can seem a little 'rubbery'. Well Ma Maison's squid was not like that at all. It was actually soft and chewy. Cooked to perfection.
Sizzling Beef Set (P370)
Stir-fried beef in yakiniku sauce, served with egg, Japanese rice and mixed vegetables.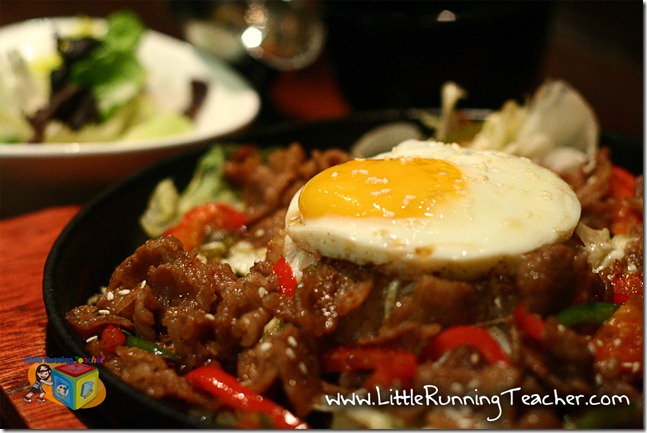 I've always loved Japanese beef so I'm slightly biased when it comes to this. I obviously loved it and this was of course one of my favorites. It actually tasted slightly like Gyudon. Can I please have more?
Chicken Teriyaki (P395)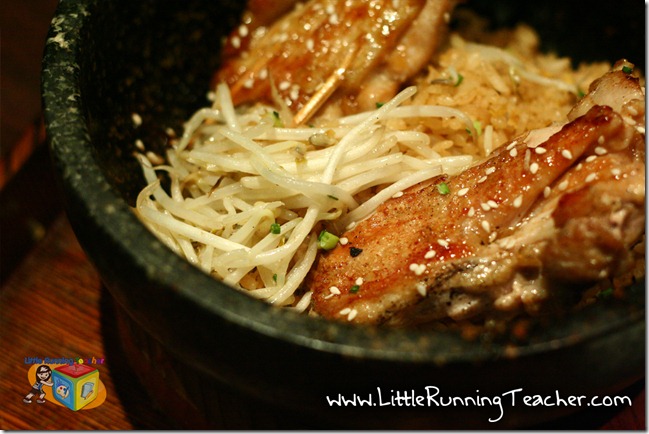 Chicken teriyaki is of course one of our all time favorites when it comes to Japanese food. I especially liked Ma Maison's teriyaki because it wasn't too sweet. It was just right to tickle my taste buds keeping me wanting more!
Desserts:
Frozen Green Tea Brazo de Mercedez (P185)
Four layered frozen dessert with egg meringue green tea ice cream, custard cream and graham crust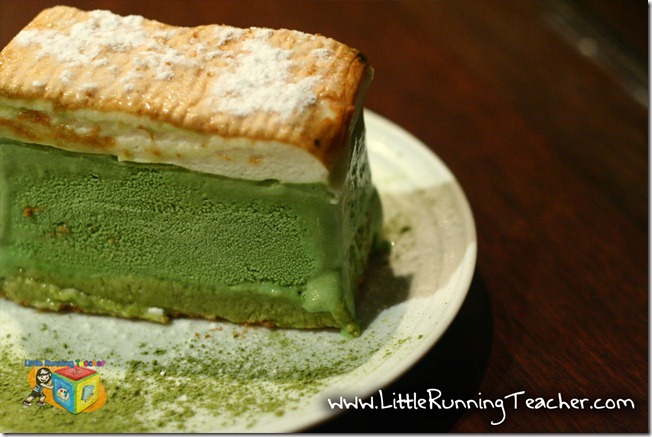 Have I mentioned I didn't like green tea? Oh I have huh, well let me say it again.. I don't like green tea. Ma Maison however has really found a way to make me like it! From their Chasoba Salad which I mentioned above to his Four Layer Green Tea Brazo de Mercedez! I LOVED IT!! The crust is made of buttered graham which to me, tasted really good with the green tea. I'm starting to love green tea because of these Ma Maison dishes!
White Chocolate Mixed Fruit Tart (P195)
Sweet pastry crust filled with white chocolate cream and topped with mixed fruits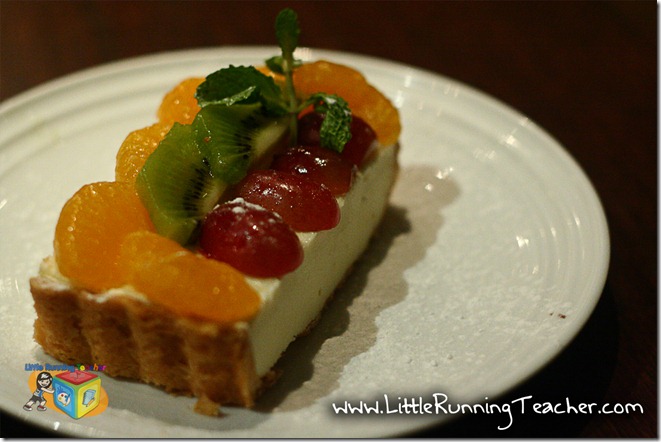 The fruits were fresh and the white chocolate was really good. However, I didn't really like the combined taste. It was good, don't get me wrong.. the kids LOVED it. Personally though, I wanted to eat the fruits as is and the chocolate as is. The white chocolate was already divine on its own.

Overall, I really had a WONDERFUL time at Ma Maison and I really fell in love with their dishes! There was also a comment card placed on the table (I failed to take a photo of that) where they would ask you to leave a comment via texting! I found that to be a really good idea especially since some customers prefer to be left anonymous. Besides the splendid food, the ambiance was also really comfortable. It felt like a Japanese home which was invaded by Americans! haha Definitely a must-go-must-eat place for the year!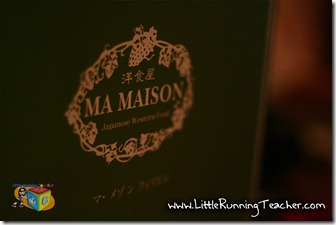 Ma Maison Japanese Western Food
G/F Greenbelt 2, Esperanza St Legazpi Village, Makati
(02) 729-9122
Operating Hours:
Sunday to Thursday: 11AM – 12MN
Friday to Saturday: 11AM – 1AM