A couple of weeks ago, my friend Eli invited Philippe, Ivy and myself to join him for brunch at Flapjacks Robinson's Place. It's not often that I eat breakfast out so this is one of the rare moments that I truly cherish. Good people, good food, what more could I ask for?
Flapjacks Restaurant
Upon entering, the first thing I noticed was the huge FJ sign on the wall! It looked really cool and the color patterns were enticing! I also noticed the awesome interior design and furniture! Especially the clocks that hung as lamps on the ceiling!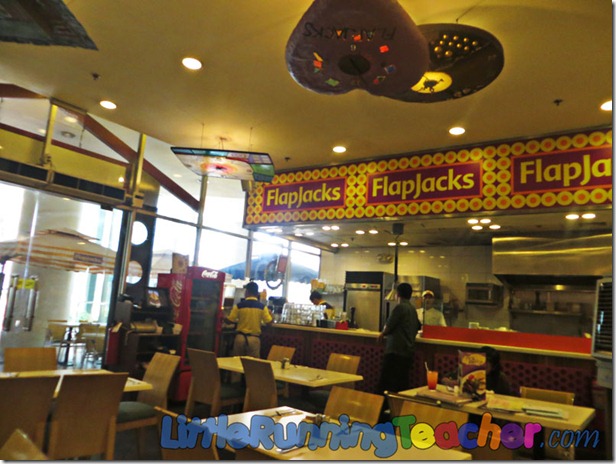 Flapjacks Famous Breakfast
Flapjacks is well known for its FAMOUS BREAKFAST, SUPER LUNCHES and GREAT DINNERS! For our feature, we decided to try their best breakfast dishes!
Beef tapa is one of the most common breakfast meals in the Philippines, and it is also one of Flapjacks' best sellers!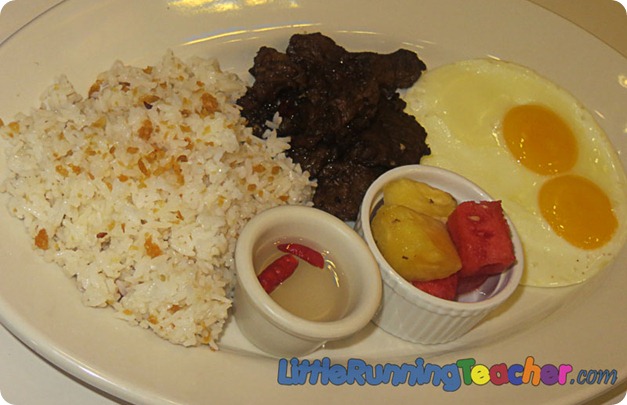 Beef Tapa
Classic beef tapa with garlic rice and 2 eggs cooked in any style 325PhP
Another dish we tried was their Chicken Longganisa. Philippe enjoyed this the most. According to him, it was unlike the normal chicken longganisa because of it's somewhat sweet taste. Moreover, he liked that it wasn't skinless as this added to the texture of the food.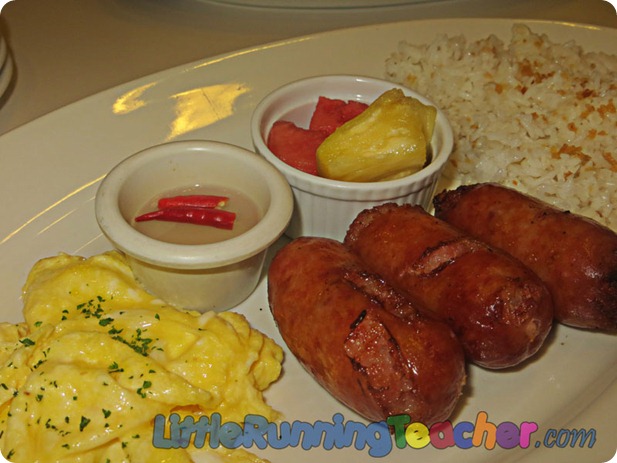 Smoked Chicken Longganisa
Homemade chicken sausage, garlic rice and 2 eggs (cooked any style) 285PhP
Next up was the American Platter. Ivy loved their pancakes! I personally am not a fan of pancakes because the taste bores me (I know I'm weird), but Flapjacks' pancakes had an extra ingredient to it other than just pancake mix and eggs! The syrup was also much thicker than usual. I love the shape of the butter! haha We were so confused whether it was butter or ice cream!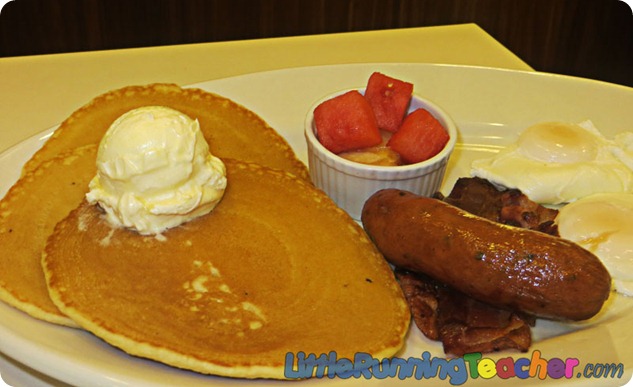 American platter
Breakfast garlic sausage, bacon, pancake and 2 eggs (cooked any style) 395PhP
Well, we weren't done ordering yet so we asked the staff to give us 2 of their best LUNCH MEALS. It was BRUNCH after all right?
So we had Flapjacks Barbeque Pork Ribs Combo…. oooohh! I absolutely love ribs!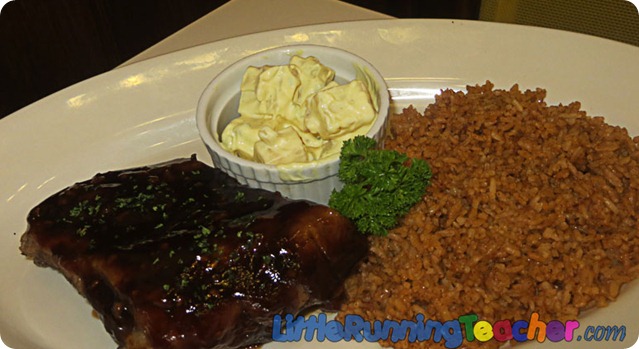 BBQ Pork Ribs Combo
Tender, tasty pork ribs in BBQ sauce served with tex-mex rice and potato Waldorf salad 385PhP
And last but not least, we also got to taste their Fried Chicken Breast. Boy were we stuffed!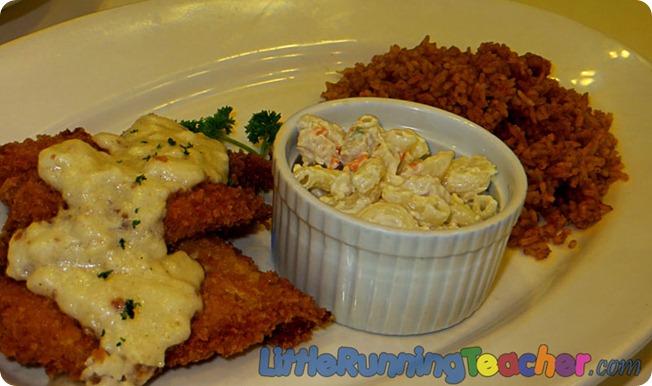 Country Fried Chicken Breast
Served with creamy gravy, tex-mex rice and macaroni salad 295PhP
Finally to quench our thirst, we ordered some delightful fruit shakes!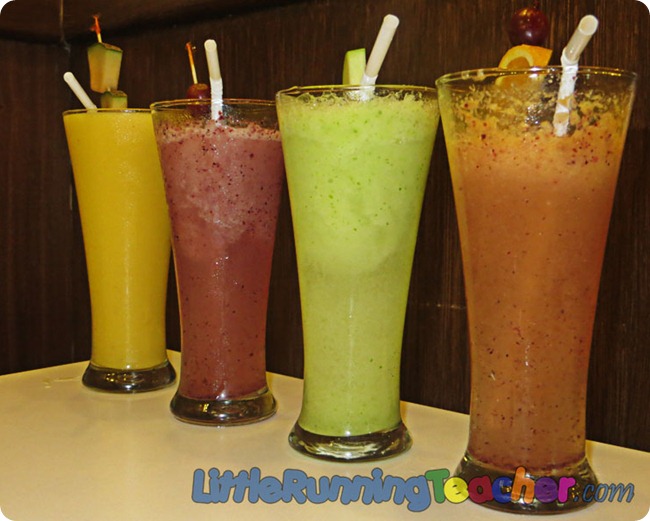 From left to right
Summer Splash: a mix of mango, melon and pineapple 135PhP
Fresh Fruit Shake: Grape Flavor 135PhP
Fresh fruit shake Green Mango flavor 135PhP
Granny's Favorite: a mix of apple, orange and grapes 135PhP
We had a great time at Flapjacks. The staff was very accommodating and the place was really pleasant for a morning cup of coffee!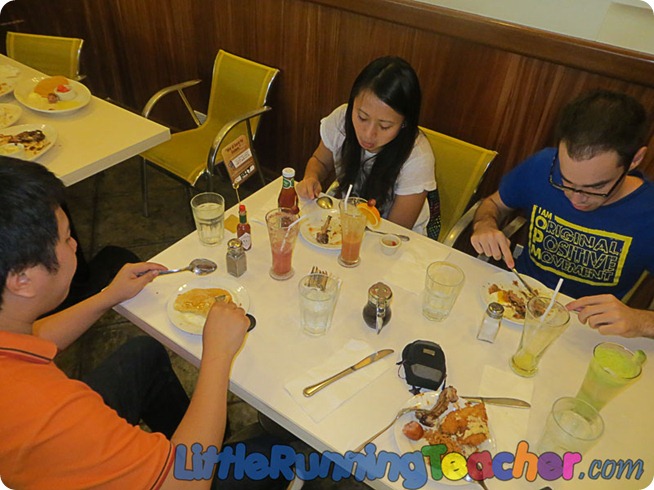 –
Flapjacks Restaurant Locations:
GREENHILLS BRANCH
F&B3 Arts Plaza, Greenhills Theatre Mall, San Juan
Contact Person: John Roy Bonto
Contact Numbers: 584-0639 / 0917-507-8654
TECHNOHUB BRANCH
Retail Center, Ayala TechnoHub, Commonwealth, Quezon City
Contact Person: Mitch Del Rosario
Contact Numbers: 4411314 / 0917-582-6731
MIDTOWN BRANCH
Level 1, Al Fresco, Robinson's Place Manila Midtown, Manila
Contact Person: Rose Anyaya
Contact Numbers: 567-2745 / 0917-5078646
–
Store hours: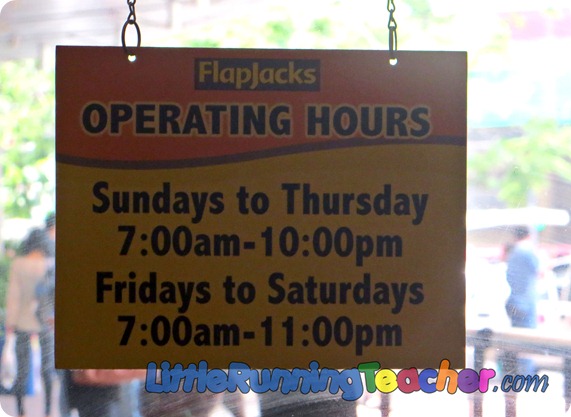 *Full Disclosure: All dishes served were courtesy of Flapjacks Restaurant, Robinson's Ermita branch
P.S. For news and promos, check out Flapjacks' Official Website HERE
–
….Till our next meal! :)
– Teacher Cheryl