Where my runners at? Here's a little something for you!
Ever heard of Thorlos Running Socks? Here's what Coach Rio has to say about it! "Socks are as important to runners as running shoes, maybe even more important. Good socks must prevent friction, give good cushioning and prevent sweating. Thorlos does all of these. They have really good cushioning and really protect your toes and the balls of your feet. Foot doctors recommend Thorlos to prevent blisters and to eliminate injuries. Also, your feet don't sweat in Thorlos, so you can prevent foot problems like athlete's foot and fungus, as well. If you ask people who have used Thorlos for a long time, they'll say that if it has one disadvantage, it's that they seem to last forever – won't sag, won't lose shape or cushioning."
I personally own a pair of Thorlos and I love it! Running with it feels as if I just ran with my bedroom slippers!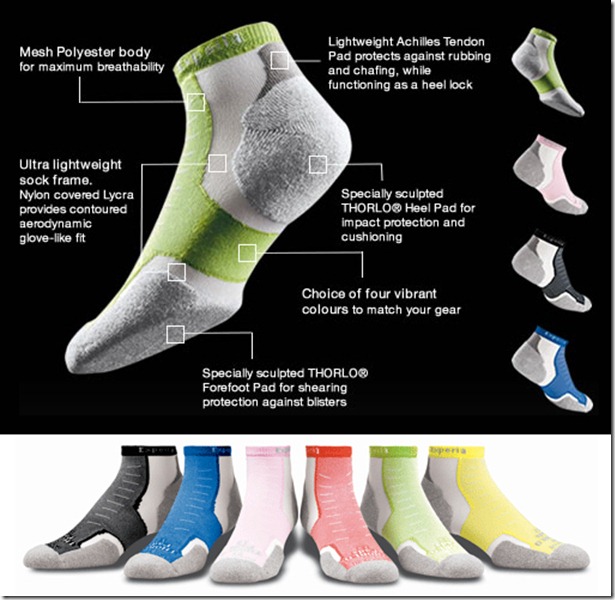 This week, I'll be giving away 3 pairs of Thorlos Xperia Socks!! Thanks to our sponsors from Thorlos! Winning these socks is really simple, here's what you have to do:
Little Running Teacher 2nd Anniversary Prize: 1 pair black Thorlos Xperia Socks each for 3 winners (SRP 799 PhP)
Contest winners must be AVAILABLE to to claim the prizes at Fort Bonifacio Taguig on Sept. 8-10, 2012
Contest duration: Sept. 1-5, Winners will be announced on or before Sept 7!


a Rafflecopter giveaway

For more info, check out there pages here:
Website: http://www.thorlosphilippines.com/
Facebook Page: https://www.facebook.com/thorlosphilippines
Disclosure: All items here sponsored by Thorlos