Thanks to all those who joined part 1 of my anniversary giveaway! If you didn't win, DON'T WORRY coz I've still got A LOT MORE stuff to giveaway!
For part 2 of my giveaway, I'll be giving away a Moringa O2 Loot Bag worth P569.25 SRP!
"Moringa-O2 stands for Moringa (malunggay), olive oil and omega. Moringa-O2 is the first and only product which have harnessed the three powerful miracles of nature into one product. These have been used through thousands of years and have gained loyal followers worldwide."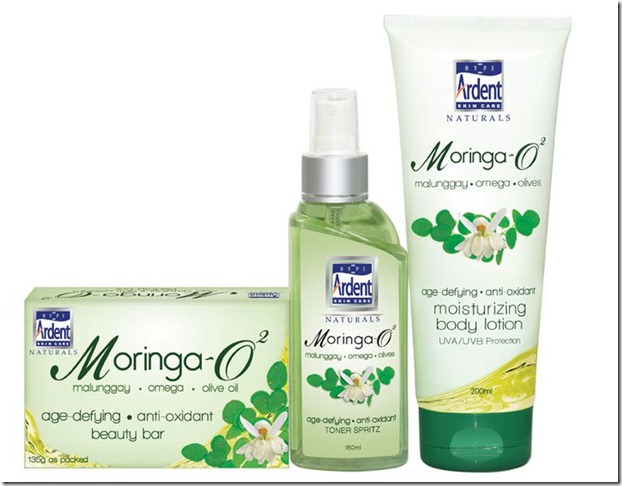 Moringa O2 Age-defying Anti-oxidant Beauty Bar
The Moringa O2 Beauty Bar has All Natural Anti-oxidants, and gives Age-defying Protection and Intense Moisturizing! Moringa is rich in Vitamins C and A, and minerals like potassium, calcium and proteins. It is treasured for its nutritional and therapeutic properties. The Moringa O2 Beauty Bar also helps reduce inflammation on the skin and relieves itchiness caused by bacteria.It is naturally anti-bacterial and anti-acne.
Moringa O2 Age-defying Anti-oxidant Moisturizing Body Lotion
The Moringa O2 Age-defying Anti-oxidant Lotion also contains all natural anti-oxidants and gives Age-defying protection and Intense Moisturizing. More than just that, it also offers UVA/UVB Protection as it acts as the skin's protective barrier from aging UVA and burning UVB rays.
Moringa O2 Age-defying Anti-oxidant Toner Spritz
The Morina O2 Age-defying toner spits is mild toner made from pure and mild natural extracts that gently purifies skin and removes residual dirt after cleansing. It leaves skin refreshed and revitalized.
Little Running Teacher 2nd Year Anniversary Week 1 Contest Giveaway:
**Contest winners must be AVAILABLE to meet in after 4pm in Ayala (Greenbelt/Glorietta) on weekdays or Fort Bonifacio Taguig on Thursdays.
**Contest duration: Aug. 30 – Sept 1, Winners will be announced on or before August. 31! :)
Moringa O2 loot worth P569.25 SRP:
1 Moringa-O2 Age-defying Anti-oxidant Beauty Bar (135g) SRP 109.75
1 Moringa-O2 Age-defying Anti-oxidant Moisturizing Body Lotion (200ml)  SRP 259.75
1 Moringa-O2 Age-defying Anti-oxidant Toner Spritz (150ml) SRP 199.75
–
–
For more info on these awesome goodies, check them out here:
Website: http://awi.com.ph/whatsnew.php
Facebook: https://www.facebook.com/MoringaO2
*Disclosure: This giveaway is sponsored by Ardent World Incorporated