All of us have experienced our own share of problems and difficulties. Several of us have felt like giving up more than once. Some of us might even be feeling it at this specific moment.
A Blessing from Habagat
Just last week, the Philippines suffered from strong rains and flooding brought about by Habagat. Several lives were affected and several houses were destroyed. Most people think of all the destruction and all that was lost, though difficult, others still learn to appreciate what was gone. In this week's session of Light Thursday, a guest named Wow shared how his house in Quezon City was filled with flood water on the first floor and how several of their furniture and material possessions were destroyed. However, instead of focusing on what was lost, Wow focused on what was gained. Though the storm destroyed several material things; something even better came along that week. Through the storm, his brothers, whom he has lost connections with and now live in their own homes, came out of no where to help them out. The broken relationship which was lost several years ago miraculously mended itself through the storm we all feared.  And as Wow said so himself, no amount of money or material things can compare to the blessings he received that week. AMEN to that!
1. God doesn't ask us to avoid the storms
Problems and difficulties come not to simply give us a hard time, of course not. We got through the storms in our lives because God wants us to learn something, He wants us to understand something, He wants to make us stronger, He wants us to trust Him. The thing us, when problems arise, most of us feel scared and even get depressed that we try to avoid it – but that's not what God wants. God never asked us to AVOID the storms, He asked us to go through it WITH HIM.
"Life isn't about waiting for the storm to pass it is about learning to dance in the rain – anonymous"
Even Christ the Lord went through His own share of storms. The fact that you're there right now reading this proved that you passed the storm. God helped you pass the storm.
–
2. Sometimes we just think that He is asleep

–
So many times I questioned my faith… several times, I dared to question God. Today, my worries in the past may not seem like a big deal, in fact they're actually pretty small now that I think about it. But in the moment I was going through it, I felt so much hurt and so much pain. I felt scared, alone, frustrated and all the negative feelings I could feel. I questioned God WHY I WAS GOING THROUGH THIS. What did I ever do to deserve this pain? Why did a friend betray me? Why was I so stupid? WHAT SHOULD I DO?? Why can't anyone understand me. There were so many times that I lie awake in my bed crying and even praying that I don't wake up anymore just because I can't take it anymore. Life isn't always easy and many times, we feel so alone that we want to give up. Somehow, we think God has forgotten all about us.
–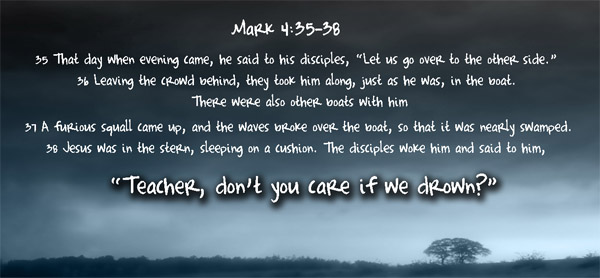 –
Even in the Bible, the disciples experienced their own actual storm. They started to panic and really thought that they were about to die. Then they saw Jesus. After all the miracles He had performed in the past, they spot Him actually SLEEPING on a pillow! Calm and without a worry in the world. They woke up and asked, "DON'T YOU CARE IF WE DROWN?"
Lord, don't you care about me? Don't you care if I give up? Don't you care….? How many times have we asked Him this question? We of little faith, how many times have we wanted to give up?
3. Don't be afraid, learn to trust in HIM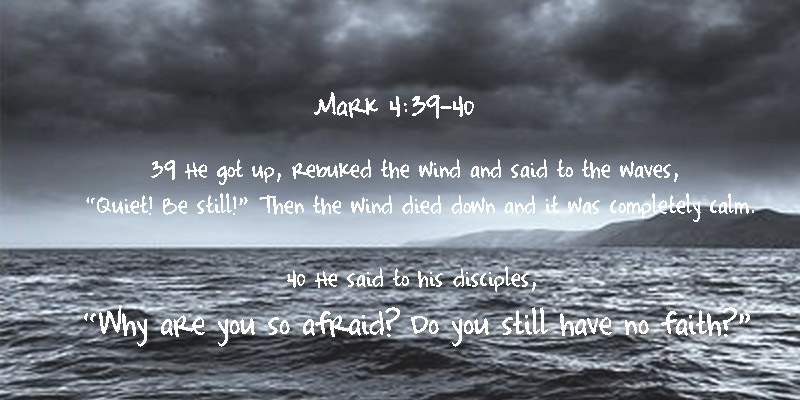 ….Let me just repeat that to emphasize more.
"WHY ARE YOU SO AFRAID? DO YOU STILL HAVE NO FAITH?
 Sometimes we are too quick to react, we have no faith that God has a plan for us. Maybe when Jesus told the wind and waves to be still, He was actually telling this to the disciples. Maybe He's telling US to be still and trust Him.
4. God is never late
Matthew 14:24-27
24 and the boat was already a considerable distance from land, buffeted by the waves because the wind was against it. 25 Shortly before dawn Jesus went out to them, walking on the lake. 26 When the disciples saw him walking on the lake, they were terrified. "It's a ghost," they said, and cried out in fear. 27 But Jesus immediately said to them: "Take courage! It is I. Don't be afraid."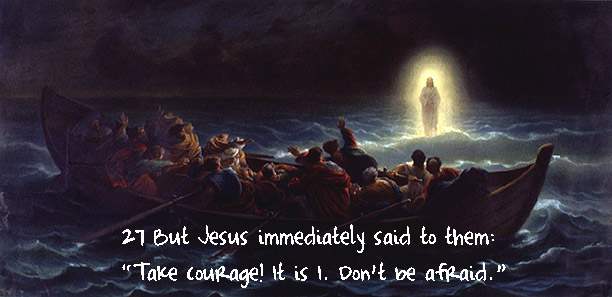 Did you know that the darkest time of the night is right before the sun rises? In other words, the peak of our hardships and worries is usually the moment before everything suddenly gets better. Shortly before dawn, Jesus walked on the lake towards the disciples. On the darkest hour, TRUST that GOD WILL BE THERE. At the exact time and moment He should be.

Sometimes we get too caught up in our worries that we ignore the blessings we are already receiving. Even the disciples did not immediately realize that it was Jesus walking towards them. The started to panic and thought it was a ghost. We too are sometimes blinded by what we think we see from what is already there.
Have you ever been through a storm? Have you ever felt like giving up? Do share your stories.
Hope you guys could join me next week for another session of Light Thursdays at Bonifacio Global City. :)
********************************************************
Again, I'm inviting you all to join me!
Every Thursday
7:30pm @ Top Shelf, Fully Booked in Bonifacio Global City!
You might also want to check out: My first day of Light Thursdays
 Lost and Found PART 1 , Lost and Found Part 2, Lost and Found Part 3