When we think about fitness, we often only think about our physical bodies. Today, I'm here to promote a different kind of fitness – SPIRITUAL and EXISTENTIAL fitness.
Not long ago, I met a preacher by the name George Gabriel. When I first attended his talk, I was surprised at how young and good looking this preacher was. I came from a Catholic background so to me, preachers and priests were one of the same… of course I later on realized the difference. But more than just the way George looked that day, I was taken away by his story. I was at the right place at the right time, and George's preaching just happened to be perfect for my situation during those times. I found George to be very passionate, and really felt the sincerity in all his stories. But what drew me further in was his honesty. He was no saint, and he was not ashamed to admit struggles, difficulties and sins. Listening to him made me feel more human. Listening to him made me feel more accepted. Fast forward 2 years after, I became part of that community and started attending mass with that same community every week. This was the Light of Jesus family, their weekly prayer meeting called the FEAST.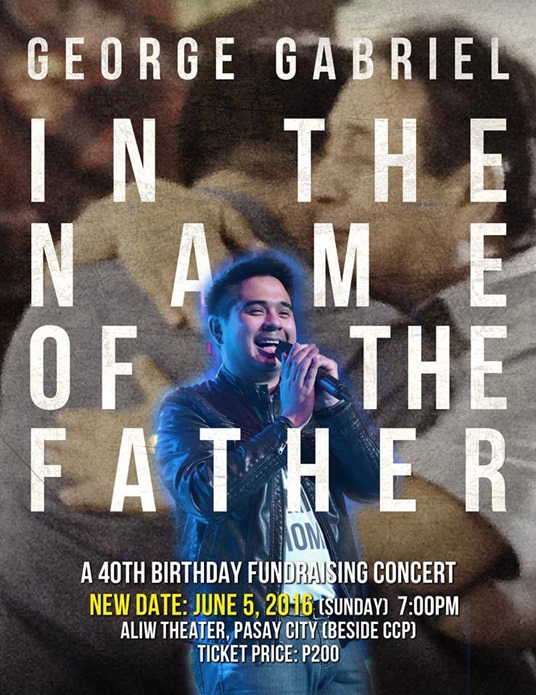 What: In the Name of the Father Benefit Concert
When: June 5, 2016 at 7:00pm
Where: Aliw Theater (beside Star City)
Ticket Price: P200 (Free Seating)
George Gabriel began his walk of faith in the Catholic Charismatic Renewal Movement at the age of 12 and has been actively serving in the music ministry ever since. I am now a full-time media missionary as Creative Director of Bo Sanchez's broadcast ministry. In celebration of his 40th birthday this year, he aims to share all that God has done in his life through an inspirational concert that will honor his late father, Jun Gabriel, by raising funds for the various ministries he was affiliated with or supported:
The Tahanan ng Pagmamahal ORPHANAGE under the Light of Jesus Family.
The Scholarship of Hope PROGRAM of the Bukas-Loob sa Diyos Covenant Community.
The Serviam Mission Fund which facilitates various activities for servant-leadership formation.
The Catholic Bible Society which raises funds to print and distribute the Word of God for free, and of which Dad was once the Executive Director.
So I invite you all to join George Gabriel on his 40th birthday celebration in an evening of inspiration through heart-felt music to mark four decades of life, love, family and friendship, nearly three decades of passion in ministry, and one blessed year of fatherhood.
All proceeds of this fundraiser will go to the various ministries that Jun Gabriel was affiliated with and supported, in whose name they will be donated.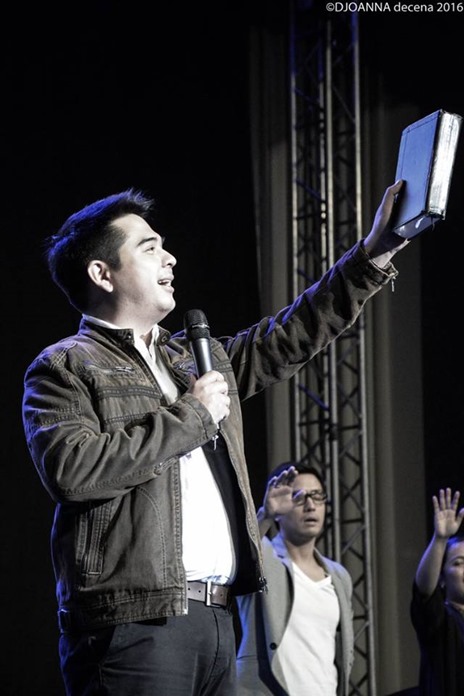 Be blessed by the voices of Migs Ramirez, Audee Villaraza, Mike Viñas, Veia Lim, Chai Santiago, Hazel Antolin-Rosero, Onie Zamora, Trixie Olizon-Silerio, Trisha Herrera, Nikko Capucion, Alfie Ramos, Mark Laygo, and many more, accompanied by the musical prowess of Didoy Lubaton, Carlo Fernandez, Mike Fernandez, Mico Fernandez, Pier Asuncion, Danny Maglutac, Lorry Zamora, John Morales, Vernon Lim, Patrick Gamo, Glenn Dalit, John Ramos, Jal Ramos, Joey Medina, and Gigi de Jesus.
For more info, visit our Facebook page here: https://www.facebook.com/events/978700052212393/
For ticket inquiries or reservations, message me at 09178243244