Fun runs and trail runs take place almost weekly in the Philippines. I still love joining them regardless of how simple they may be, especially if it's for a cause! Still, I always look forward for fun runs with a twist. If you're like me, then read on!
What: Karera Lakas Pilipinas
When: August 25, 2013 (Sunday)
Where: Ternate, Cavite (military base)
Beneficiaries: MARFIT (Strength and conditioning programs for marines) as well as the WOUNDED WARRIOR'S RECOVERY and REINTEGRATION PROGRAM
*The wounded warrior's recovery and reintegration program is a program that gives hope and future to the unsung heroes: the battle casualty marines. This also aims to rehabilitate the Warrior's Grill Obstacle Course, the training ground of the Philippine Marine Corps in MARINE BASE GREGORIO LIM in Ternate, Cavite.
Race Categories and Fees: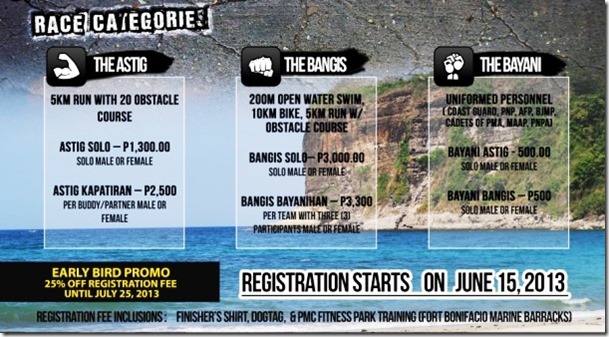 Astig Category: 5km Run with 20 Obstacle Courses
Astig Solo: P1300


Astig Kapatiran (pair): P2500
*Early bird promo (until July 25)
Astig Solo: P975

Astig Kapatiran P1,875
Bangis Category: 200m Open Water Swim, 10km Bike, 5km Run with 20 Obstacle Courses
Bangis Solo: P3000

Bangis Bayanihan (3 per team): P3300
*Early bird promo (until July 25)
Bangis Solo: P2,250
Bangis Bayanihan: P2,475
Bayani Category: (Uniformed Personnel like coast guard, PNP, AFP etc.)
Bayani Astig Solo: P500

Bayani Bangis Solo: P500
*EARLY BIRD PROMO (until July 25 only!)
*Registration fee inclusive of: Finisher's shirt, Dogtag, PMC Fitness Park Training (at Fort Bonifacio Marine Barracks)
*Gun start at roughly 8am
*Top 3 finishers for each category will get a gold/ silver/ bronze dogtag as medal. No cash prizes will be provided.
Registration Sites
Registration Period:  June 15 –  August 15
Online registration HERE
In-store registration at R.O.X. in Bonifacio Global City
Obstacle Courses:
What makes this run different are the 20 obstacles courses! You'd literally just be transferring from one obstacle to the other! Moreover, the obstacles won't be too light or easy! These are actually obstacles that the marines themselves go through as part of their training! Not to worry though, there will be marshals ready to help you if you can't get through. On the other hand, if you decide to skip the obstacle, a few minutes will be added to your time. I suggest however that you just suck it in and go! It's part of the experience right?
Obstacle #1: Rocky Road
Obstacle #2: Low Crawl (runners move forward under the wire on their bellies to the end of the obstacle. The surface is filled with sand or sawdust to reduce the tendency to push)
Obstacle #3: Maze

Obstacle #4: Tunnel (runners must climb up and down to get inside the tunnel)
Obstacle #5: Walls (jump up, grasp the top and pull yourself up and over. Walls will be 1.2 and 2.4m high)
Obstacle #6: Balancing Logs (step up on a log and walk or run along it while keeping balance)
Obstacle #7: Tough Nut (Participants would negotiate through the course by stepping over each X log in the lane)
Obstacle #8: Belly Buster(vault, jump, or climb over the log. FYI, the log will be turning! )
Obstacle  #9: Pendulum Tires (pass through a maze of swinging car and truck tires hanging from a structure)

Obstacle #10: Weaver (participants will weave their bodies under one bar and over the next)
Obstacle #11: Reverse Climb (climb the reverse incline and go down the other side)

Obstacle #12: Baby Crawl (balance on a double rope and pull yourself vertically to progress through the course)
Obstacle #13: Commando Crawl (balance on a single rope and pull vertically to progress through the course)

Baby Crawl and Commando Crawl
Obstacle #14: Rope Bridge (balance in an upright position using the two ropes as a bridge walking past the course)
Obstacle #15: Cargo Net (climb the net until you reach the very top of the obstacle then go down the other side)
Obstacle #16: Gorilla Bars (similar to a monkey bar but with bigger distances between each bar)
Obstacle #17: Inclining Wall (approach the underside of the wall, jump up and slide down the incline)
Obstacle #18: Island Hop
Obstacle #19: Mud Swim (pass through a mud pit and swim your way across)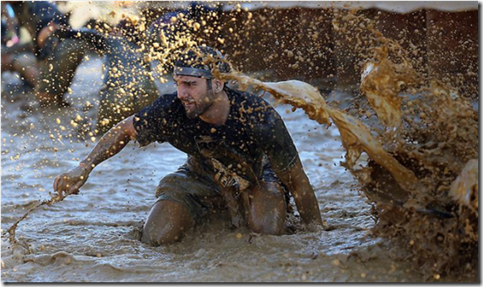 *Obstacles may still change without prior notice
 *Transportation from the bus terminal in Cavite to the camp site will be provided. It's gonna be a fun experience since participants would get to experience riding in an M35!
This is one race that you'd truly be proud to have finished! So what do you say guys? For a change, let's pledge our strength to the country rather than to ourselves.
KARERA LAKAS PILIPINAS Race Kit Giveaway:
*Contest runs from Aug. 5 to Aug. 10
For more details & updates:
FB Page: https://www.facebook.com/kareralakaspilipinas
Website:  http://www.lakaspilipinas.com/