About a month ago, I was walking by the Fort to claim a race kit for an upcoming run when I ran into Ms. Arleen Lindo of Chris Sports right outside Fitness and Athletics. She invited me in to check out a participant who was in the middle of his indoor duathlon. She then invited me to give it a try myself. I was very curious and definitely interested but at the same time I was telling myself, "You don't bike! How would you do this!"
So I left Fitness and Athletics with my mind still there. And eventually, I decided to just wing it and go! I already tried running 32k… a 20k bike ride won't be so bad right? Wrong! I scheduled my duathlon with fellow blogger CJ Lampad of runadoboking
Indoor Duathlon at Fitness and Athletics
3k run/2k run on the Intenza 550 Te Treadmill
My first 3k on the Intenza 550 Te went really well. The treadmill itself was comfortable to use. It didn't wobble despite my heavy footing, and it could easily be stopped just by pulling the cord. I tried to run the fastest I could without using up all my energy in fear that I would be all out for the bike. I finished my 3km in approximately 15min. Slower than usual but not bad.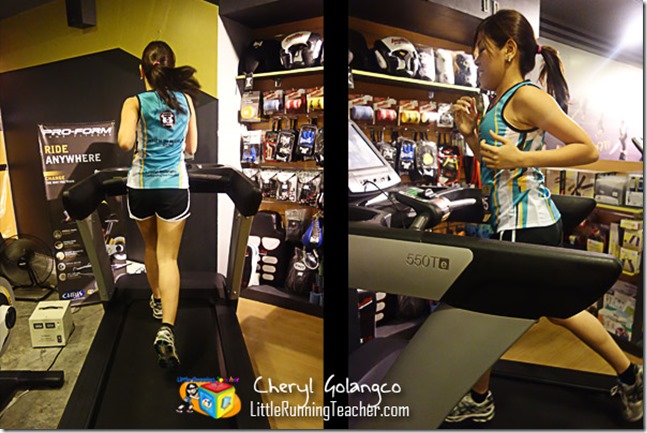 Indoor Duathlon at Fitness and Athletics: Going at it for my first 3km run
20k bike ride on the Tour de France bike trainer
At first, I felt the bike ride would be the easiest part of it all. I figured I can run 32k so a 20k bike ride wouldn't be so bad. Well, I guess riding a regular bike on the road wouldn't be so bad but don't underestimate the Tour de France bike trainer. The bike was HEAVY!
On an actual bike, the lighter you make the gears, the faster you go. On the Tour de France, you actually go slower! Pedaling gets easier, but the mileage covered is shorter. Hence, I opted to just leave on its average weight – heavy but with enough distance covered.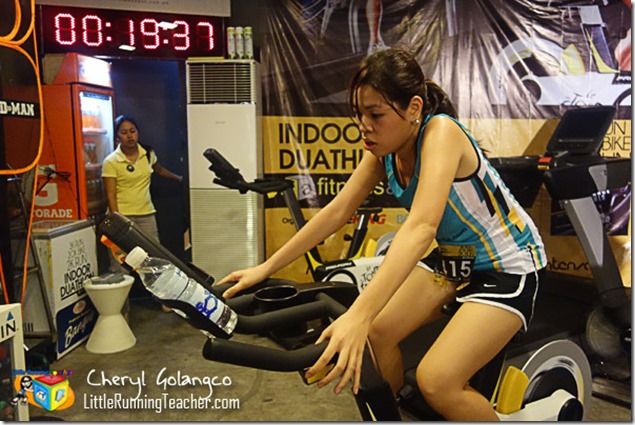 Indoor Duathlon at Fitness and Athletics: Just started and already tired!
Riding the bike used up most of the muscles in my upper thigh, unlike running which usually used the lower leg. My energy slowly drained and I honestly felt like giving up. Sir Jeff, one of the staff that night continuously cheered me on though! He encouraged me to keep going and kept my spirits high.
Finally, I was on my last kilometer. I gave it my all despite my muscles getting sore and swiftly transferred back to the treadmill.
By now, I felt so light as if flying! I had to slow down my run a couple of times because I felt my form was wrong due to the bike trainer.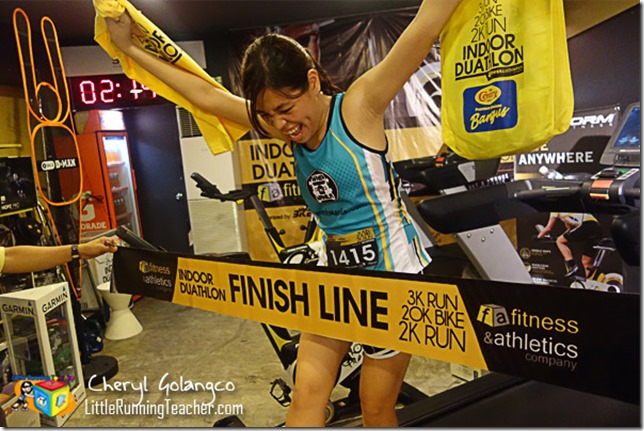 Indoor Duathlon at Fitness and Athletics: Woooo!! Super happy to finish!
I finally finished in 2:14min. Not the time I was going for but I felt proud nonetheless to have joined and finish! So what about you? Think you're up for an indoor duathlon? Registration is still open and you can still give it a go until Aug. 31!
photo courtesy of Fitness and Athletics
Read more about the indoor duathlon here:
/indoor-duathlon-at-fitness-and-athletics/

Indoor Duathlon Experience at Fitness and Athletics