Have you ever tried joining a duathlon? A duathlon is basically is a sporting event that consists of a running and cycling. A lot of runners have moved up to doing a duathlon or a triathlon, but have any of you ever tried an indoor duathlon? I'm pretty sure not! Which is why I highly encourage you guys to give this one a try! Imagine running and cycling indoors, away from the harmful rays of the run! This is definitely an experience worth having.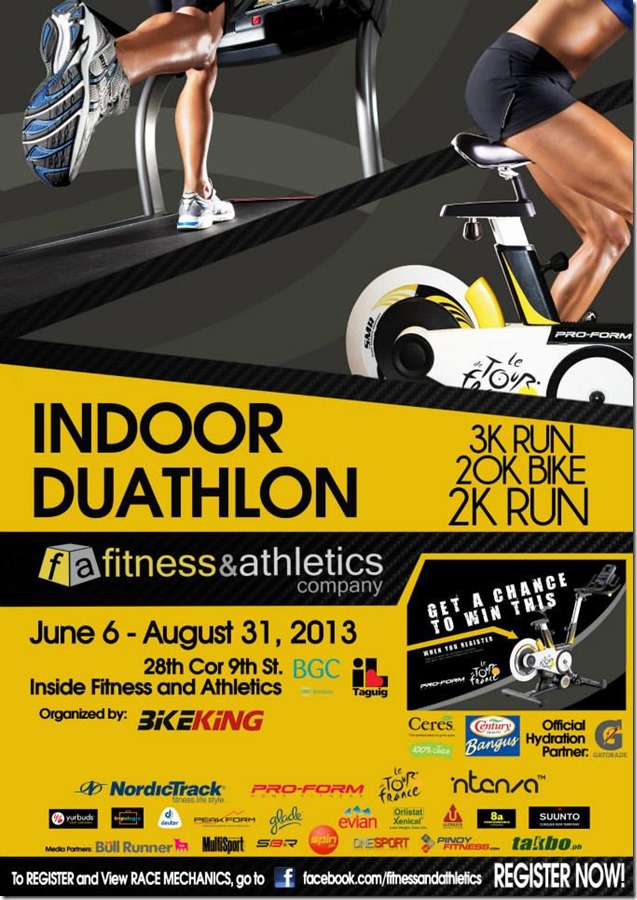 What: Indoor Duathlon
When: June6 – August 31, 2013 (You schedule your date)
Where: Fitness and Athletics at BGC
Fitness & Athletic Indoor Duathlon 2013 Registration Details:
Php 600 : First Sign Up

Php 450 : Succeeding race schedules (for those who want to beat their time)
Race kit inclusive of Bib, Finisher's Shirt, Gatorade, Loot bag from sponsors.
How to Register:
Register online by going to the Fitness and Athletics FB page

Check the date and time of your choice

Wait for your confirmation email

Deposit payment via bank deposit or proceed to Fitness and Athletics and pay to the cashier
Last Thursday, I had the privilege to watch the indoor duathlon live! It was a race between two-time South East Asian Game Silver medalist and KONA World Ironman Champion Sandra Araullo-Gonzales and the famous actress, model, runner and triathlete  Isabelle Daza. We watched as they run each meter as fast as they could on the treadmill.
Indoor Duathlon Equipment: Intenza 550 TE Treadmill
They used the Intenza 550 TE Treadmill for running. The Intenza 550 TE Treadmill is a full commercial grade treadmill with power saving system. It has an on-line service via wi-fi, usb connectivity, 15" TFT touch screen display, built-in TV system, polar coded heart rate monitoring and different language compatibility,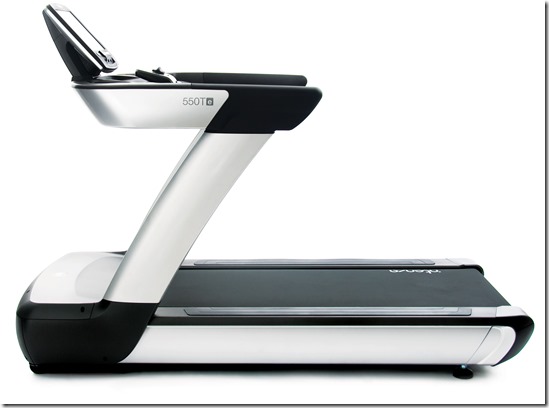 Belle and Sandra racing it out on the Intenza 550 Treadmill
Sandra quickly completed her 3k run and proceeded to the cycle stage. She got up and started biking as if she just got out of bed. She was quick and strong and immediately finished her 20k! She finished her duathlon in 1 hr and 13 min (give or take). Wow! Isabelle on the other hand, followed a stead pace on both the treadmill and bike trainer. She also finished strong a few more minutes later.
Indoor Duathlon Equipment: Le Tour De France Bike Trainer
The Le Tour De France Bike Trainer was used to complete the duathlon. It is enabled with Google maps, handle bar shifters, power meter, silent magnetic resistance and a 20% incline and decline.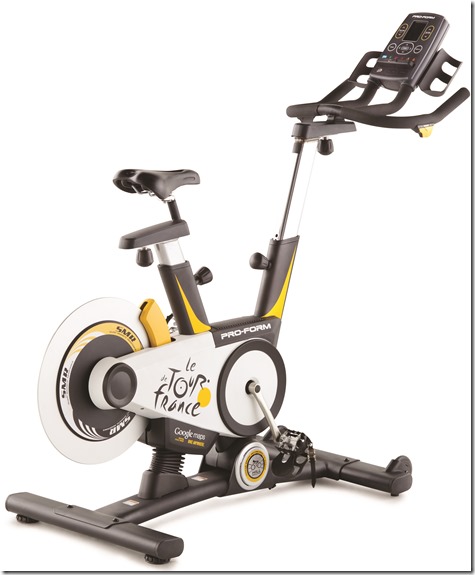 Belle and Sandra still belting it out for the 20km bike ride!
After a while, celebrity triathlete Nikko Huelgas also completed his duathlon. I wasn't able to stay and watch him though as I had to head home already.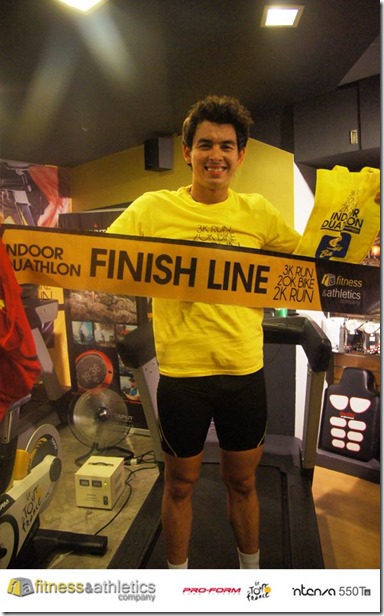 Raffle Prize and Awards Night
Now besides getting to experience the first ever indoor duathlon, all participants who complete the challenge will also have a chance to win a Proform Le Tour de France bike! Woah! I wouldn't mind having one of those for my training at home!
There will also be an awards night wherein everyone who joined the indoor duathlon is welcome to join. Post-race meal perhaps?

Congrats to all those who have participated in the indoor duathlon. As for me, I will give this a go on July 26! I do hope I survive it. The last time I rode a bike was way back in my teenage years. I'll be joining the indoor duathlon with co-blogger CJ Lampad. Wish us luck!
See you at Fitness and Athletics! Don't forget to register before slots run out!
Fitness and Athletics
Telephone: 02 5191750 ( telefax)
Website: www.fitnessandathletics.com
Facebook: fitnessandathletics
Indoor Duathlon at Fitness and Athletics