March is Women's History Month. This past month, I've seen and heart a variety of activities and programs all for woman empowerment. With a male-dominated world, programs and events that target the women are very much appreciated. So when I heard of the Go Girl Expo, I felt a surge of excitement rush to me! It's an expo that's all about the women!! There are so many things I want to learn and do, I'm sure this expo will open so many more doors for me. Check it out!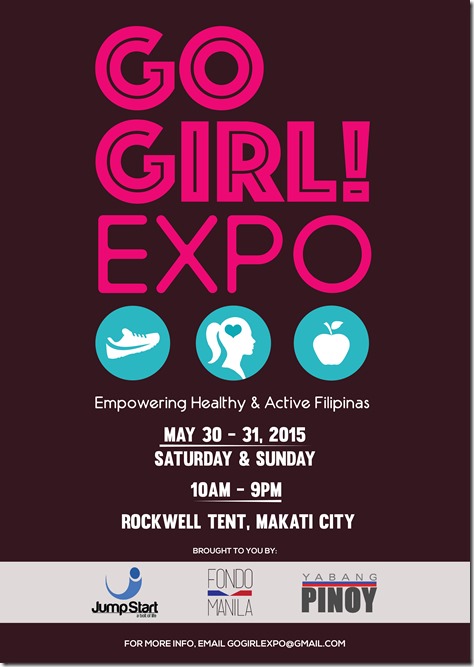 Go Girl Expo
When: May 30-31, 2015
Saturday & Sunday (10am-9pm)
Where: Rockwell Tent, Makati City
*****Press Release*****
In a study conducted by World Health Organization, more women in the Philippines are considered inactive whether it is occupational, non-occupational, or leisure-related activities (WHO 2010). The same study also reveals that women are more active in domestic activities than men more than ever. Furthermore, physical inactivity may contribute to coronary diseases, diabetes, and obesity.
This is the reason why Jump Start, Fondo Manila and Yabang Pinoy are working together to bring the very first GO GIRL! EXPO- Empowering Healthy and Active Filipinas. It is by promoting a holistic well-being among women— a healthy and active Filipinas— can we achieve a healthy and active Philippines. We further define a "GO GIRL!" as a well rounded Filipina that balances life, work , play, adventure, sports and more importantly – knows how to have fun.
GO GIRL EXPO will be held on May 30-31, 2015 at Rockwell Tent, Makati City. This event will be a celebration of every Filipina's pursuits and women's success and empowerment in different fields. The expo will feature faces of healthy and active Filipinas from different walks of life- from the working Filipina to moms, from outgoing women to social women. Furthermore, the expo will be a collection of products and services from different companies and industries that will cater to the needs of a healthy and active Filipina.
The expo will also be an avenue for women's inspiration—tapping Filipinas who are considered "Go Girl!". These women will share their impassioned stories of both success and struggle, how they achieve where they are now, and what keeps them active despite the daily routine this age has offered to them. Their stories will be installed in a gallery wall together with the commitment board that will gather responses from women of different size and age.
Come and be part of this milestone that will encourage Filipinas to shift from ordinary women to GO GIRL!.
For more information
visit https://www.facebook.com/pages/Go-Girl-Expo/337796393058879
email: gogirlexpo @ gmail.com
call 0916-4233214.
–
For updates on other runs or to just keep in touch
visit http://www.facebook.com/littlerunningteacherpage
twitter.com/cherylgolangco