I know a lot of strong and empowering women in the Philippines, not just in the sporting industry but across all walks of life. If you're reading this article right now, I'm pretty sure you're a runner or such. However, did you know that the World Health Organization conducted a study back in 2010 that says more women in the Philippines are considered inactive? The study shares that whether in occupational, non-occupational, or leisure-related activities, women tend to be inactive. AND… it also says that we are more active in domestic activities than men! Do you agree? Well… you shouldn't! C'mon ladies, let's show this men what we've got!
As a result of this study, Jump Start, Fondo Manila and Yabang Pinoy are working together to bring the very first GO GIRL! EXPO- Empowering Healthy and Active Filipinas. It is by promoting a holistic well-being among women— healthy and active Filipinas— that we can achieve a healthy and active Philippines. We further define a "GO GIRL!" as a well rounded Filipina who balances life, work , play, adventure, sports and more importantly – knows how to have fun.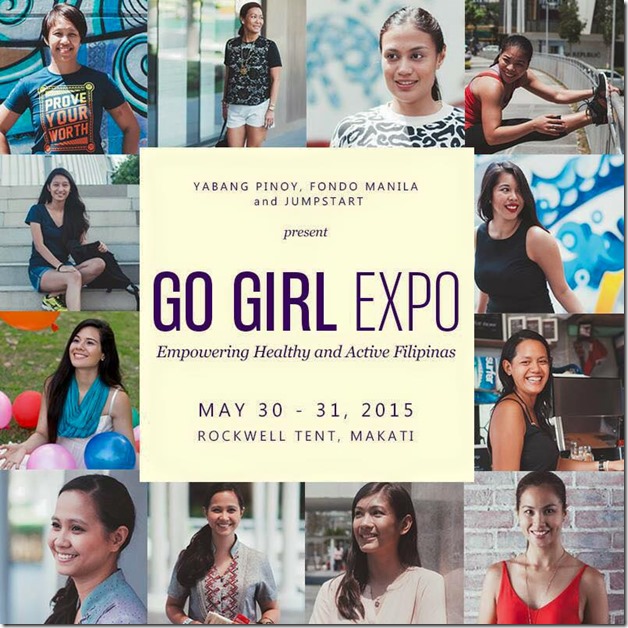 What: Go Girl! Expo
When: May 30-31, 2015 (10am – 9pm)

Where: Rockwell Tent, Makati City
Entrance Fee is P100
What to Expect:
This event will be a celebration of every Filipina's pursuit and women's success and empowerment in different fields. The expo will feature faces of healthy and active Filipinas from different walks of life- from the working Filipina to moms, from outgoing women to social women.
There will be around 7-8 speakers on the first day along with several booths from products created and launched by women!
Some of the ladies you can look forward to meeting are the following:
Jaymie Pizarro
If you're a runner. then I'm sure you know Jaymie! Her inspirational talks and ever-endearing personality give runners, especially those dreaming to run their first marathon, the strength and motivation they need to cross that finish line!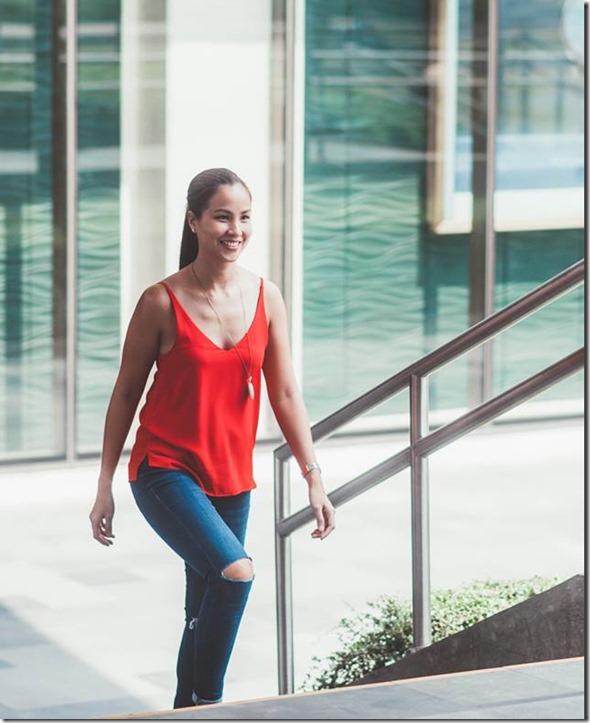 Jaymie is an all-around mom to 2 kids. Aside from taking care of her family, she loves running, swimming, biking, doing yoga, and circuit training. She is the Editor-in-Chief of Endurance Magazine, and founder/organizer of the Bull Runner Dream Marathon. Moreover, she is the first Pinay to run the 7 major marathons around the world! WOW! Talk about girl power!
"As long as you give your 110% in the context of your life regardless of what others think, you are successful." -Jaymie Pizarro
Christina Dy
When I met CD a while back… my jaw dropped! She and her team of polecats gave a whole new meaning to the word pole dancing!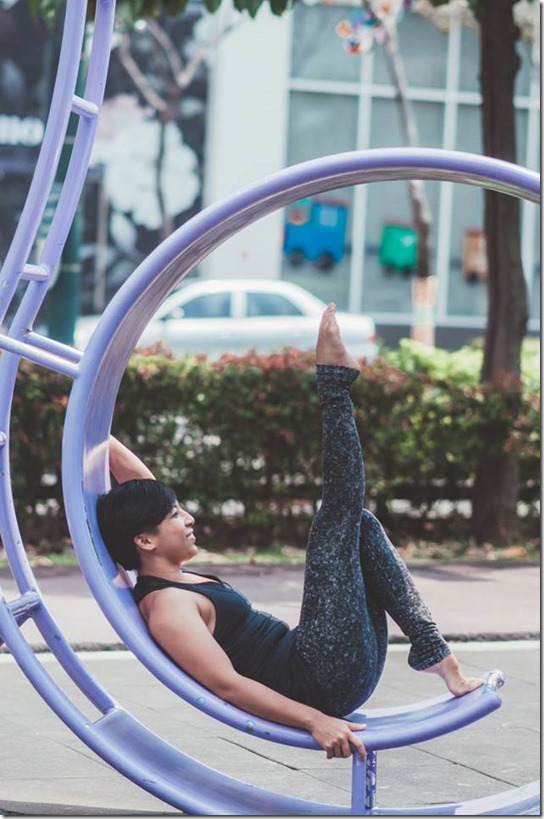 Christina is a represented artist of Silverlens Galleries, and founder and artistic director of Polecats Manila. She also shares that her schedule changes all the time. There are days where she teaches classes in the morning, does choreo, workout and stretch, and does company class at night. And then there are days when she does yoga in the morning then the rest of the day drawing in her studio.
Clang Salindong
A few years ago, I met Clang during a surfing trip in Zambales. She was such a high spirited lady, absolutely full of energy! She's a full-time fitness instructor, doing freelance at a variety of gyms. She has also recently started doing personal training and teaches different workout routines such as yoga, Zumba, RIP:60 suspension training and Cardio Combat.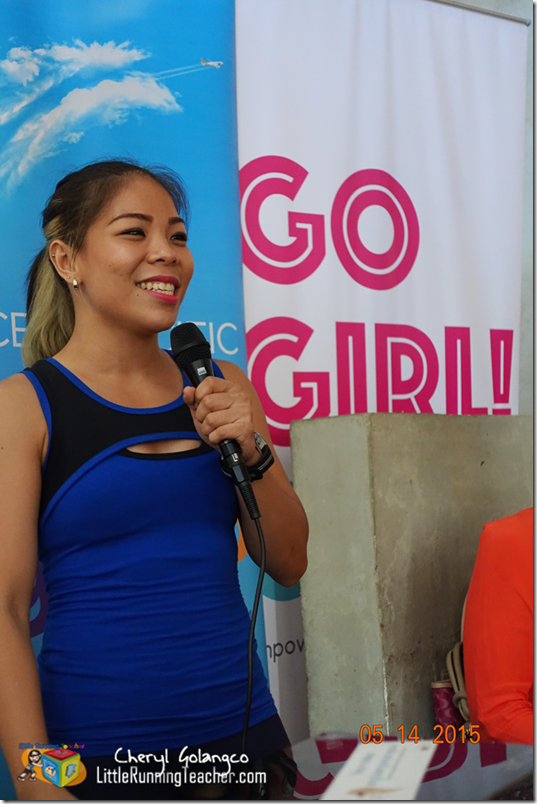 Clang Salindong shared that her goal is to look the part of being a fitness instructor. She wants to be a good role model to people in her circle of influence. Since being active is part of her chosen profession, her responsibility has grown beyond just doing it for her sake. She wants to walk the walk and talk the talk.
When working out, she constantly reminds herself why she is doing what she is. Her motivation?…to be able to keep up and run around with her grandkids in the future.
Vanjie Andaya
It's amazing how young Vanj looks! Vanj shares that besides working out, rest and relaxation are also key to feeling young and looking young! So ladies, don't overwork yourselves! Our body needs to rest too.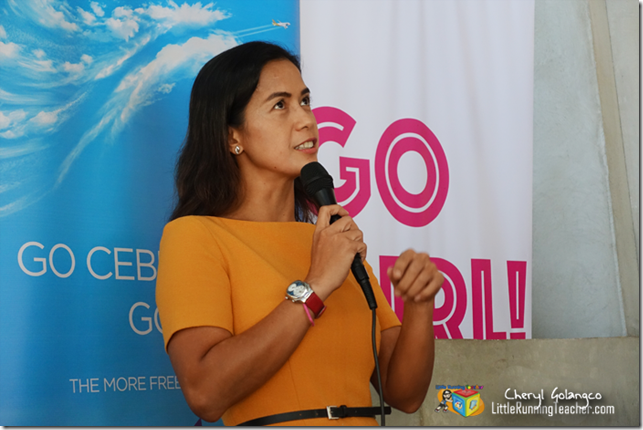 Vanj proves that if you want to stay fit and active, age is just a number. As an age-group triathlete, she swims, bikes, and runs regularly to keep her healthy and fit body.
"I feel the need to surround myself with like-minded individuals for support and additional motivation." -Vanjie Endaya
Jieneb Kho
I've known Jieneb for a while and just lately, I noticed how her instagram posts were changing from the usual posts to workouts and the like. She became much concerned with losing weight and tried a variety of tricks, eventually trying circuit training at 360 Fitness. When she added this to her daily life, she became a stronger woman.
.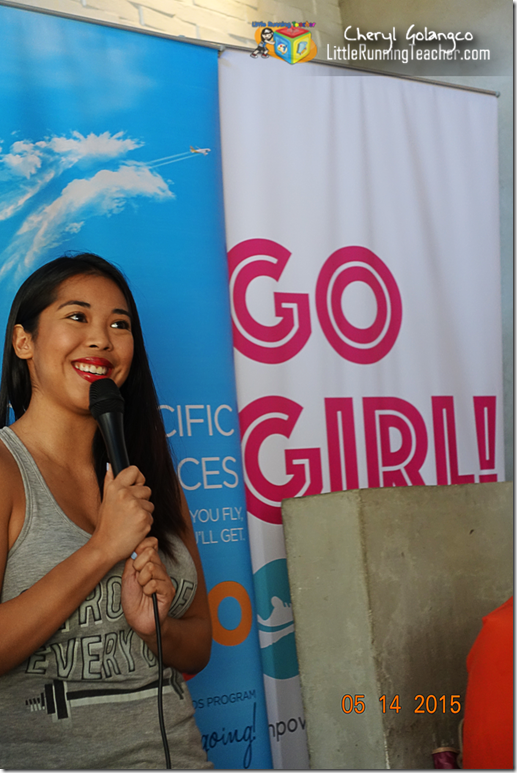 She shares that strong is the new sexy. It helps her to keep a positive and perky outlook in life. She is an advocate who's pushing women to be strong and fit in whatever way they can!
Besides these 5 lovely ladies, there will be several more Go Girl! ambassadors who will share their experiences and amazing stories at the upcoming expo, so make sure you don't miss out!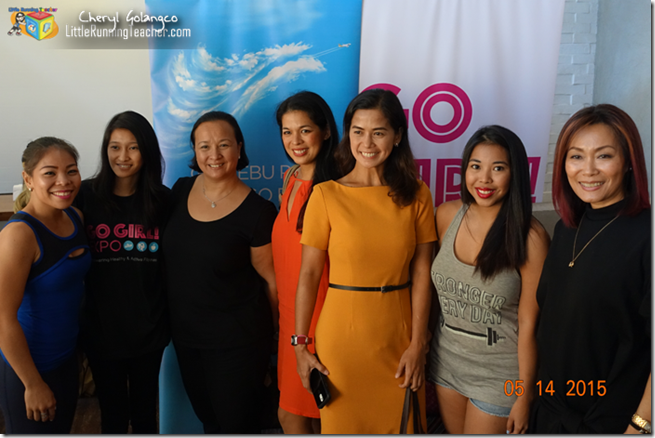 The expo will be an avenue for women's inspiration—tapping Filipinas who are considered "Go Girl!". These women will share their impassioned stories of both success and struggle, how they got to where they are now, and what keeps them active despite the daily routine this age has to offer. Their stories will be shared via different platforms at the event. Moreover, besides the talks, the Go Girl! expo will also showcase a variety of Yabang Pinoy products that were crafted and made by the empowering and creative women of today. Some booths you can look forward to seeing our Hodge Podge, Emblem Jewelry, Soak Artisan, Miss Chic, Kimochi, etc.
For more details, visit:
Go Girl! Expo FB page: https://www.facebook.com/pages/Go-Girl-Expo/337796393058879?fref=ts
For updates on other runs or to just keep in touch