In its run last 2009, Globe Run For Home introduced the use of timing chips. I must say, these chips have proven to be very useful over the past years. It's also what I usually look for if a race asks for more than 500php. On it's 2nd run last 2010,  Globe Run for Home decided to use recycled PET bottles for the singlets! I'm not sure how to explain PET bottles to those who don't know, but basically, these are the plastic bottles of mineral water and the like. When I joined last year's race, I honestly expected a low quality singlet but was surprised to receive a singlet of good quality and soft texture. I never knew these plastic bottles could be made into a cloth-like material and turned into a singlet! Good job Globe! Another unique thing they did last year was the race route. For the first time (as far as I know), the race route was at the Makati central business district! A really unique and fun route if you ask me. So after two years of great success and FIRSTS… you have to wonder what they have in store for us this year. Well, wonder no more.
–
Last night, I was given the pleasure of attending their press launch and I was really thrilled to see and hear first hand Globe's plans for this year's run! It really really really got me excited! Before anything else, here are the details of the run.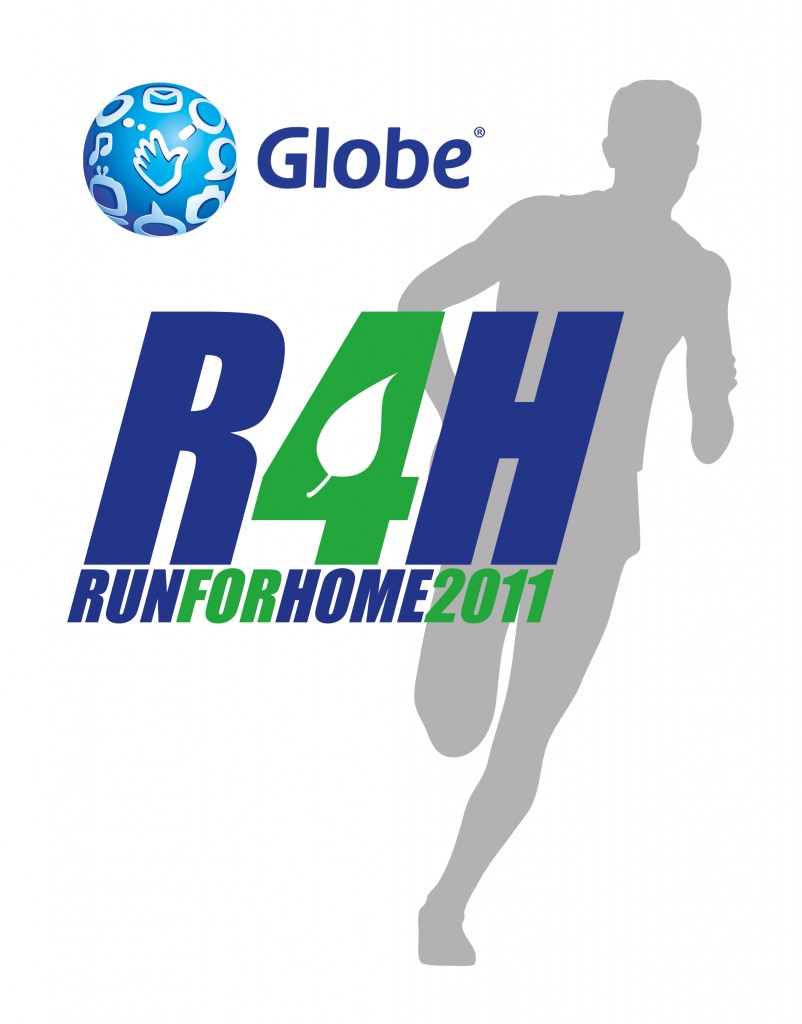 –
What: Globe Run for Home 2011
When: March 27, 2011
Where: Bonifacio Global City
Race Categories: 3km, 5km, 10km,15km and 21km
Yes, the place is common…but the route, (especially for the longer distances) is a bit new. So what does this year's run have to offer?
First of all, when you join, your registration fee is inclusive of the following:
Singlet
D-tag race chip
Race bib number
Runpix analysis
Downloadable photos
Finisher's medal (for 21k runners only)
Lots of freebies on race day
Last year, there were a bunch of stuff I got to buy at discounted rates!
–
–
Just like in the past 2 years, the Globe Run for Home 2011 will again use singlets made of 100 percent recycled PET plastic bottles. No other running event in the country has done that, thus adding the environment to the list of beneficiaries for this race!
For the past 2 years, Globe Run for Home has had only 1 beneficiary which was the Habitat for Humanity Philippines. This year however, they are adding 3 more! So that means, 4 beneficiaries for just one run! Wow! Want to make a difference, well then here's a good place to start! Now besides having 4 awesome beneficiaries,  2 of which have never been counted as beneficiaries for other events, there's something else to look forward to. You see, though all beneficiaries have important roles, Globe understands that the people and running community also have their own beliefs. Hence, when you register, you get to choose which beneficiary you want to contribute to when you register! How cool is that! The four beneficiaries are Habitat for Humanity, Virlanie Foundation, Gawad Kalinga and Haribon Foundation.
Beneficiaries: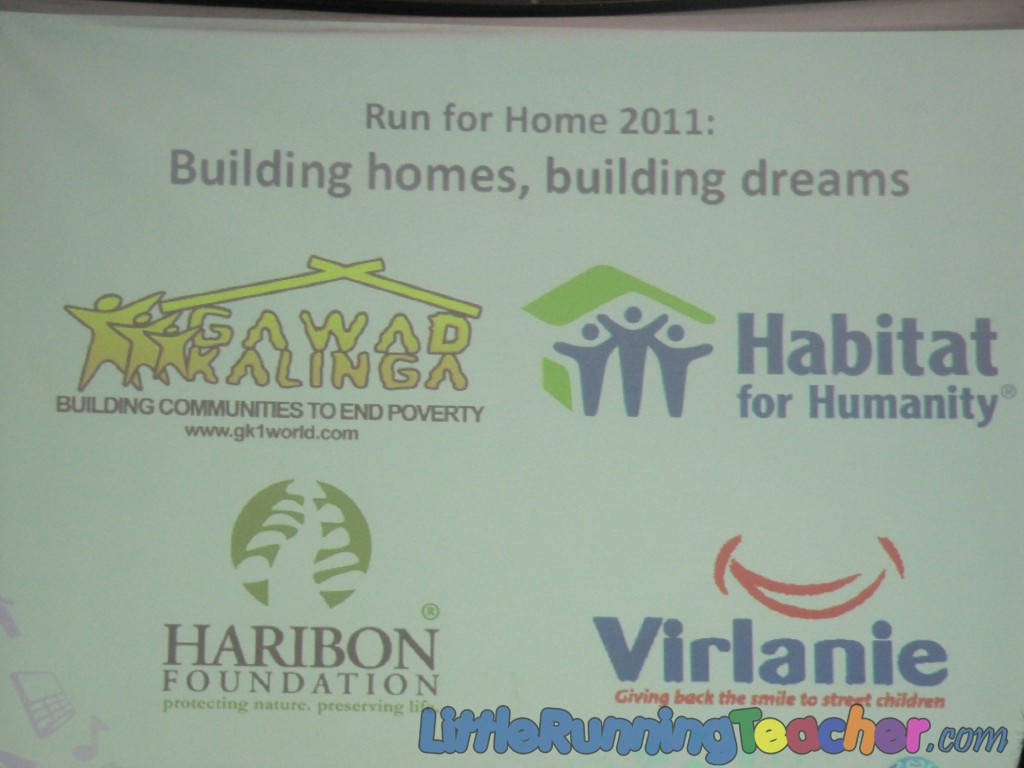 –
Habitat for Humanity is a nonprofit organization that serves Filipino families in need of decent homes. They bring together partners who share the same vision of transforming lives through building responsible and sustainable communities.
Virlanie is all about giving back the smile to street children. For 18 years, it has provided abandoned, neglected, abused and orphaned children who were found living in the streets with a home, education and the opportunity to become responsible and self-sufficient contributors to society. Through it's 12 homes and 13 programs, Virlanie cares for more than 1,100 children every year.
Through the run, Virlanie hopes to gather enough funds to put up a special home specifically for the abused girls on the street. They want to help these girls build  a better future and become stronger individuals. I know the street children can be annoying sometimes, but if everyday was a battle between life and death, you'd have to do things that can be annoying just to survive. They were born in poverty and don't have much of a choice, let's give them one.
Gawad Kalinga is building communities to end poverty through its holistic community development programs  (community empowerment, community infrastructure, child and youth development, health, environment and food sufficiency) by driving a culture of caring and sharing in different sectors of society, we will be able to end poverty for 5.5 million families by 2024.
The Haribon Foundation for the Conservation of Natural Resources, simply known as Haribon Foundation is a membership organization dedication to the convertion of Philippine biodiversity. It aims to build a constituency for environmental issues that will prioritize conservation actions on habitats and sites, based on solid, scientific and socio-economic research.
Through this run, Haribon hopes to gain enough funds to help bring back a our forests. Several of our forests have already been destroyed because of the many skyscrapers being made every month. We may not know it, but we also need the forests. Did you know that the Philippines is home to around 200,000 species of endemic plants and animals? Meaning these can only be found here and not anywhere else in the world. 50% of our animals are endemic! These animals are slowly becoming endangered because their home is slowly disappearing. Let's not wait till it's too late. Saving these plants, animals and their habitats also preserves our future.
–
I personally could not decide which foundation I wanted to contribute my registration fee to. All of them have good purposes and all of them have big plans for the donations they will receive. These plans all for the benefit of our country, our people and our nation's treasures. Hence, I decided to just randomly choose any and then donating to remaining 3 beneficiaries via Globe Gcash.
–
Don't want to run but believe in the cause? Want to donate and help out too? Here's how:
Simply text DONATE <space> AMOUNT <space> MPIN <space> INSTITUTION CODE and send to 2882. The institution code GK stands for Gawad Kalinga, HABITAT for Habitat for Humanity, VIRLANIE for Virlanie Foundation and HARIBON for Haribon Foundation. I pray each of them is able to meet and generate the desired amount to build their plans for hope, so I pray each of you, whether runner or not donate a small amount to each of these foundations. I know I will.
So I know you're all curious how much the REGISTRATION FEE costs… so here it is.
P650 for 3k
P750 for 5k
P850 for 10k
P950 for 15k
P1050 for 21k
–
DISCOUNTS for GROUPS
If you decide to run in a group of 5, the 5th runner gets his registration for free provided you are all running the same distance.
–
HOW TO REGISTER
Online registration (no need of credit card) via www.globe.com.ph/run or at the 4th floor Cinema Lobby of Greenbelt 3 in Makati
–
Now the fees may sound a bit pricey, but whether we like it or not, good races cost money. At least you're money goes to a cost. I think that's one factor we should consider. Also, bear in mind that organizing a race is not as simple as it looks. As Coach Rio explained during last night's media launch, each runner costs around P1000+ and the registration fee we pay for only covers around 40-50% of that. For more on this, you guys should check out Noelle's blog (KikayRunner) about the rising registration fees. A good read.
–
So what are you waiting for? Make a change and join the race! :) See you there!