In the past 3 years, more and more people have began living a healthy lifestyle and gained interest in running. When asked what makes running interesting, I often answer that it's just the joy of accomplishing running a certain distance or beating your personal best.
In the upcoming year, Rio aims to make running even more interesting and exciting. We won't run to beat our PR (Personal Record) because this time, we run to defend our gender!
Where my ladies at?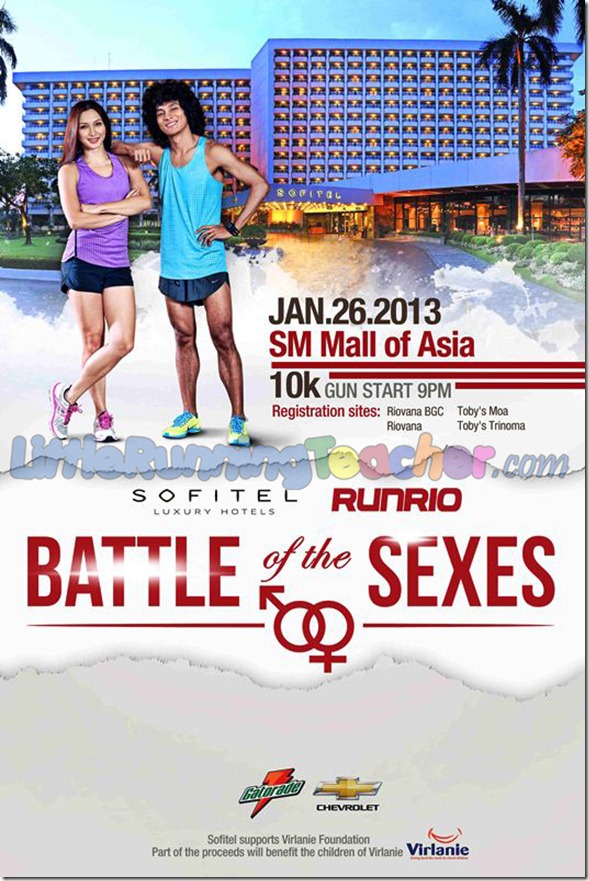 What: Battle of the Sexes
When: January 26, 2013 at 8pm (Yep, it's a NIGHT run)  March 3, 2013 at 5am!

Where: SM Mall of Asia
Race Categories: 10k
Gun start: 9pm  5am

Beneficiary: Virlanie Foundation
Virlanie Foundation cares for children in need of special protection; those who are abandoned, abused, exploited, neglected, orphaned, poor…The Foundation strives to build a better future for these children by "giving back their smiles".
Registration Details
Registration Fee: P800
Registration Sites
(Registration starts Dec. 21, 2012)
Riovana BGC and Katipunan

Toby's MOA and Trinoma
Battle of the Sexes goal: To build and sustain the running community in the Philippines by redefining culture and inculcating the sport into lifestyle of the people and the best way to do it is through events and races
Battle of the Sexes positioning: Inspire, educate, celebrate and defend your gender!
Battle of the Sexes mechanics: Male and female will compete with each other in one finish line, one venue, one distance. Female runners will run first, then after 7-10 minutes male runners will start the race.
AGE CATEGORIES for prizes:
 16 and below, 17-24, 25-29, 30-34, 35-39,40-44, 45-49, 50-54, 55-59 and 60 yrs old and above
Battle of the Sexes Singlet design: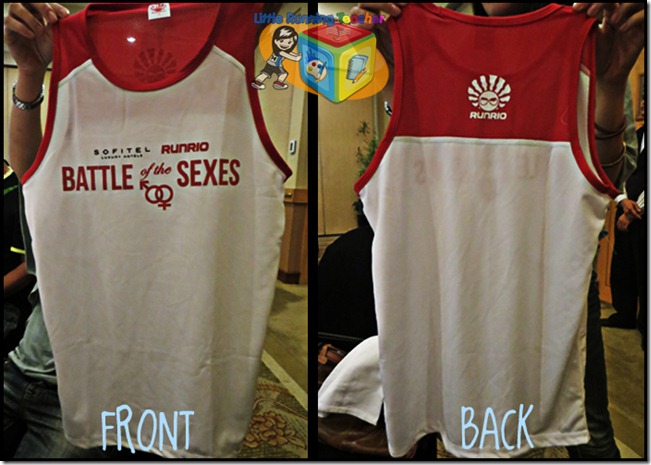 Battle of the Sexes Race route: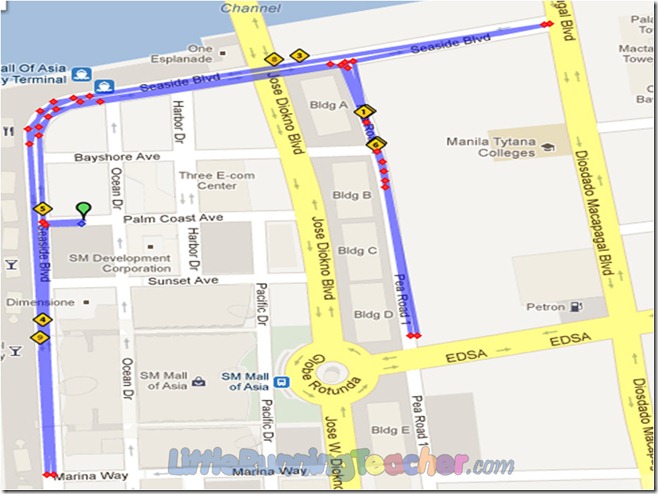 Raffle Prizes:
Over one million in luxury prizes from Sofitel is at stake during the fun run including a three night stay at the exclusive Imperial Residence, dining at Spiral, beauty treatments from Le Spa and Vietura, the new Aesthetic Lifestyle Institute. WOW right? 1 million worth! I wonder who will be the lucky winner?
So, are you guys ready to defend your gender?!
OFFICIAL ANNOUNCEMENT:
Dear Runners,
It is with deep regret that we have to announce that the Battle of the Sexes race event which was originally scheduled to happen on Saturday, January 26, 2013 as a night-time race, is postponed.
Despite being able to acquire approval/permits from the SM Mall of Asia and Pasay City authorities, we will be unable to organize a night-time scheduled race because we were not granted approval by the Philippine Reclamation Authority (PRA) who has jurisdiction on vital portions of the Battle of the Sexes race route.
Citing safety and security concerns, the PRA have declined to provide approval on the use of the road under their authority/jurisdiction on a Saturday night race. With this being the case, RunRio in partnership with Hotel Sofitel will need to reschedule and redesign the said race as a Sunday-morning event, thus the need for postponement.
The new schedule of the Battle of the Sexes race will be on Sunday, March 3 at 5:30AM.
In line with the postponement, registration period will be extended until February 17 for Online Registration and until February 24 for In-Store Registration.
Runners who have already registered for this event need not worry since their registration will still be valid for use on the same event. For further concerns, you may send us an email via [email protected] with the subject "Battle of the Sexes" or call us in any of the following RunRio
hotlines:
Globe – 0927 347 7700
Smart – 0929 717 8164
Landline – (632) 703-1736
Our apologies for this inconvenience and we look forward to seeing you at the rescheduled Battle of the Sexes event!
Sincerely yours,
The RunRio Team
For updates and more info:
LittleRunningTeacher Facebook Page
RunRio's First Battle of the Sexes 2013