It's been over a year since Typhoon Haiyan/ Yolanda struck the Philippines, leaving several homeless, jobless or worse. Though the rest of the country seems to have already moved on, those that were directly in the typhoon's path still continue to struggle to make ends meet.  This is where PDIC comes in.
The Philippine Deposit Insurance Corporation (PDIC) is a government instrumentality created in 1963 by virtue of Republic Act 3591 to insure the deposits of all banks. As part of their Corporate Social Responsibility (CSR) program, PDIC is guided by the following statement, "The PDIC advocates the protection of the environment
and the balanced development of communities"
This year, in continuation of last year's cause, PDIC has once again partnered with Gawad Kalinga to help raise funds and rebuild the community of Lawaan, Eastern Samar.
THE PDIC-GAWAD KALINGA PARTNERSHIP
In support of PDIC's CSR program, the PDIC and Gawad Kalinga partnered for the conduct of "Takbo sa Pagbangon ng Leyte" on May 4, 2014 which raised almost P2 million, an amount turned over by PDIC to GK as initial donation for the construction of the PDIC-GK Village in Sitio Malmangan, Lawaan, Eastern Samar. The Village will provide disaster-resilient shelters for families battered by Typhoons Yolanda in 2013 and Ruby in 2014. The PDIC led the groundbreaking ceremony of the PDIC-GK Village on January 31, 2015 attended by GK representatives, local officials of Lawaan and beneficiary-families. To add more beneficiaries for the PDIC-GK Village, the PDIC will conduct "Takbo 2: Tungo sa Kalusugan, Para sa Kalikasan" at the CCP Grounds in Pasay City on May 10, 2015.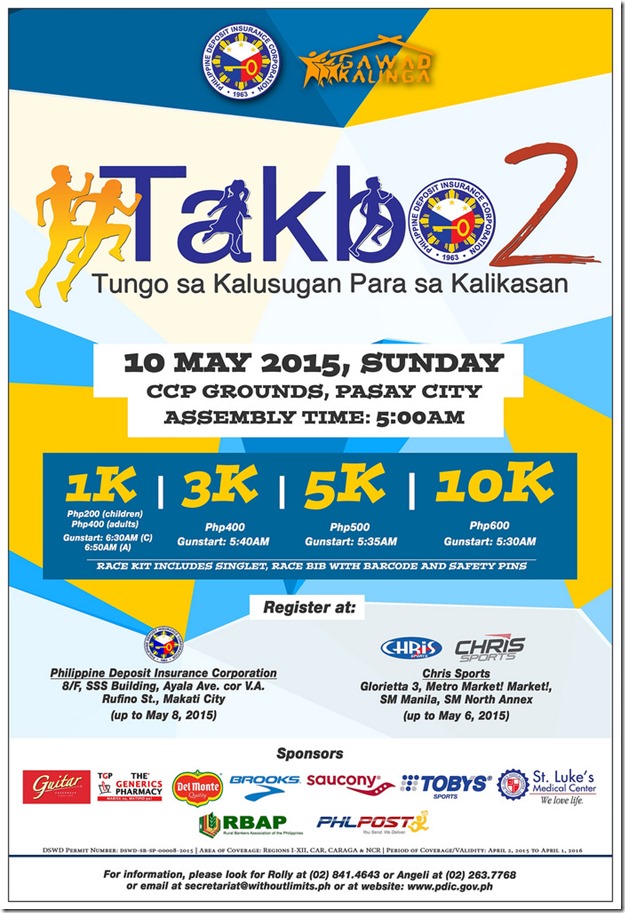 Takbo 2: Tungo sa Kalusugan para sa Kalikasan
When:       May 10, 2015 (Sunday)
Where:      CCP Grounds, Pasay City
Race Categories:      1k Child, 1k Adult, 3k, 5k, 10k
Gun start Times:
10K –  5:30 AM
5K – 5:35 AM
3K- 5:40 AM
1k Children – various times between 6:35 – 6:50am
1K – Adults – 6:55 AM
Race Beneficiary: Lawaan, Eastern Samar through Gawad Kalinga
*When you register, your ENTIRE registration fee will go to the cause! Not a mere percentage but the WHOLE THING!!!
Takbo 2: Tungo sa Kalusugan para sa Kalikasan Registration Details:
Registration Fees:
10k – P600
5k – P500
3k – P400
1k (Adult) – P400
1k (Child) – P200
*inclusive of singlet, race bib and participation in activities such as zumba, exhibit, raffle, etc.
Registration Sites:
April 13 – May 8. 2015
PDIC Office – 8/F SSS Bldg., Ayala Ave. cor. V.A. Rufino St., Makati City
April 16 – May 6, 2015
-Glorietta 3
-Metro Market Market
-SM Manila
-SM North Edsa Annex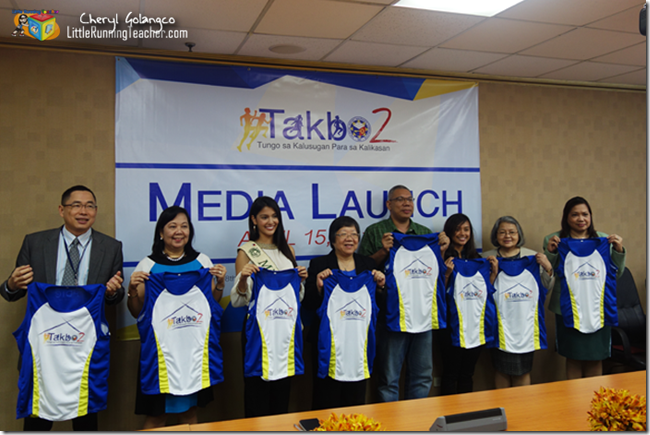 Miss Earth supports PDIC Takbo 2
Takbo 2 Top Finisher's Prizes and Special Awards:
Top Finishers: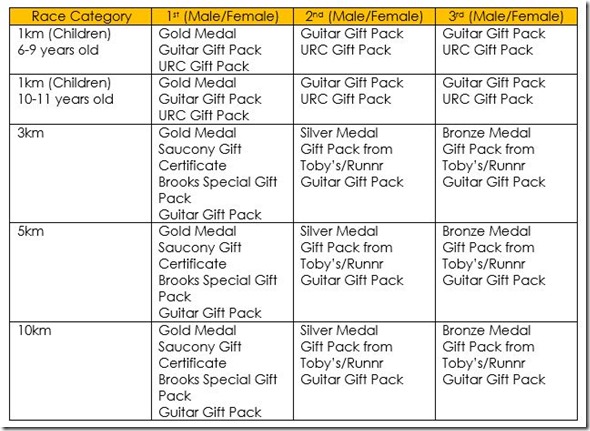 Special Awards: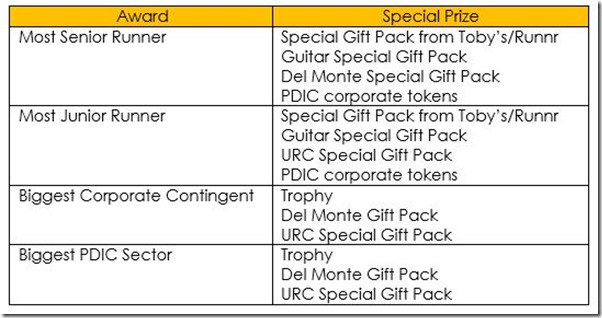 Top Finisher's Medal Design: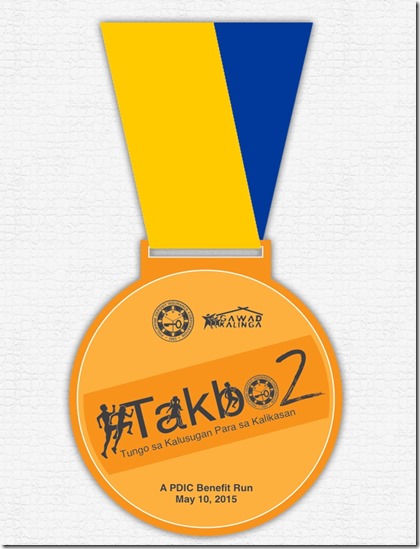 Singlet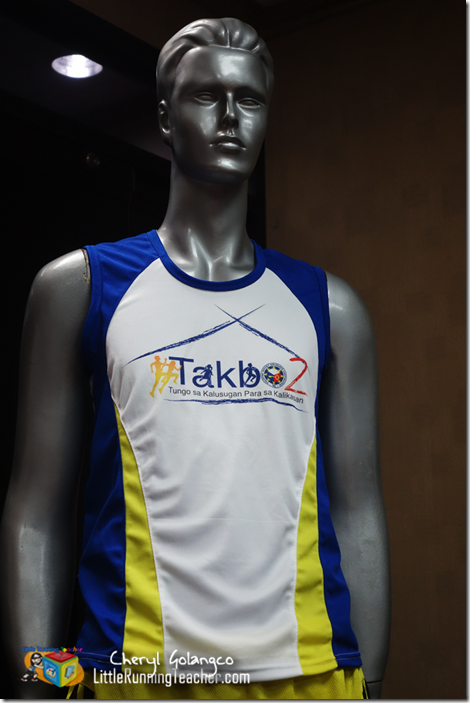 GK Bayani Challenge:
Besides the run, you are also welcome to help out through Gawad Kalinga's Bayani Challenge. What is the Bayani Challenge anyway? 10 years ago, a landslide hit Southern Leyte. During this time, Gawad Kalinga was still in its early stages and was not yet prepared in dealing with such calamities. However, they were invited to go visit Southern Leyte to see what they can possibly do to help. What they realized is more than just the replacement of material lost and food, the most pressing need was dealing with the post traumatic stress.
Volunteers started going there not just to build houses but to interact with the victims. It became a magical healing moment. Amazing how a pair of listening ears and a helping hand can instantly heal a person. Because of this, GK decided to make it more regular. However, instead of just waiting for a disaster to hit before taking action, they became more proactive.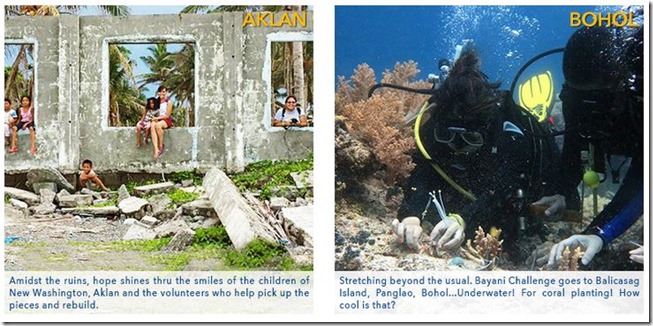 The Bayani Challenge is a 5-day stay in activity which allows volunteers to really interact and bond with the community. Activities involved are storytelling sessions, mangrove planting etc. Today, the Bayani Challenge would extend to 60-day exposures  that are usually done during the summer season.
Our problem is not the lack of resources but the lack of sharing. If we can put aside a few days to experience and feel how those less fortunate than us thrive in this world, then maybe we'd appreciate life a little bit more.
For more info on the Bayani Challenge, visit http://gk1world.com/bc2015
For updates and more info on Takbo 2,
visit the PDIC website here: http://www.pdic.gov.ph/takbo2/takbo.html
Contact No.: (02) 841.4643.
For updates on other runs or to just keep in touch
visit http://www.facebook.com/littlerunningteacherpage
twitter.com/cherylgolangco