As preschool teachers, we can't help but grab every book we see with a catchy title or a cool cover page. I personally am always on a quest to find the best books so I can read the story to my students based on our theme. As long as the illustration is good, I always find a way to use it with my toddlers. I can always change the words a bit for their level.
A few months ago, I was sent an e-book of the book Codley and the Big Storm by Lisa Fair and Michaela Grace. Even without reading the book, I already loved it because of the illustrations. I could already imagine HOW I could tell the story for the kids.
Come on an adventure with Codley, the octopus, and his best friend Pokie, the puffer fish, as they work together as a team after a violent storm almost destroyed their home.
Why you should grab this book:
The story contains a great educational lesson about teamwork that parents will love while children will be intrigued by the inspiring characters.
Codley and the Big Storm Includes 18 gorgeous illustrations done by a professional illustrator showing suspense and humor .
Children will laugh at the delightful characters, hold their breaths in suspense and love to read this story over and over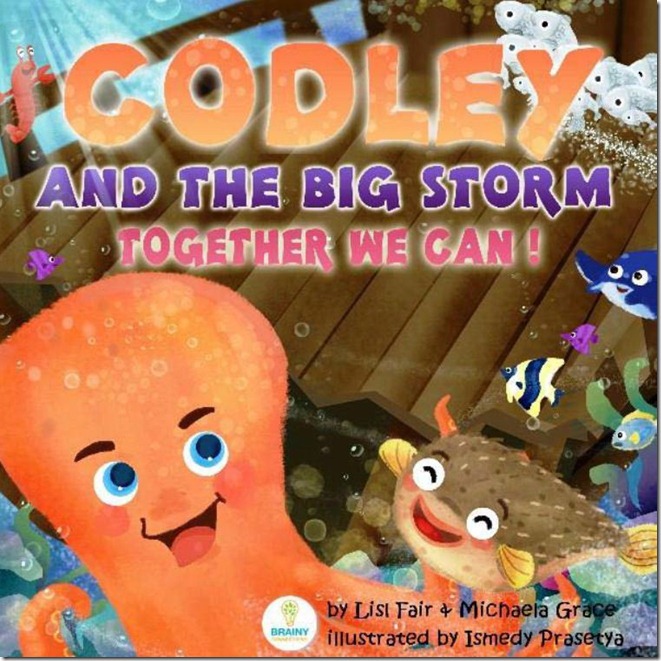 Isn't that an adorable octopus?
Immediately, a variety of themes popped to mind. I could use this book for our theme on underwater animals, or the letter O for octopus or even when talking about the weather.  I also liked that an octopus and blowfish were used because these aren't usual characters and it would allow the children to open their minds to a whole new world of possibilities
Codley and the Big Storm Readability
I'm no pro yet with regards to the levels of reading, but I'd say the story can be told to children of all ages. From their toddler years of 2 all the way till their 7 or 8, so long as they're still interested. For the younger kids, parents and teachers can easily tell the story to them and even act it out. Most of the text used wasn't that hard. For older kids, they could read the story on their own. They could even read it with feelings and emotions.
Here's a snippet from the book:
I could just imagine the kids pretending to stutter as they read this part.
The book can be purchased through Amazon.com: http://www.amazon.com/dp/B008STHXBY
There are more Codley and Pokie stories waiting to be discovered. Make sure to read 'Codley and the Sea Cave Adventure too!
Here are some activities you could do after reading the story:
Happy Reading!