After almost a decade of entertaining young Filipinos as a member of the Australian pop group Hi-5, Stevie Nicholson returns to the Philippines for the World Premiere of Superdudes.
As a preschool teacher, I often get to see my students engage in dramatic play as they act out a scene from their favorite TV show, book or even from something that actually happened recently. Though you'd probably imagine young kids would just be busy building blocks or pretending to be princesses, today's movies and games and have actually influence them a lot. It is not uncommon to see 2 kids fighting in the classroom as both pretend to be carrying guns and swords. Even the girls get it on the rough play. On several occasions, we would also have to remind kids as young as 3 that violence is not the key.
Most may think these are just natural behaviors for children. However, when the child begins to think that it's okay to hurt their classmate because their classmate did something wrong, then we are reminded that we have not been teaching our kids the right values.
Former Hi-5 member Stevie Nicholson understands this need for REAL superheroes and created a book called Superdudes.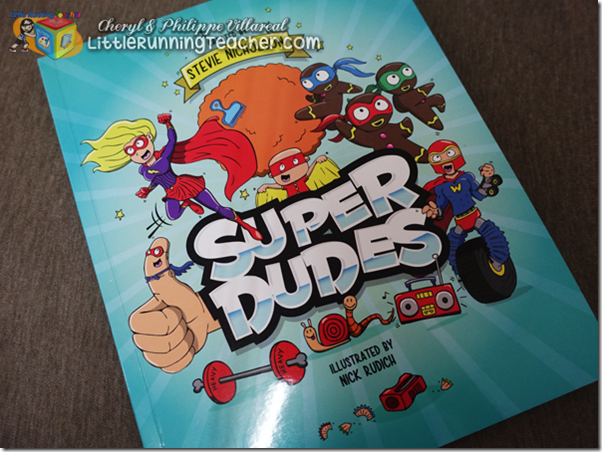 Who are the Superdudes?
Superdudes is an introduction to a plethora of characters led by Super Stevie and his talented best friend, illustrator Nick Rudich, a.k.a. Pirate Pencil. The book focuses on capturing the imagination of children in a playful and engaging way, and is based on the philosophy that absolutely anyone and anything can be super.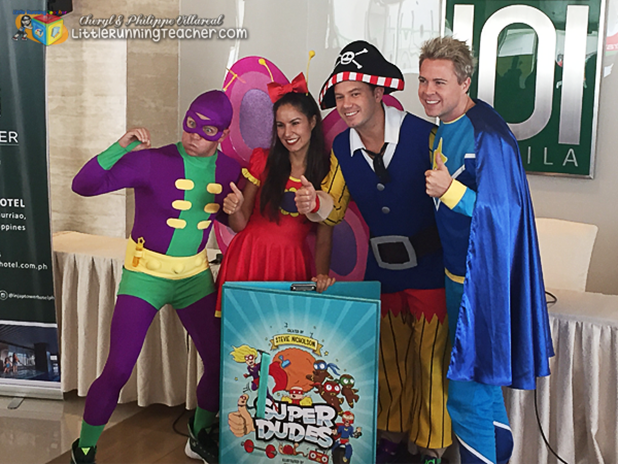 Bubble Trouble (Simon McLachlan), Flutterby (Allyce Martins), Pencil Pirate (Nick Rudich) and Superdude Stevie Nicholson at the media launch in Hotel 101
–
After its soft launch in October of 2015, online sales of Superdudes have been nothing short of remarkable with thousands of copies now in the hands of boys and girls throughout the globe.
Nicholson has chosen Manila to play host to the official inauguration of his funny and quirky children's book. He admits his Filipino fans hold a special place in his heart.
"The Philippines has the best fans in the world," exclaims Stevie. "I just love coming here and the reception has always been tremendous. I have a really lovely relationship with the Filipino people so there is no other place in the world I could think of to launch Superdudes than right here."
–
Author Stevie Nicholson shares that children often say that they want to become superheroes when they grow up. The book was hence created to remind the children how simply being kind and helpful can already make them superheroes.
"Every single child is a Superdude. It can be as simple as brushing your teeth or being polite"
"Superdudes is about more than just the book, it presents children and families an opportunity to connect with someone that a generation has grown up with in a way that they haven't been able to in the past," said Nicholson."
When I met Stevie and the Superdudes, I could immediately tell they all had this huge passion for teaching. They love kids and they wanted to do whatever they can to remind the children how special they (children) were. Today's world somehow sends children the message that we need guns and violence to become a superhero, the book however encourages children that they simply need to be themselves. The book aims to make children realize that there is already something within them that makes them super.
The book also encourages children to send in their own drawings of Superdudes. "It's really all about the children's imagination" – Nick Rudich (Pencil Pirate)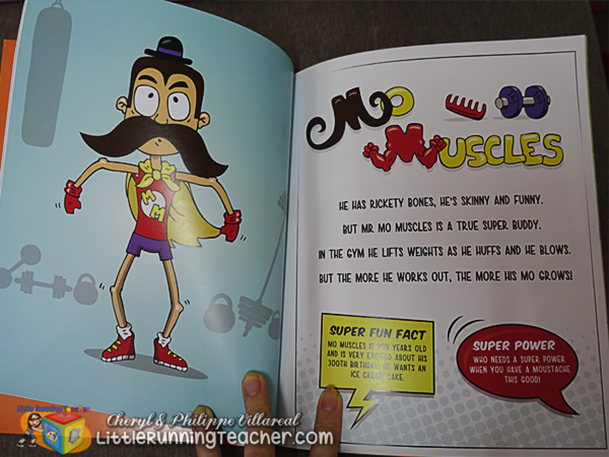 What's next for the Superdudes?
Currently, Superdudes has a book that introduces the various… well, Superdudes. They are also doing Mall shows in different parts of the country. Check out the schedule below:
Superdudes Mall shows:
April 2 Lucky Chinatown Mall
April 3 Venice Piazza
April 6 Century Mall Press Con
April 8 SM Jazz
April 9 SM Megamall
April 15 SM Light
April 16 Century Mall
April 17 SM Ilo-Ilo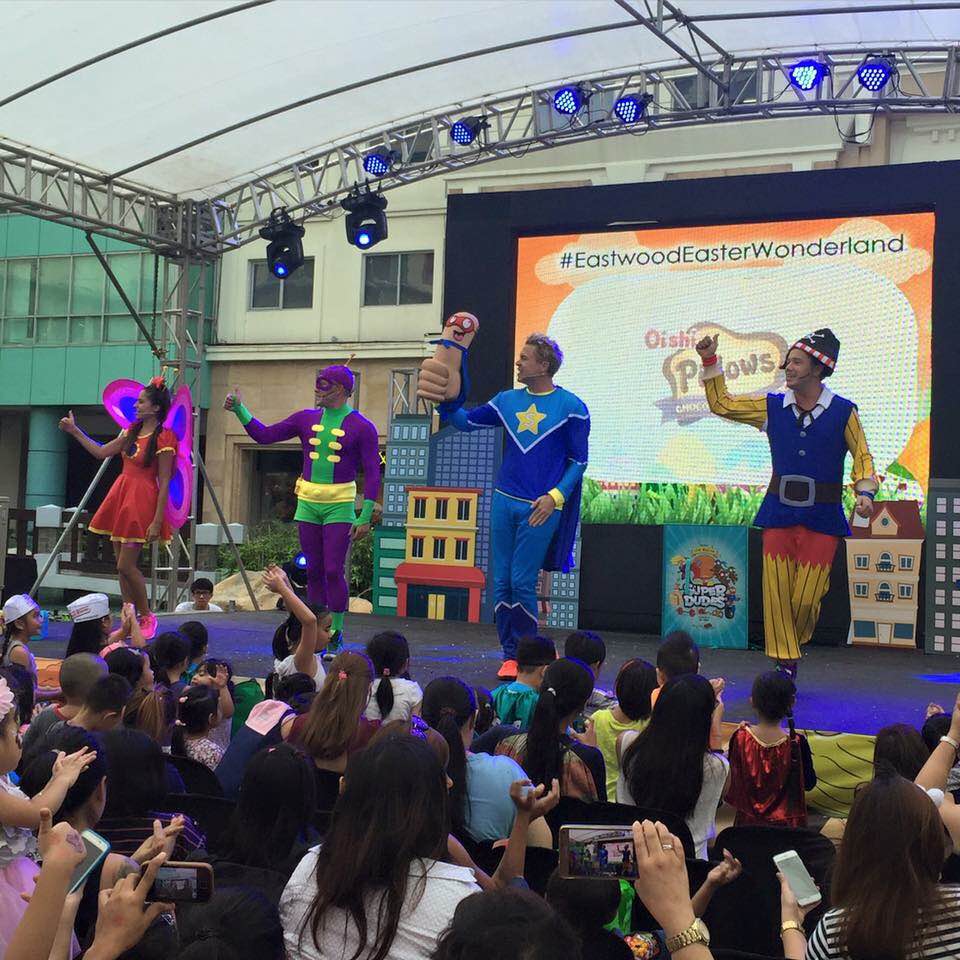 After this, the goal is to create more books and even a TV show. They wish to use as many children drawn characters as possible to make the children really feel part of it.
Thoughts from a Preschool Teacher…

As Stevie mentioned earlier, Superdudes is more than just a book. To the children reading it, it's a reminder of how special and amazing they already are. It's a story of encouragement and a boost of confidence that most children need today… and perhaps, teens and adults too. You see, we fail to realize it, but ever since we were young… we've all been trying so hard to become someone else. Yep, we've all been there. It may have been because of our parents' expectations, peer pressure or simply because we wanted to be better than someone. While there's nothing wrong with wanting to improve, a lot of us grew up FORGETTING that we were already amazing the way we were… we just needed to add to that. Children today go through the same thing. Because of the things that society expects from them (at home and in school), they sometimes feel too pressured and rushed to get better (i.e. learning to read before they're ready) eventually conforming to what society dictates. Unfortunately, they forget that they can already be SUPER by just being themselves… by just being kind, loving and polite.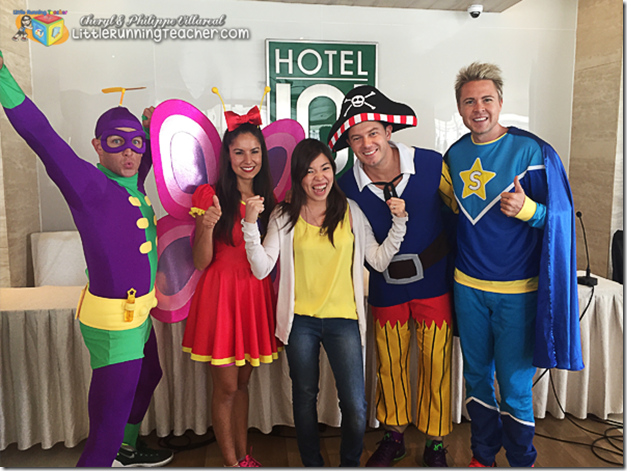 Me (in yellow) with the Superdudes!
–
The book teaches children to love and accept themselves first and foremost. It teaches children that you don't need extreme powers, weapons or violence to be a superhero. It reminds children that they ALL have super powers, and though sometimes we don't immediately know what it is, we all have it. As adults, it is our responsibility to remind kids of this, that they have this unique and special talent within them. Perhaps they can jump really high, or have so much energy that they can run around all day. What we sometimes label as negative can actually be positive if looked at from a different perspective. Now that I think about it, the book might even be applicable to teens and adults. YOU ARE SUPER, and don't you forget that.
For more information, visit the following sites:
Website: http://www.superdudesworld.com
Facebook: https://www.facebook.com/superdudesworld/?ref=ts&fref=ts
Facebook (Stevie): https://www.facebook.com/OfficialStevieNicholson/?fref=nf
IG: @superdudesworld
For updates on other events,
Follow http://www.facebook.com/littlerunningteacherpage
Twitter @cherylgolangco