"Take your time, that's our motto," owner Yuval Mann would tell us as we sat down enjoying dinner in his cozy little restaurant. Chaplin was after all built around that concept — that amidst the hustle and bustle of everyday life, this is a place for you to just sit down, relax and unwind. The restaurant's yellow light, wooden interior and soft music will really make you just want to forget all your worries as you enjoy a cup of their delicious coffee… or even a plate of their delicious meals.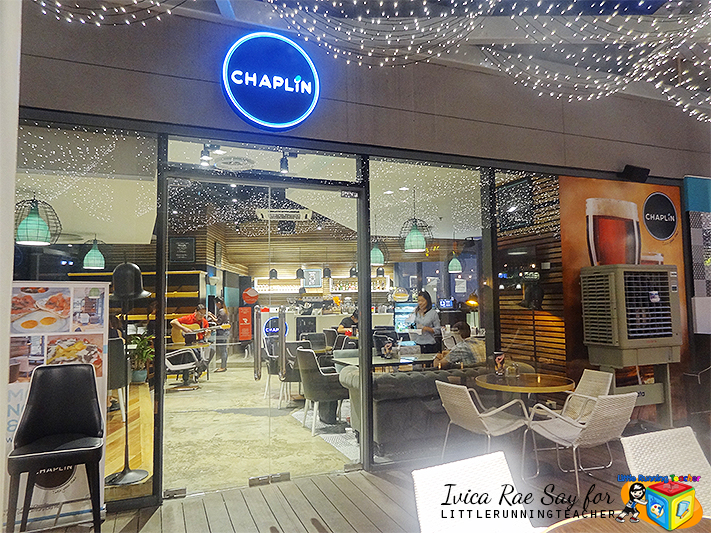 When owner Yuval Mann and his wife first moved to the Philippines from Israel several years ago, they noticed the lack of Israeli food in the country. Moreover, they just couldn't find that one place where they could enjoy a cup of coffee together with a healthy and delicious breakfast. Hence, they decided to open their own budget-friendly restaurant that catered to this need. In addition, they decided to design the place in such a way that'll give customers a feeling of home. So in mid-January 2016, Chaplin was born in Century City Mall.
The Ambience:
As mentioned above, the ambience is very cozy and extremely inviting. I'd definitely recommend this place for a date, an intimate dinner or just a night of relaxation with friends.  They also play live music at night, so you might want to check that out too.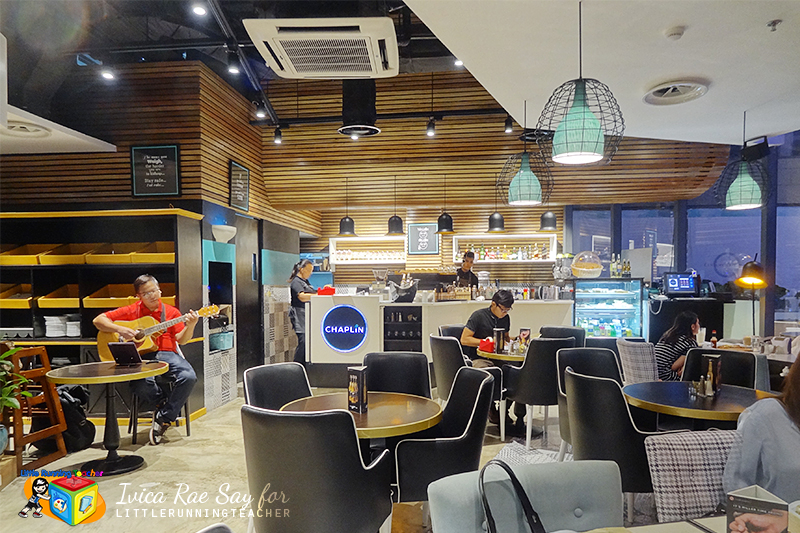 The Food:
The food at Chaplin is inspired is mostly Mediterranean with a little twist to match the Filipino taste. We tried a variety of Chaplin's dishes, all of which did not disappoint. Not only were the dishes delicious and healthy, but they were mostly budget-friendly too.
Is it healthy? Well, a lot of the food they serve is. It's your choice however if you wanna take in that extra carb or simply ask the waiters not to serve the bread. They use either olive oil or canola oil in cooking their dishes too.
Let's start off with the drinks, Chaplin's Cappuccino is made with love. It's got just the right amount of milk and sugar as to not overpower the aroma and kick of the the coffee beans. Yuval shares how it isn't really about the beans but the process in which the cup is made. Hence, he makes sure that all his wait staff know how to make a cup of coffee.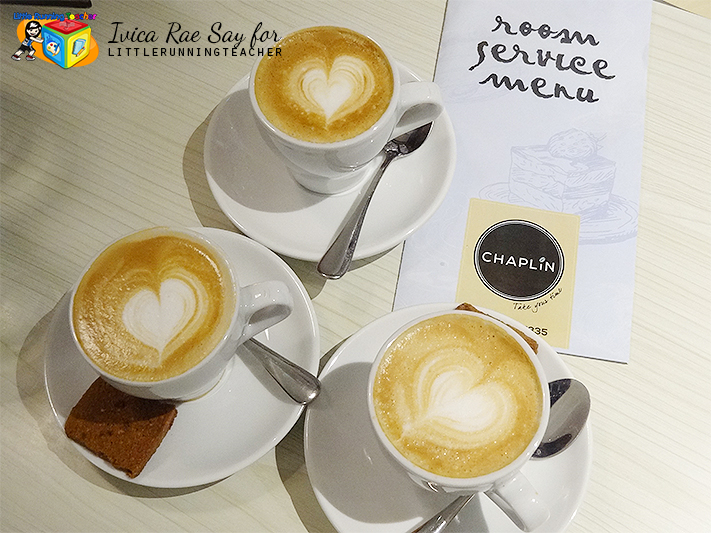 The Chaplin Tea took me by surprise. You see, when Yuval described this unique concoction with orange and ginger, my initial reaction was… "no thank you." I love oranges but the tangy taste usually doesn't mix well with other drinks (this of course is just my personal preference), plus, I didn't like ginger tea. However, everyone insisted I try this drink. Yuval kept talking about how simple it was to make and how delicious it was after all the flavors fully come out. So I opted to give it a try… and to my surprise, I LOVED IT! The tangy taste of the orange, along with the cinnamon and honey perfectly complemented the strong ginger flavor. The minty flavor topped it all of. This is my kind of tea!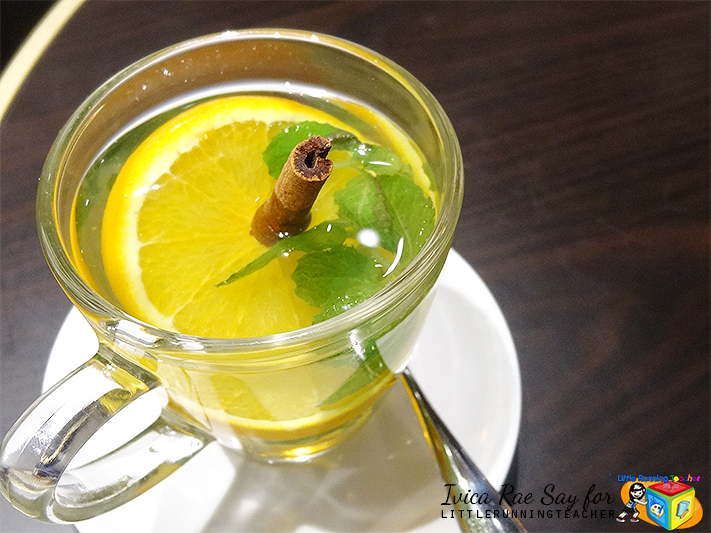 Chaplin Tea – composed of honey, ginger, cinnamon, orange juice and mint (YUM!)
For starters, we got to try the Dip Platter (P165) which was serves with house bread and 4 different kinds of dip – tahini (made from sesame seeds),tuna salad, olive paste and pesto. All the dips were good, but make sure you don't fill up too much on the bread.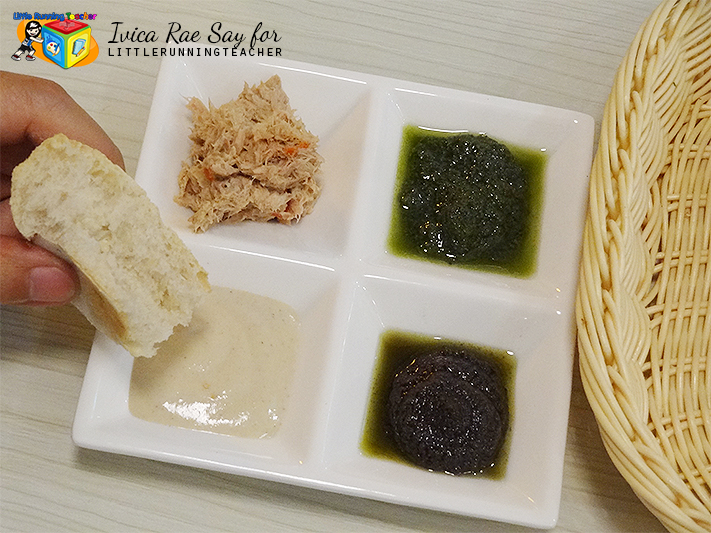 The Shakshouka (P295) was part of their All Day Breakfast Menu. We opted to try some of it for our dinner. Shakshouka is a known dish in Israel composed of eggs poached in tomato sauce, chili peppers, onions and a choice of black olive and eggplant with feta/ jalapeno mozzarella/ meatball or just plain. Chaplin's version was slightly spicy with a rich tomato base. It is best eaten with a piece of toast.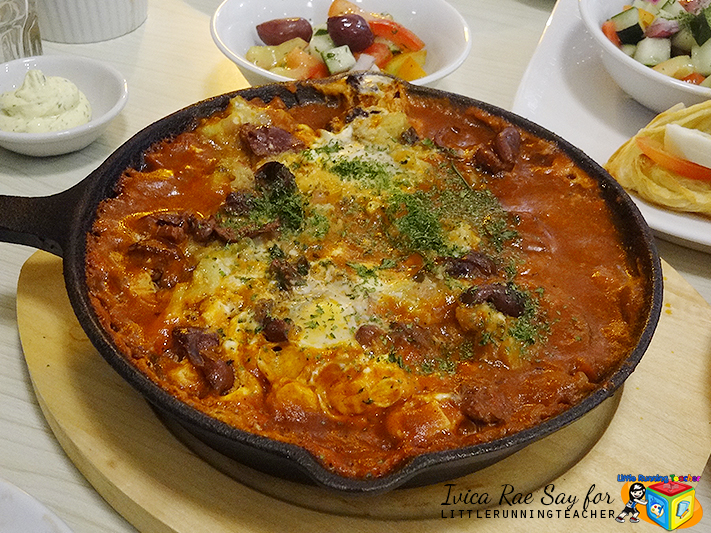 We then moved on to the Feta Salad (P445). This was one of the best Feta salads I've ever had, mainly because of all the fresh ingredients they put in there. Chaplin's feta salad is composed of lettuce, tomato, black olive and green onion topped with breaded feta cheese and vinaigrette sauce. I especially enjoyed the breaded feta cheese! I could munch on that all day.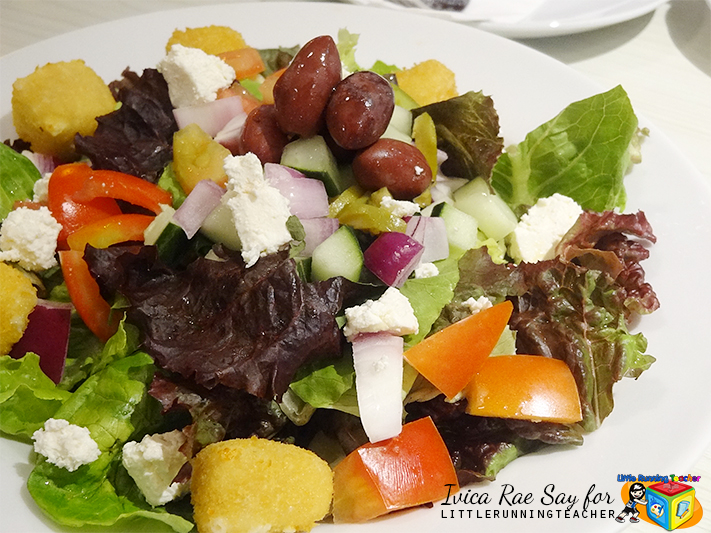 Then for our choice of sandwich, we had the Bourekas (P240) which is a croissant-like open faced sandwich filled with boiled egg, tomato and pesto sauce. It reminds me a bit of an egg sandwich, however instead of the usual bread and mayo, you get croissant and pesto! Talk about a level up. I initially had no idea there was pesto, so that first bite was just heaven as flavors burst in my mouth.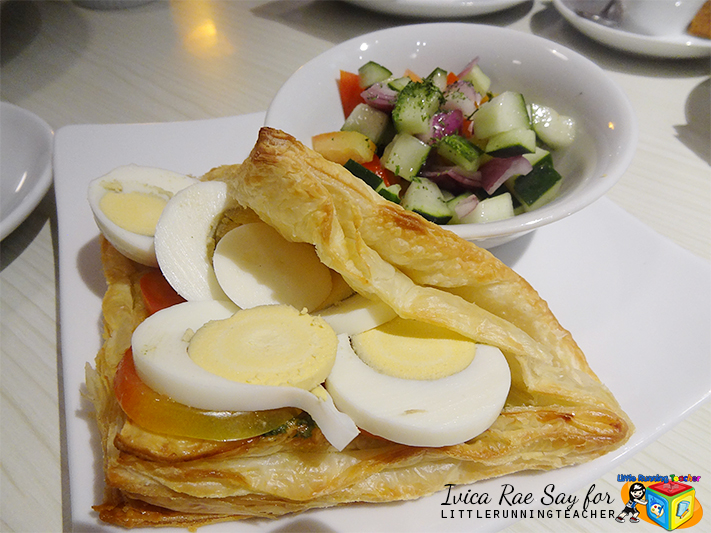 The Chaplin Burger (P425) was one of my favorites. The bread was made with a special recipe that made it extra delicious while the meat was New Zealand ground beef which was extra juicy and tender. As if that wasn't good enough, the burger was also filled with mushroom, caramelized onions and served with side salad.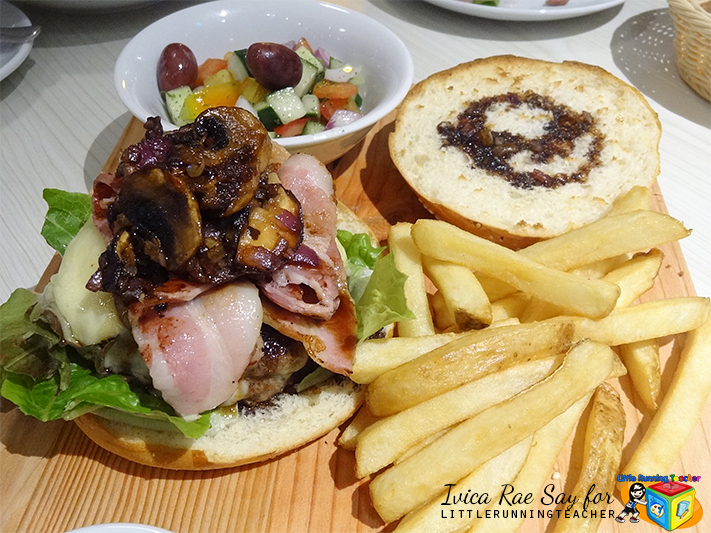 I have a weakness for Truffle's Mushroom Pasta (P395) , I just absolutely loved the creamy and sharp taste of it. Chaplin also had their own version which was just as good.
The Chicken Steak (P345) was another one of my favorites. This one hit a little close to him with its savory flavors. The chicken is grilled to perfection and marinated with just the right amount of sweetness.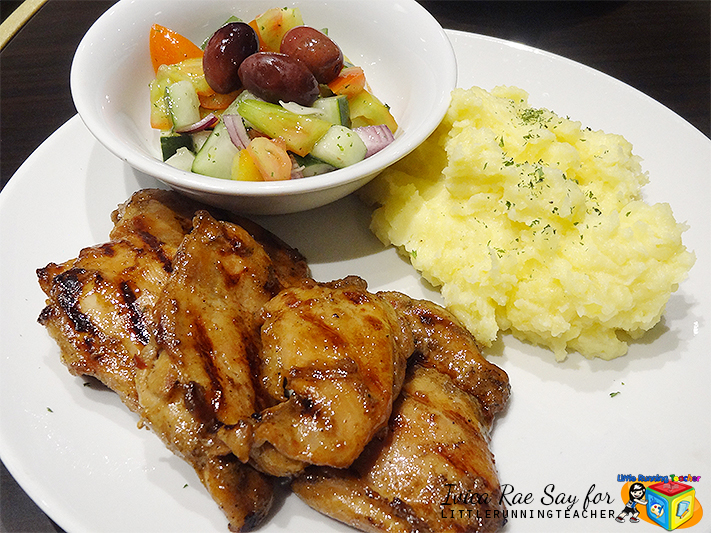 The Dessert
Oh the dessert was my absolute favorite part of our entire dinner! Despite feeling so full from the scrumptious meal we were served, we joked around saying, "there's always room for dessert." At this point, I've completely forgotten about my diet.
Apple Pie with Ice Cream (P210)
This apple pie recipe is filled with apples and is tucked into a buttery pie crust, served with a scoop of ice cream. The apples were baked just right, they were still slightly hard and not soggy. Of course, pairing the freshly baked pie with ice cream always makes this so much better.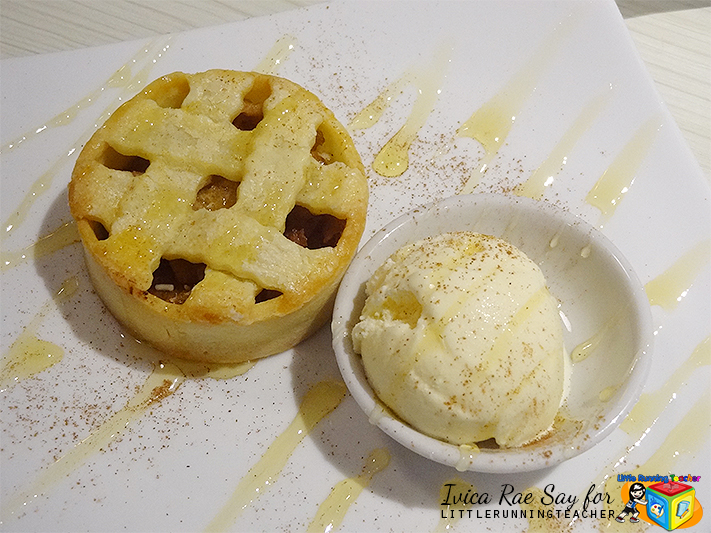 Chocolate Souffle with Ice Cream (P240)
"A delicious molten center and a light, springy exterior with pure chocolatey decadence from the inside out. Served with ice cream" This was my favorite dessert. It took me straight to chocolate heaven. Mmm!! Imagine this piece of crispy chocolate cake, the toasted texture really does the trick. But as you bite into it, the soft and moist center just explodes in your mouth. Moreover, the cold vanilla ice cream continues to mix with the hot chocolate already in your mouth. Drool!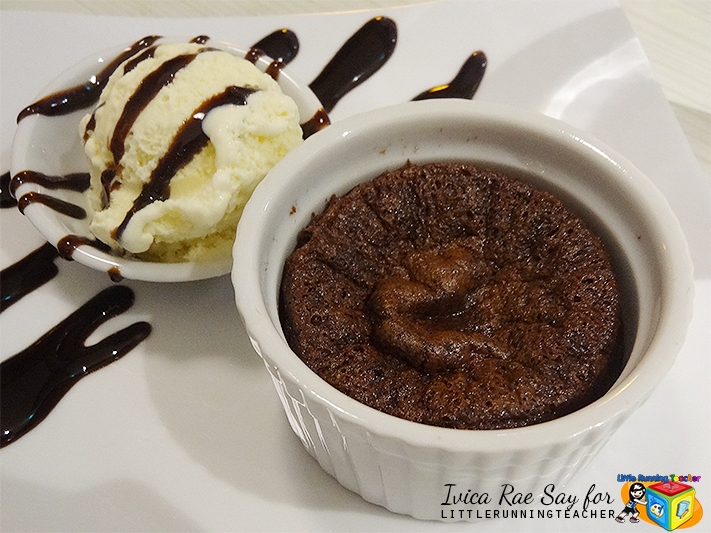 We tried a few more other dishes, but these were some of my favorites. Chaplin opens early in the morning to serve breakfast so be sure to drop by and get your morning fix before heading to work. Their delicious and healthy food will surely give you that extra kick you need to last the day.
Chaplin

4th Level, Roof Deck
Century City Mall, Kalayaan Avenue
Makati City
(02) 9465335