I've heard of carbo loading before a race, and I've heard of carbo loading after a race… but have any of you heard of carbo loading DURING the race? Well, not really carbo loading, more like eat and run! 
This Sunday, the Asian Food Channel will turn your world around as they give Eat and Run a whole new meaning! For the first time in Manila, runners will need to combine not just speed and agility… but also their eating skills!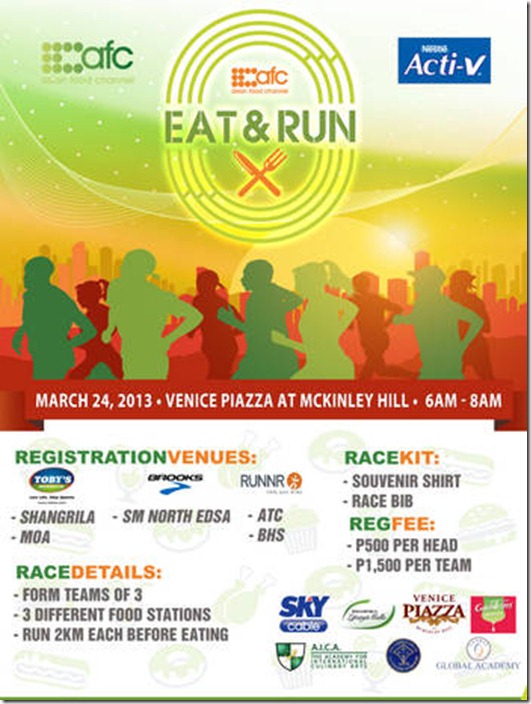 What: Eat and Run: The 6km Relay (3 members per team)
When: March 24, 2013 (6am)
Where: Venice Piazza, Mckinley Hill
Registration Details:
Race Category: 6km relay – 3 members, 2 km each
Registration Fee: 500 per head (1500 per team)
*Inclusive of: Souvenir shirt and Race Bib
Registration Sites:
Toby's
Shangri-la

Mall of Asia

Glorietta
RUNNR
Brooks
Olympic Village
Festival Mall

Robinsons Galleria

Robinsons Ermita
Olympic World
How does it work?
Participants are asked to form teams of 3 with each member set to run 2km each. However, instead of the typical finish line, what awaits are mouth watering, appetite satisfying, flavor filled meals from 3 of the Philippine's best culinary schools.
For those who like to run but can't go that far, this is a great distance to try. For those who love fun and love to eat, this is definitely the place to be.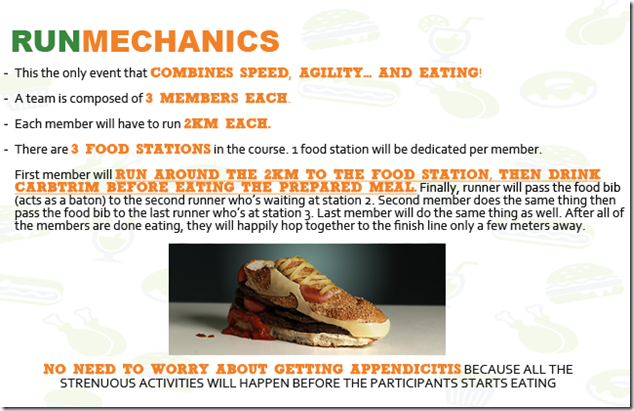 No more excuses not to run! This is a great way you can get your non-running friends to join the hype! Few more days to go! Register now!!
FREE RACEKITS
So who wants to win 3 free race kits for your entire team?? Mechanics are really simple!!
For instant updates,
 http://www.facebook.com/littlerunningteacherpage