Summer is coming and everyone is once again cramming to get that perfect toned and fit body to show off at the beach. However, I'm sure you'll all agree that getting that dream body, let alone losing weight isn't really all that easy. (Right?) And that's why you'd all be thrilled to find out  what Century Tuna has planned for this year's Superbods Challenge!
For the past years, the Century Tuna Superbods had grown to be one of the top model searches in the Philippines. Several people with dream bodies try their luck hoping to be casted as one of the top models of the year. It was a really cool plan, thing is, it focused more on people who were already fit and already with ideal bodies. This year, Century Tuna is all about transformation. Hence, they have decided to turn the tables a bit and make the Superbods Challenge more meaningful by turning it into something everyone…fit or not, can relate to!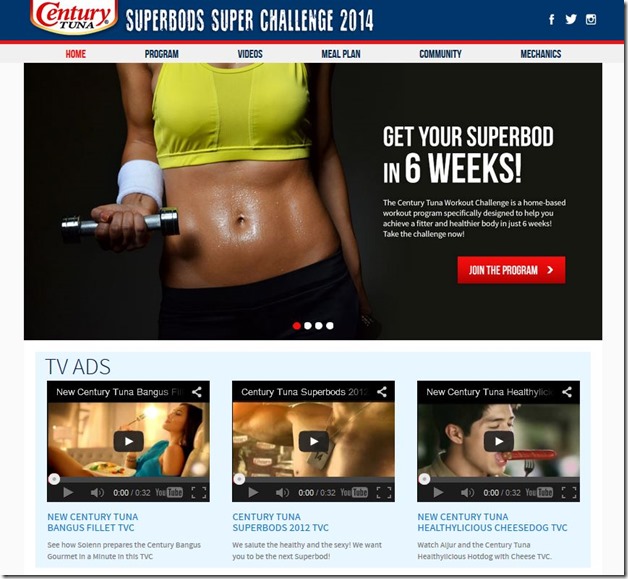 To help everyone get started on the road to fitness, Century Tuna has unveiled the My Road to Superbods website, an online portal featuring a daily diet and workout plan, put together by two of the country's most trusted and most popular fitness experts.
My Road to Superbods Website
Whenever we think of losing weight or getting a fitter body, most of us automatically think of enrolling in a gym. Though the gym can help keep us motivated (mostly because we've paid for it), there are other less expensive ways to lose weight and tone our bodies, one of which is checking out the new Century Tuna Superbods website.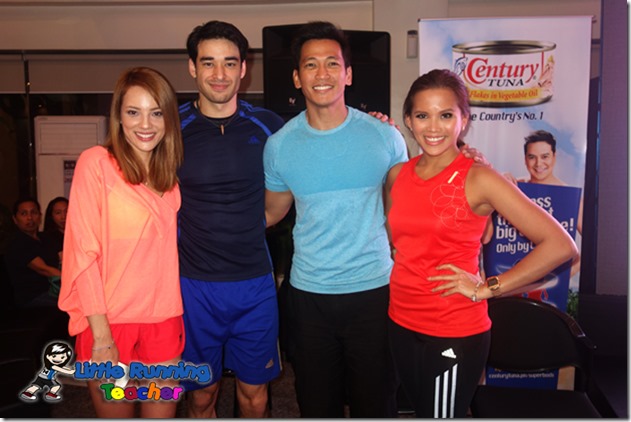 (L-R) Janet Hemmrich, John Spainhour, Coach Jim Saret and Gelli Victor
Diet Plans from the Sexy Chef
In the new and improved My Road to Superbods website, the Sexy Chef Nadine Tengco shares her own recipes that will help each of you get to your ideal weight. In a recent media night, Chef Nadine shared how she made sure that through her meal plans, results will be fast and sustainable.
Did you know that around 80% of weight lost is diet? I'm sure a lot of people already know this, but despite this, people still think they can out-exercise a bad diet. Well, I've got some news for all of you… YOU CAN'T! As Chef Nadine shares, you can NEVER out-exercise a bad diet. If you want to gain muscles in your arms, legs or chest, then go workout, but if you want to lose that belly flab, there's no other way to do it than to diet.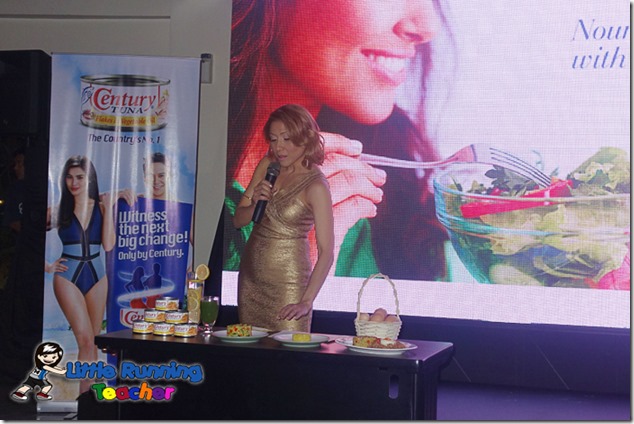 Chef Nadine Tengco teaching us all about proper diets
A lot of people pay huge amounts to get a personal dietician or nutritional guide for their diet, thanks to the Superbods website, you can get this for free! Through the website, Chef Nadine shares 150 various low calorie recipes that you can use for FREE!
The uploaded recipes contain a full list of ingredients that can easily be bought in any supermarket as well as the procedures in preparing the dish.
P.S. Did you know that some important ingredients that aid in losing weight are Vitamin D, Omega 3, Calcium and Fiber? Not all of these may be easy to find, but luckily, Century Tuna can help! Most of the uploaded recipes uses Century Tuna, if not, Chef Nadine has made sure it uses a variety of food that gives us just the right nutrients to fight fat.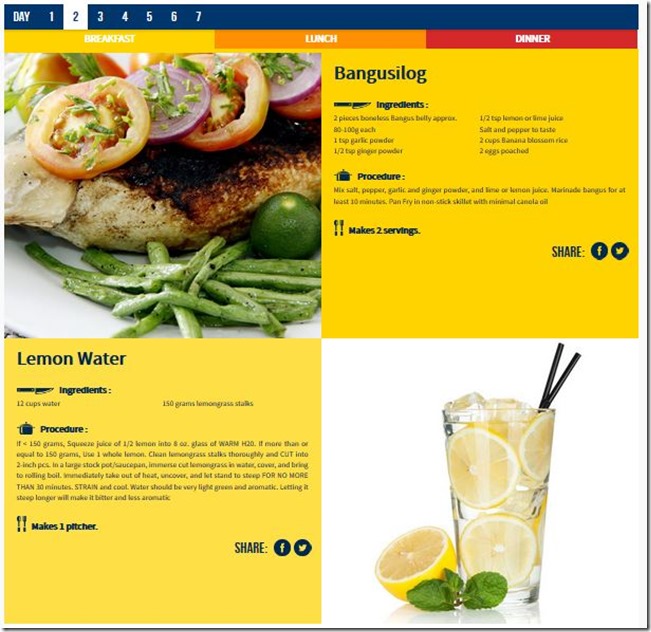 Don't worry though, despite her meals being low fat, they're still very rich in flavor! I personally got to try a handful of Chef Nadine's dishes in a recent media event and they were superb!
Workout Routines from Coach Jim Saret
A good diet is always important to get that ideal body, but it works better when paired up with a good workout. Well,through the My Road to Superbods website, you can easily gain access to both with just a click of the button! Through their site, Coach Jim shares daily exercises lasting for a maximum of about 30min. All his workout videos are easy to  do and are guaranteed to help you get in shape.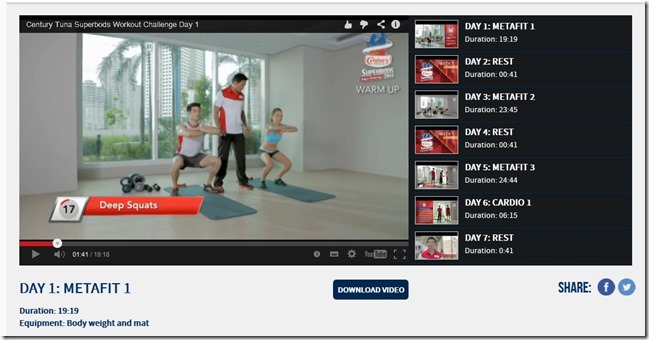 Coach Jim teaches the various workouts with Century Tuna Superbods 2012 winner John Spainhour and Ms. Photogenic Janet Emmrich
Most of Coach Jim's workouts require nothing more than your body weight or simple appliances you have at home. If you choose to actually buy workout equipment, the most expensive item you would probably need is a theraband which cost around 200 pesos.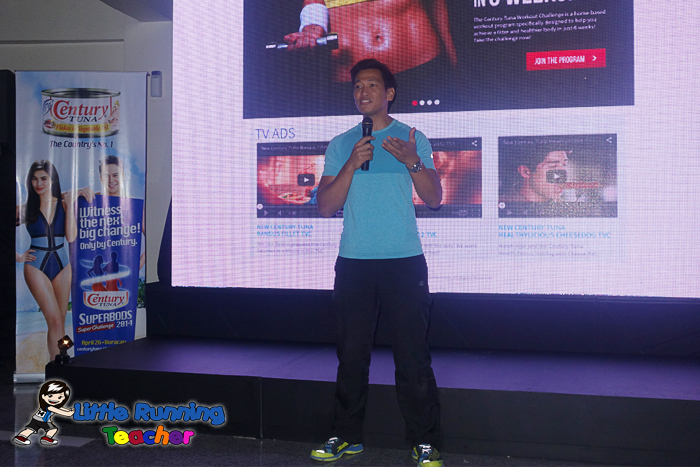 The launch of the My Road to Superbods website is a run-up to the Century Tuna Superbods Super Challenge, the hottest and most awaited summer event in the Philippines. It will be held on April 25-27, 2014 in the country's ultimate beach destination, Boracay.
Win a Trip for 2 to Boracay
I'll share more on that on a next post, for the meantime, if you really plan to start getting fitter and healthier through these meal plans and workout routines, then why not join the My Road to Superbods Challenge as well? Besides their annual model search, Century Tuna will also be awarding one of you lucky followers might get the chance to win a trip for two to Boracay to witness the grand Century Tuna Superbods Event! So what are you waiting for, join now for a fitter and sexier you! Contest mechanics here: http://centurytuna.ph/superbodschallenge/#/mechanics/
For more information
visit http://centurytuna.ph/superbodschallenge
Twitter https://twitter.com/Century_Tuna
Instagram: @centurytunasuperbods
Facebook: https://www.facebook.com/centurytuna
For updates on other runs or to just keep in touch
visit http://www.facebook.com/littlerunningteacherpage
twitter.com/cherylgolangco