When it comes to running, one of the first things anyone considers is what shoes to wear. While the entire apparel is definitely important, the shoes would be the first priority. Without the proper running shoes, you put yourself at risk of injury. Now I'll be honest and say there are really A LOT of good shoes in the market nowadays. More than just design and functionality, the right pair of shoes also depend on the user. I always tell friends to never take my word for it as I feel you have to try it out yourself.
A few years ago, I was introduced to the adidas boost series. I quickly fell in love with its cushiony sole and snug feel and would often recommend it to friends. The shoes were also extremely light on my feet and just made me feel like I was floating on air. After releasing their first pair (which I already loved), adidas continued to make minor adjustment and improvements to just keep getting better. Today, they introduce the newest addition to the series, the adidas PureBOOST X. Same technology, new designs… only for women!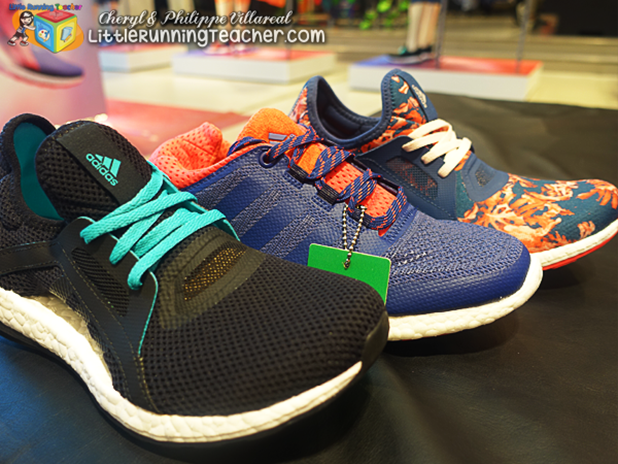 adidas PureBOOST X: Uniquely Designed for Women
adidas has teamed up with female athletes from around the world to deliver PureBOOST X, an innovative running shoe designed only for women. PureBOOST X features a first of its kind floating arch that hugs the foot and provides support throughout any run. The sleek, form fitting shoe is built to meet the demands of an active lifestyle.
Did you know that most shoes are usually designed with a man's foot and simply adjust for women? The PureBOOST X however was completely designed around a woman's foot, resulting in a high performance meets high fashion shoe for women. adidas designers used Aramis, a state of the art motion tracking technology, to study the female foot and how it moves during running to create the ultimate women's running shoe.
adidas girls Karylle Tatlonghari-Yuzon and Maricel Laxa-Pangilinan show off their pairs of PureBOOST X, the ultimate women's running shoe.
adidas PureBOOST X Floating Arch
One of the most unique thing about the PureBOOST X is the floating arch. Did you notice it? The contours of the female foot inspired the design of the shoe's unique floating arch detail. With the PureBOOST X, the arch is not "married" to the shoe, instead it hugs your foot when you run. This means that you will have constant support with every step. (Don't you wish relationships were just as easy?…kidding!) The adaptive stretch mesh of the floating arch wraps underneath the midfoot delivering a supportive sensation you can feel during every run. The unique design allows for a more comfortable fit that works with the natural movements of the foot.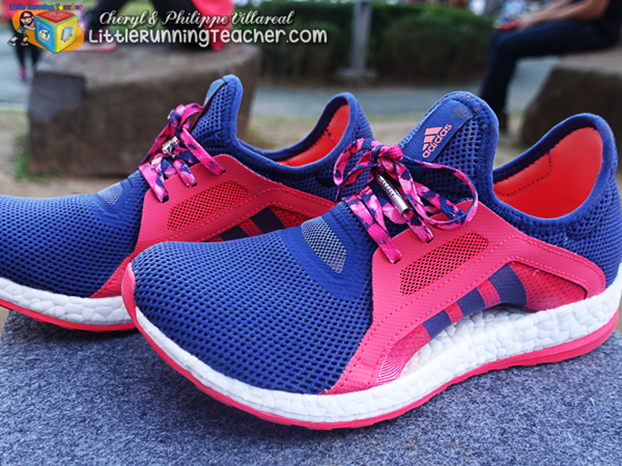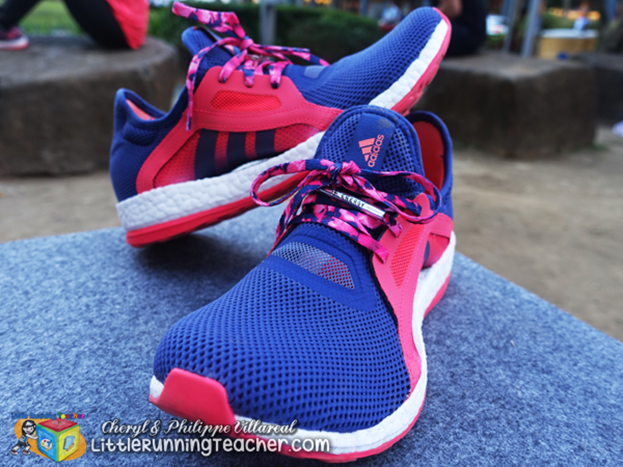 "The most common feedback we received during our years of working with female athletes was the desire for a running shoe with looks to keep up with the energy of its performance," said Jennifer Thomas, Senior Director for Global Brands, Running. "PureBOOST X is a product of innovation and style working in perfect harmony to meet the demands of today's versatile female athlete."
The stretch mesh upper rests on a full length bed of thousands of energy infused BOOST foam capsules. The BOOST midsole unleashes energy more efficiently in every stride and provides more energy return than any other foam cushioning material in the running industry. The upper, floating arch and lock down lacing system provides an adaptable fit that hugs the foot from heel to toe. The Stretch Web outsole is designed to allow for flex at any point enabling the foot to maintain its natural motion.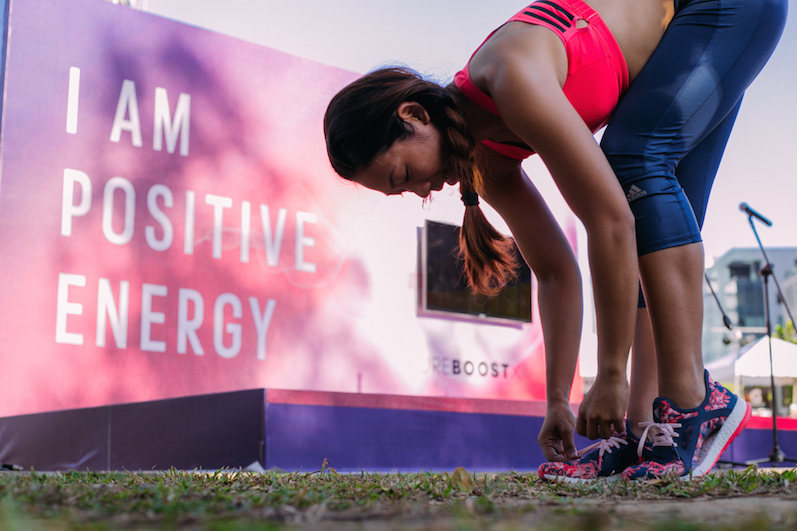 PureBOOST X features a first of its kind floating arch that hugs the foot and provides support throughout any run.
The introduction of PureBOOST X extends its design credibility with an adidas by Stella McCartney version featuring fashion forward treatments by the world renowned designer. The adidas by Stella McCartney PureBOOST X combines trend elements with performance. Showcasing Stella's design expertise, the shoe pairs an adidas primeknit upper and extended lacing details for extra support without compromising on style.
"I designed the adidas by Stella McCartney PureBOOST X alongside female athletes to capture their individual energy and provide them with a product that enhances their confidence to surpass their personal best every time," said Stella McCartney. "PureBOOST X allows female athletes to perform with a relentless determination without sacrificing on style."
Some of the adidas influencers in their matching PureBOOST X shoes (L-R): Melissa Gohing, Nikki Torres, Yessa Yu-Caparas, Nickey Reyes, Trasienne Estrada, Rachelle Que-Love, and Cassie Umali.
adidas PureBOOST X will be available in three colorways (Raw Purple/Raw Purple/Shock Red, Black/Shock Green/Black and Mineral Blue/Mineral Blue/Halo Pink) for Php5,795 on adidas.com and retailers nationwide starting February 3. The adidas by Stella McCartney version will be available in two colorways (Dark Blue/Granite/Dark Blue and White/Dark Blue/White) on adidas.com and select retailers for Php8,195 starting February 15.
For updates and more info, follow
@adidasrunning on Twitter and Instagram
use the hashtag #PureBOOSTX
For updates on other runs or to just keep in touch
visit http://www.facebook.com/littlerunningteacherpage
twitter.com/cherylgolangco