Just a few more days till several of us will be able to take over the SKYWAY!! Aren't you excited?…you should be! All systems go the the Condura Skyway Marathon, Run for the Mangroves 2013 this coming February 3! See you along with 14,000 other runners by the starting line in Filinvest City Alabang!
RACE DETAILS POSTED HERE
The Condura Skyway Marathon is organized by its founder and Chief Organizing Officer, Ton Conception along with his brother and Condura Skyway Marathon's running ambassador Patrick Conception. This year the race will have the usual 10k, 21k and full 42k marathon categories plus the new 3.8k, 6k which are especially meant for the fun and adventurous runners who are not yet ready to take on the mid to long distance-races.   
The 2013 installment of this prestigious run records the biggest growth of 42k and 21k runners compared to the previous years.  Both the number of full and half marathoners increased by almost 50%!  "We are very pleased with this growth. And what motivates us more is the trust of many who will do their inaugural full or half mary with us.  That is why the team has been working tirelessly planning, reviewing and arguing to make sure that they are safe and well taken care of,"  mused Ton Concepcion.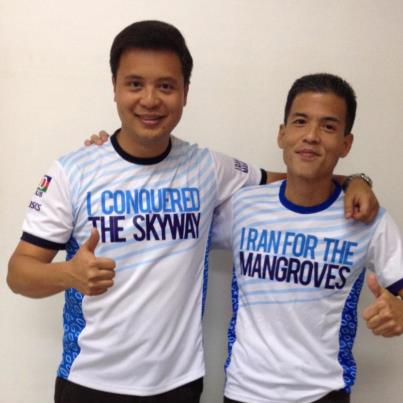 Photo taken from runningshield.blogspot.com
Apart from the challenge and fun that this race has in-store for runners, participating in this race will also mean taking part in the Condura Skyway Marathon advocacy of helping with the reforestation of the Mangroves in Zamboanga de Sibugay in partnership with Philippine Tropical Forest Conservation Foundation (PTFCF) . Each runner through their registration, will get to donate three mangrove seedlings which will be planted in his/her name. In 2012, the first year that Condura Skyway Marathon adopted themangroves reforestation project to its cause, a total of 39,000 seedlings have already been planted in Kabasalan Town through runners' donation. With 14,000 participants this year,  this translates to another 42,000 trees that will make a huge difference in the livelihood of more communities in Zamboanga.
Condura Skyway Marathon is truly a run with a big heart! Runners will now have the opportunity to raise pledges for the charities it is supporting. For 2013, the premier running event is proud to support Bikes for Philippines, Hero Foundation, I Can Serve and Liter of Light. Runners can raise pledges of P50 pesos per kilometer and a time bonus of P500 pesos if they hit their time goal. "Our aim is to encourage runners to embrace more causes to better the lives of those in need.  This is our own little way of helping these foundations raise funds so they can continue on with their respective programs and activities. We want to help in making the country a better place – one step at a time,"  says Ton Concepcion.
Registration is STILL ongoing at the Olympic Village, Alabang Town Center, Muntinlupa City.  Hurry – few race kits are left!
RACE DETAILS POSTED HERE
For more information,
visit the official website www.conduraskywaymarathon.com 
official Facebook page https://www.facebook.com/conduraskywaymarathon
The Condura Skyway Marathon, Run for the Mangroves 2013 is Co-Title Sponsored by Skyway and presented by sports apparel and shoe sponsor Asics, hydration sponsor 100 Plus and venue sponsor Filinvest City.