Last Sunday, Feb 3, 2013, I ran my 2nd Condura Skyway Marathon, it was my first however to start from Alabang and run on the Skyway! Woot woot! What an experience!!
I joined the Condura Skyway Marathon for the first time around 3 or 4 years ago. I wasn't use to running yet and so I only registered for the 5k category. Back then, I felt like there was nothing really special about the run, especially since the  5k runners didn't really get to run on the Skyway.
This year, I'm strong enough to run a half-marathon, however, I chose to run a short 10k distance due to lack of training. The run was INCREDIBLE. It was one of the most organized runs I've ever been to and let me tell you why.
Why the Condura Skyway Marathon 2013 was the best!
1. You get to run on the skyway!
Need I say more?? The feeling is one of a kind and the experience is incomparable. Imagine showing your friends a photo of you in the middle of the skyway!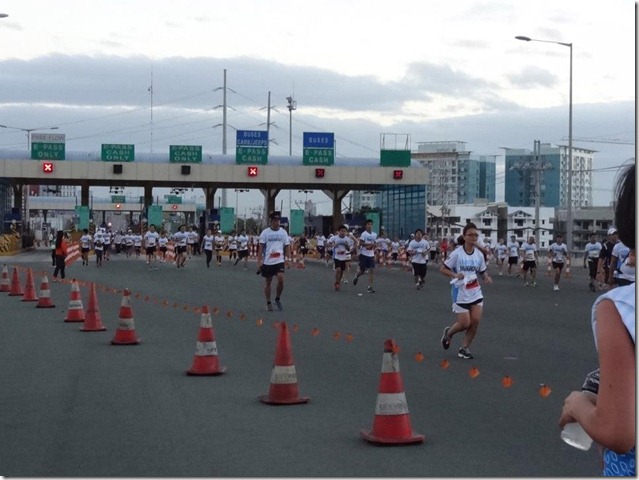 Photo from Ivica of RunNurse.com
–
2.  Fireworks as the gun start for each category
I got to the Activity Village in time for the 21k gun start and loved the firework display. At first, I thought it was only for the 42k and 21k runners… so imagine my surprise when the fireworks continued for all categories. I've seen organizers use fireworks before and I still love it. The fireworks somehow help give runners the extra boost we need.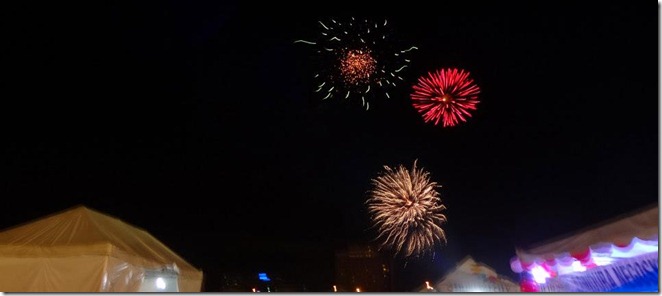 Photo from Ivica of Runnurse.com

–
3. Dissemination of runners via Waves was very clean and organized
There were wave markers for runners to go to. The wave you're part of is indicated on the race bib. I'm sure this has been done before, but it's the first time I witness organizers actually putting up huge flags/wave markers to notify runners of their designated areas. I felt that the time in between distances was just right for 14, 000 runners running the skyway! There was an hour or so between race distances to give the runners enough space on the skyway!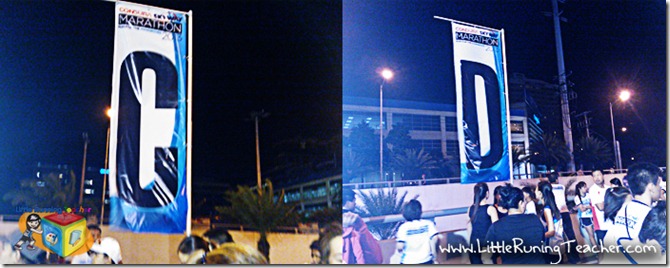 4. Medic Tent right after the finish line
It's not often that I see a medic tent right after the finish line. I loved that it was placed there because I know how it feels to run a long distance and having your legs hurt like crazy then needing to walk a few more meters just to get a little Salompas or medical care. Since the medic tent was right there, runners need not "torture" themselves more and could already get the pampering they needed.
5. Medical Team scattered all over the Skyway
The organizers of the Condura Skyway Marathon 2013 really made sure there would be no accidents by scattering the medical team all over the skyway! You could see a medic at almost every lamp post! Moreover, runners were also given emergency contact numbers and encouraged to bring phones in case they see a fellow runner in need of help.
6. Personal Cause
On the race bib (just above the number), there's a statement that says, "I ran for ______" It's really a very simple gesture but I felt like it made people feel accountable for something. Runners wanting to run for a cause.
7. Beneficiary Tents
Several runs mention their beneficiaries and we only hear from them afterward, sometimes, we don't even hear about them at all. The organizers of the Condura Skyway Marathon 2013 however made sure that the runners made sure where their registration fee was going by setting up tents for each beneficiary. I got to know more about the beneficiary by reading about them, talking to them and just seeing them during the event.
8. Baggage Area
I usually notice how the people in charge of the things at the baggage area just randomly put the runner's bag down wherever there's space. One bag piled on top of the other. I never liked leaving my bag because it was such a hassle to dig through the pile to find it. At the Condura Skyway Marathon 2013 however, the bags were properly lined up in row. It was very easy to spot our bags.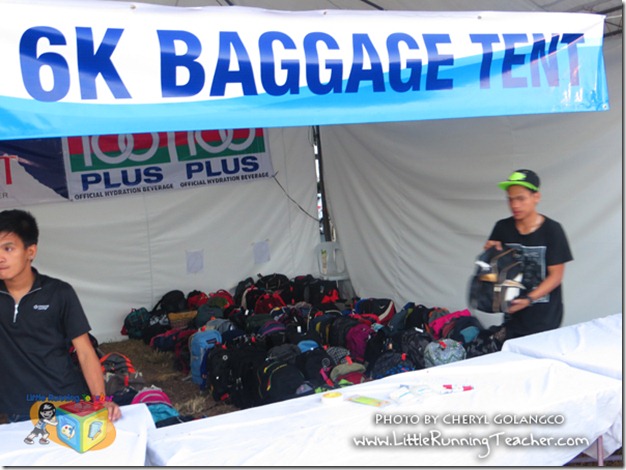 9. Special Treatment for 42k Finishers
42 finishers had their own area where they could get a massage and all. I liked that it was all in one place.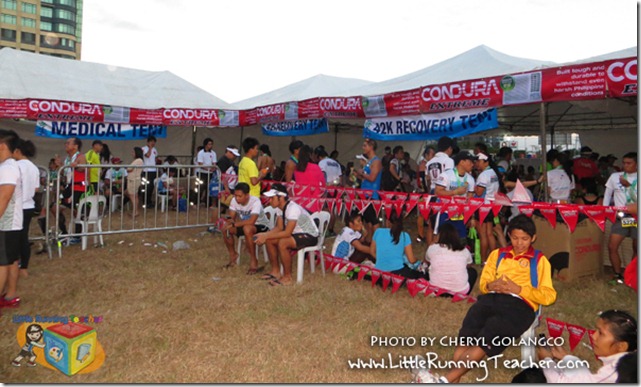 10. Finisher's Medal for runners and trophies for top finishers
Besides the fact that everyone got a medal, I liked the fact that each medal had a different color strap and a DIFFERENT SIZE. If you finished a 42k that day, then you deserve a huge medal and bragging rights! Moreover, the trophies had a really cool and unique design too!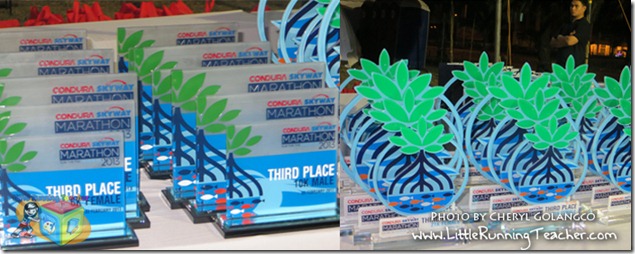 Congratulations to the Condura Skyway Marathon team!! Looking forward to next year's run! And to those who didn't join this year, those reasons above are WHY you should join next year!
So how was your run on the skyway? Do share your experiences below! I'd love to hear them.
For updates on running events and others, visit https://www.facebook.com/LittleRunningTeacherPage
or follow me on Twitter at twitter.com/cherylgolangco