Children.. and even adults love eating fruit loops! So why not use this to further strengthen the lesson? This specific activity is actually a lacing activity that helps develop fine motor skills. It would also be easier for older kids to do since young children's fine motor skills are not yet fully developed. Still, the end product works for all ages. The teachers simply need to assist the young children more in doing this activity.
Since we're still on our topic of circles… we decided to have the children make their own fruit loop bracelet!  Since my students are still in the pre-nursery level, they needed much of our assistance. Once we were done, they were all smiles and proud to show off their bracelets. At first, they were even unsure if they wanted to eat it or not. Some of them wanted to take it home and keep it! Still, it was a lot of fun watching them slowly nibble the fruit loops off their wrists!
.
Fruit Loops (amount varies on the number of kids)
Small plates
Nylon thread or yarn
.
What you will do:
Step 1: Cut the nylon or yarn to the size fit for the child's wrist.
Tip: It's always better if it's too long rather than too short. Leave some allowance.
Step 2: Give the children a small plate and some fruit loops to get started.
.
Step 3: Insert the fruit loops one by one. Try a variety of colors.
.
Step 4: If you think there are enough fruit loops on, tie the ends of the nylon/yarn together. Make sure to tie it properly so it doesn't break off later on.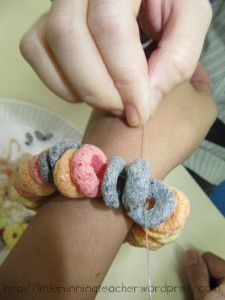 Step 5: MUNCH Time!
.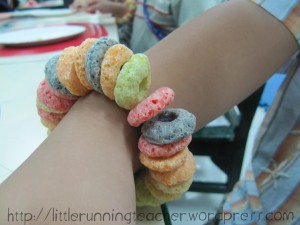 .
NOTE: To teachers and parents: It may get a bit messy while the children are eating, but don't worry! We can easily clean up afterward. Let them have their fun!
**********************************************************
Other activities we did wherein we also used Fruit Loops are:
More activities for the Circle shape: