I often wonder what Yoga is all about –  what does it feel like? Why do people enjoy doing it? How will it affect me? And the number one question that lingers in my mind is: "Can I do it?" I've only heard about it from friends and relatives who seem to enjoy it so much, but I personally have yet to try it. I felt really eager (and somewhat nervous) to try Yoga once and for all. Hence, last  Friday, August 3, 2012, I experience my first Yoga session with YIN YOGA at Beyond Yoga, 3rd Floor, Il Terrazzo Building, Tomas Morato, Quezon City.
–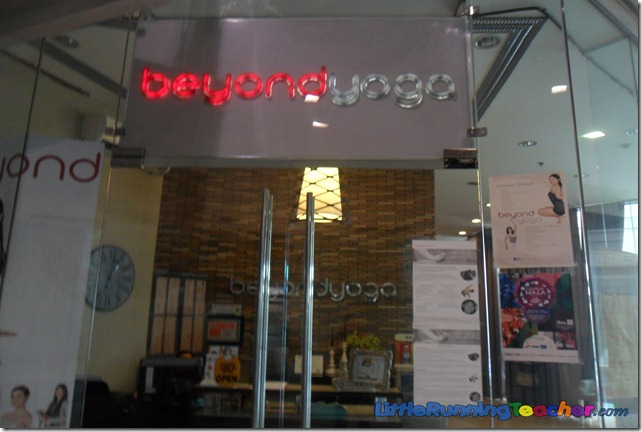 Yin Yoga at Beyond Yoga
Yin Yoga: A Balance of Yin and Yang Energies
Yin-Yang represents the ancient Chinese understanding of how things work. The outer symbol represents everything while the black and white shapes with circle represents Yin and Yang. They are relative and not absolute. They contain each other. And so is Yin Yoga.
Yin Yoga is a calming practice where we come into poses with relaxed muscles. In Yin Yoga, we stay in the poses in stillness for 3 to 5minutes, yielding to time and gravity to take us to the fullness of the pose.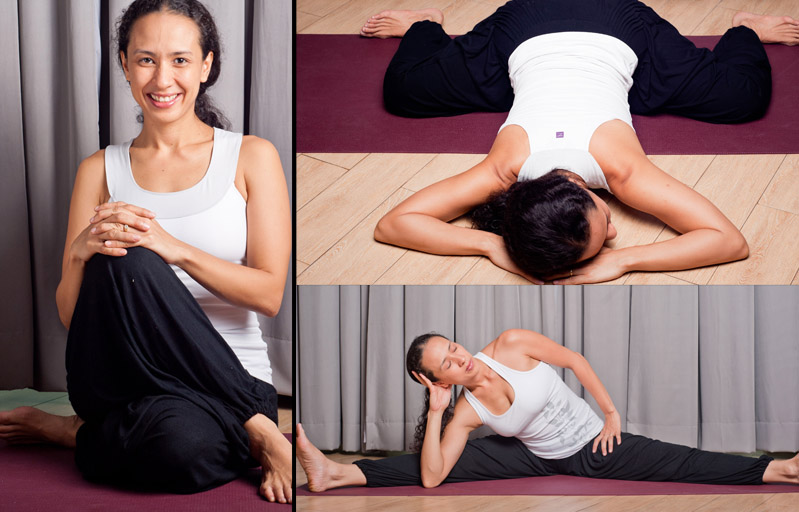 The Philippine's Leading Yin Yoga instructor, Dona Tumacder-Esteban
–
The class was led by Dona Tumacder-Esteban, one of the country's leading Yin Yoga teachers who has studied under Victor Chng. She began the class by telling us all about Yin Yoga before we got the chance to apply it ourselves. The "Yang" in Yin-Yang can be related with words like active, hot, expanding, willing, perseverance, muscles, fire and air, and willful change. On the other hand, "Yin" is all about being passive, still, soft, calm, peaceful, relaxed, earth and water, mysterious and slow. Yin Yoga henceforth balances our already Yang lifestyle – which includes our very active forms of exercises like running and dancing – by adding a little bit of the much needed relaxation!
–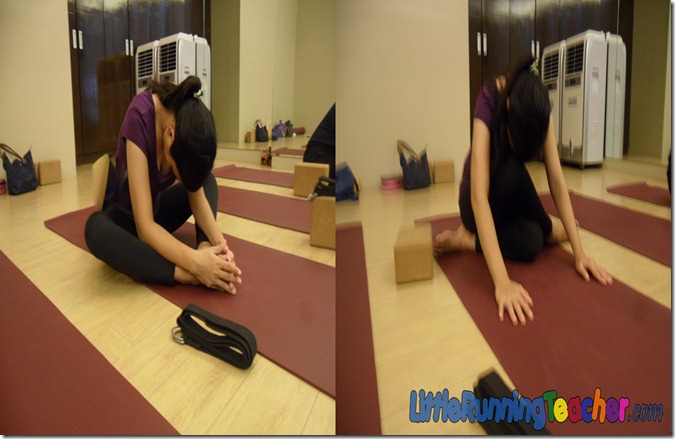 Yin Yoga in action
My Yin-Yoga Experience
Pain and relaxation all in one!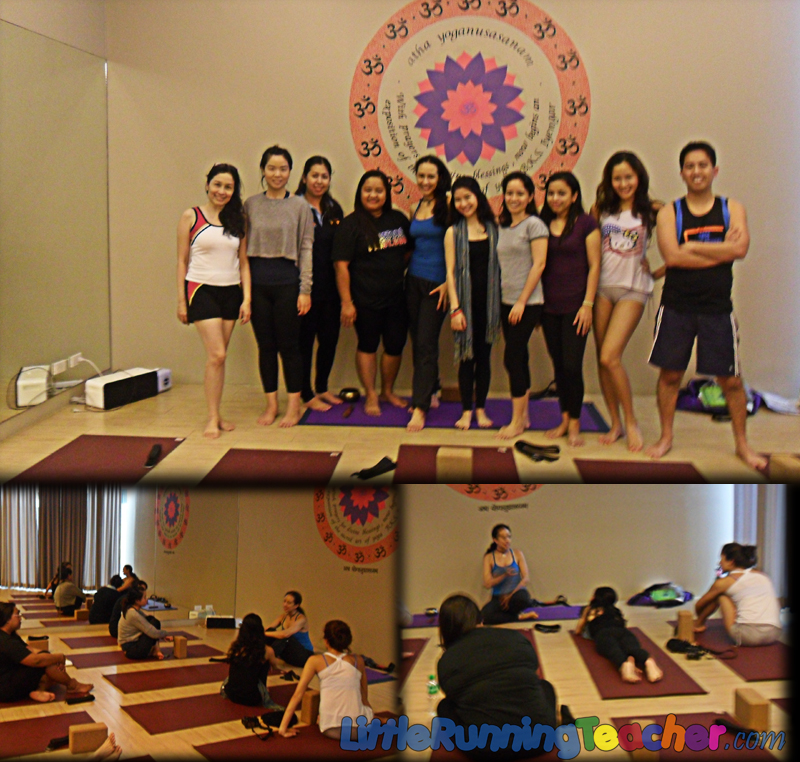 Yin Yoga with fellow bloggers
During my recent experience with Yin Yoga, I got to try several different yoga poses and stretches! Each pose held for about 3-5 minutes – something that's definitely easier said than done!
Dona said that the part of the body targeted by the Yin Yoga is not the muscle, but the connective tissues.We moved as instructed and I had to look at the other girls to check if I was still doing the right pose.  I thought it was going to be easy, but it really wasn't.  I felt tension and a little pain in some parts of my body while doing the poses.
I concentrated as I did each pose and though part of me felt tense and tired, a deeper part of me  felt really calm, like I was really in a peaceful place – like I was so close to nature. It sounds cliche but I'm not kidding!  Zen moments circled my mind, and I amazingly felt inner balance and peace.  This Yin Yoga was honestly very relaxing!  As I was doing the poses, Yin Yoga gave me the opportunity somehow analyze my mind and just set it free! It really feels good, and it amazes me! I've never  seen myself doing something like this and this experience somehow changed my views on how to find time to relax and feel good without doing so much effort.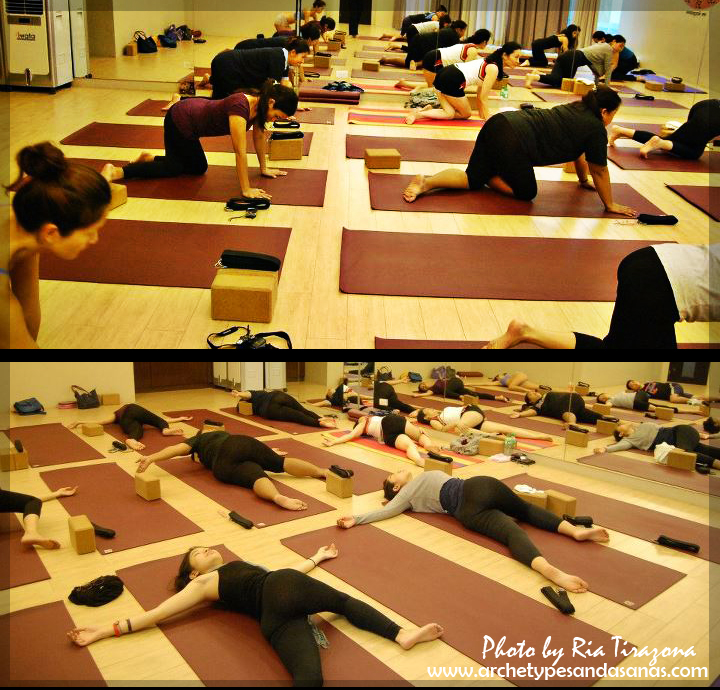 Yin Yoga photo c/o Ria Tirazona
–
It's amazing how I can physically be in once place (on the yoga mat) but spiritually somewhere else. Physically, I could feel the pain on my hips and other parts of my body, but as I continued to concentrate, the pain just gradually went away and I was soon in a serene and almost out of body experience.  As I pushed myself more,  the exercise also got easier and even felt great afterwards as more energy flowed freely inside my body.
What I did was so strange and new but after that, it made me feel like I was one with my body – there's harmony and more flexibility and I love it.
My whole Yin Yoga experience was really unforgettable. It opened my eyes to things and feelings I never thought existed. It was slightly tough, because you need to focus and keep still but in the end, the relaxation you gain is all worth it! I would definitely recommend this to athletes, dancers, yogis, people under stress and meditation practitioners.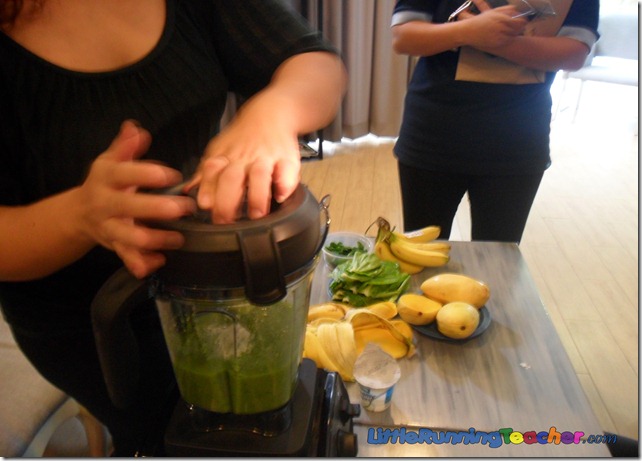 And ohh, before we went home, the organizer, Ria made us a healthy fruit and vegetable smoothie.  Thanks Ria! It tasted superb! It was the perfect way to end my already super healthy day!
If you haven't ever tried Yin Yoga, well I must say, give it a try! It will show you a different look on life. Transforming bodies and minds positively through Yin!
*******************************************
Yin Yoga is a offered at Beyond Yoga studios at Tomas Morato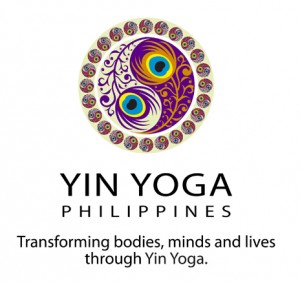 YIN YOGA CLASSES
Tuesday and Thursday from  9:00am to 10:15am
Wednesday at 5:00pm to 6:15pm
Friday at 7:30pm to 8:45pm
–
*Rates: drop- in rates at Beyond Yoga is 450PhP, one week unlimited is 1200PhP and monthly unlimited rate is 4000PhP
Beyond Yoga features a main studio that can accommodate as many as 30 mats, and a separate studio for private classes. It is also equipped with lockers, separate shower rooms for males and females, a retail corner and lounge area. Beyond Yoga offers classes in Yoga like AntiGravity®, Ashtanga, Beyond Sculpt, Beyond Core Flow, Hot Yoga, Power,Yoga, Vinyasa, Yin Yoga and dance classes like Zumba and Zumba Toning.
The studio is also equipped with lockers, separate shower rooms for males and females, a retail corner and lounge area.
*For complete schedule of Yoga Classes this August at Beyond Yoga, check it out HERE
BEYOND YOGA
 3F Il Terrazzo Tomas Morato Avenue corner Scout Madrinian St., Quezon City
0917-5BEYOND (0917-5239663) / 921-6070
https://www.facebook.com/IGoBeyondYoga
P.S. Beyond Yoga will have a branch opening soon at Bonifacio High Street Central in September 2012.
P.P.S. There will be an upcoming intensive workshop to be led by Victor Chng, one of the leading international teachers in Yin Yoga. Victor Chng will share with us his extensive knowledge and experience in Yin Yoga, Yoga and Taoist Philosophy, and Traditional Chinese Medicine. For more details and inquiries, you can email at [email protected]
–
Victor Chng Yin Yoga Interviews
Aug. 22 – Yin Yoga Fundamentals (Fort)
Aug. 24 -Freeing the Hips, Sacrum and Lower Back (QC)
Aug. 25 – Yin Yoga and the Energy Body (QC)
Aug. 26 – Detoxifying the Body (Fort)
Aug. 26 – Tao of Yoga (Fort)
*For more info on EACH CLASS, download the PDF file  HERE
Disclosure: This event was sponsored by the organizers of Yin Yoga