Vaseline Men kicks off 2014 with the Xterra Off Road Series! Wow!! I always thought triathletes were hardcore! Imagine feeling all tired already from one part of the race only to continue with 2 more that are equally or even more tiring than the first. One day, I hope I get to do this too or something similar. But for now, allow me to congratulate all participants!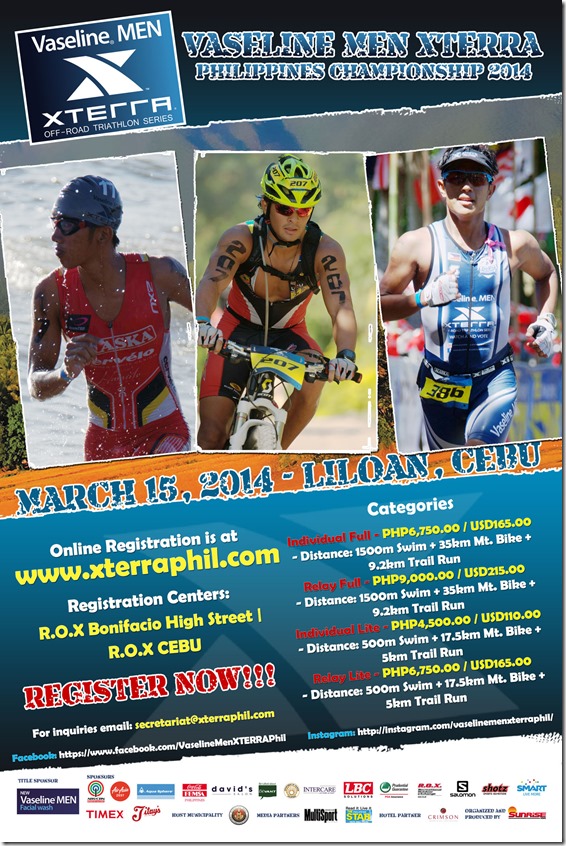 Vaseline Men Xterra Off-Road Triathlon Philippine Championship Race Details:
What:        Vaseline Men Xterra Off-Road Triathlon Philippine Championship
When:       March 15, 2014 (Saturday)
Where:     Liloan, Cebu
Race Categories:    Individual and Relay Triathlon
Dubbed as the world's premier off-road triathlon event, the Vaseline Men XTERRA Off-road Triathlon Series in the country serves as one of the qualifying events for the World Championship. The Vaseline Men XTERRA Off-Road Triathlon features exhilarating triathlon races that will challenge even the most seasoned athletes. Aside from winning exciting cash prizes, qualified elite group of finishers can race with other XTERRA record holders around the globe during the world championship in Maui, Hawaii.
On its third year, Vaseline Men will again bring triathletes to the pristine waters and rough but picturesque terrains of Liloan, Cebu for a more thrilling set of challenges.
Xterra Off-Road Triathlon Philippine Championship Race Events:
XTERRA Lite – involves a 500-meter swim, 15.5-kilometer mountain bike and a 5-kilometer trail run
XTERRA Full – involves a more grueling challenge with a 1.5-kilometer swim, 35-kilometer mountain bike and a 9.2-kilometer trail run.
Xterra Lite Race Course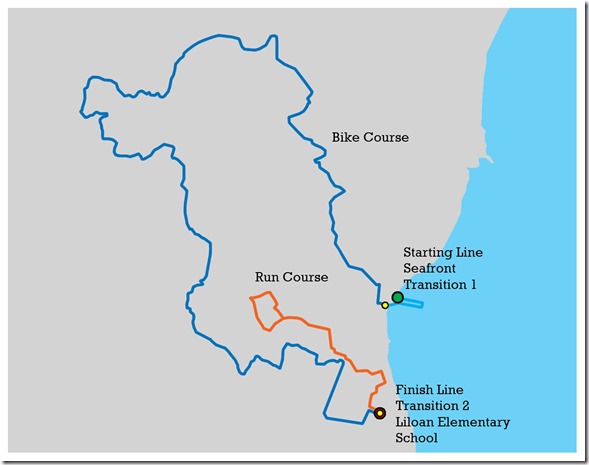 Xterra Full Race Course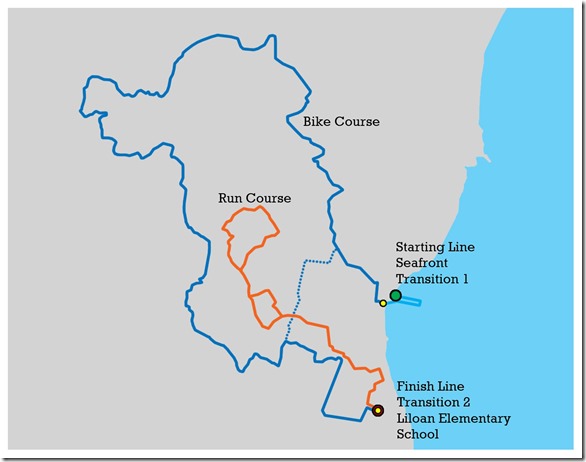 The race will start at the shores of Liloan. Swimmers will do a 1.5 kilometer of open water swim. For LITE participants, swimmers will do 500 meters straight, one loop course for LITE.
The bike course is a mix of single tracks, fire roads, farmlands, grasslands and paved roads. FULL Tri participants must complete 2 loops of the 18-kilometer bike course while LITE participants must complete one loop. The bike course caters to all types of bikers. Experts will find the course fast and exciting. While beginners will feel it's challenging. The first portion of the race is a long flat, paved road, perfect for sprinting and securing a place in the pack. Then it's followed by long climbs while roads change from paved to trail. Trail becomes narrower and racers will encounter mixed vegetation along the course.
Vaseline Men Facial Wash
On a different note, running, swimming and biking can definitely take a toll on the skin. Luckily, Vaseline made sure they don't only help you achieve your triathlon dreams, but also ensure your skin stays smooth and beautiful.
Vaseline Men offers a wide range of skin care products which are perfect for men who engage in physically demanding activities including triathlons as they help protect the skin from the sun's harmful rays and wash away dirt, dust and pollution. Included in its range are Facial Washes, Face Moisturizers and Body Lotions. One of its newest products are the Vaseline Men Whitening Anti Acne Face Wash – which fights 7 acne problems for visibly fairer skin. The 7 acne problems that it fights include excess oil, acne, acne marks, clogged pores, blackheads, blemishes and acne causing bacteria. Vaseline Men now also has the new Vaseline Men Whitening SPF 30 Moisturizer perfect for people and young professionals who spend time outdoors so they can stay protected under the sun.
Now, Filipino men can conquer their limits through outdoor activities and still get their skin protected from harsh elements from nature especially the sun with Vaseline Men Whitening Anti Acne Face Wash and SPF 30 Face Moisturizers. Vaseline Men is available in all leading men's zones in major supermarkets, drugstore and department stores nationwide.
So this year, brace yourself for a challenging yet exciting summer adventure at the Vaseline Men XTERRA Off-road Triathlon Series.
For more information visit
https://www.facebook.com/VaselineMenXTERRAPhil
For updates on other runs or to just keep in touch
visit http://www.facebook.com/littlerunningteacherpage
twitter.com/cherylgolangco