Last April 13, a group of running bloggers including myself were invited for a trail run at Filinvest City near Alabang. I've never tried trail running but vave always been curious to so I thought this would be a great chance to start. Question was, where were the trails in Filinvest? I've never seriously explored Filinvest but I've always thought of it as a business district or residential area. I never knew there were trails! 
So Philippe and I drove off to Filinvest at around 6am. It took us around 30min-1hr to get there coming from Sta. Mesa. I always had the mentality that Filinvest was really far but it's actually not, it's right outside the city, roughly 10km away from NAIA and easily accessible via the Skyway, SLEX, Alabang Zapote Road, Old National Highway, Daanhari and the West Service Road.
Filinvest City: What About It?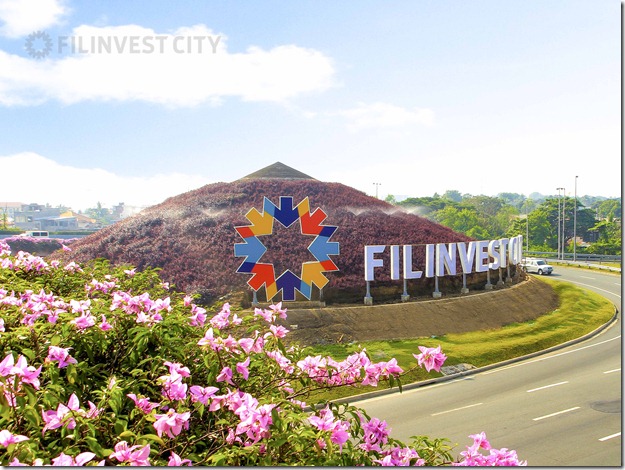 Filinvest has been around since 1995, but back then it was called Filinvest Corporate City. Come November 2012, they made some changes and wanted to show Filipinos that Filinvest was more than just a corporate city. It also has a lot of residential and retail developments such as Asian Hospital, FEU (soon) and more. It's roughly 244 hectares big, almost as big or even bigger than BGC.
Filinvest City boasts of their 4 Pillars which are…
 Preferred Central Business District wherein they will create a dynamic and energized business metropolis through a 24/7 convenient, safe and business-friendly environment so corporate people can focus on work rather than the external hustle and bustle.
 The Modern Metro which creates a breathing and living city where everyone could enjoy a multidimensional (live, work and play) and cosmopolitan lifestyle so residents and visitors can get the most of the city's built in parks and amenities.
 It wants to be known as the Garden City as it provides a lush landscape with tree-lined pathways and open spaces that inspire a healthy, refreshing lifestyle in order for residents to relax as they get closer to nature.
 The Convenience Hub as it provides highly accessible points to and from varied destinations so that there will be ease of movement for locators, residents and visitors.
Filinvest City: Discovering the Trails
Filinvest City boasts on being the Garden City because unlike others, they have really dedicated big spaces for al fresco fun and action. As promised, no matter how big the city gets, nature will always be part of it. They will always co-exist with nature and not destroy it. A thought all other cities should really consider.
During the trail run, I witnessed just that. It was definitely an urban haven. We ran roughly 9km around Filinvest City and all I can was, it was beautiful. Seeing the buildings from afar, climbing the small hills, etc. The houses were built around nature, I could just imagine how peaceful it would be to live here.
The trails weren't just for runners, they were great to bike on too! Be careful though 'coz the path isn't that smooth. There were a lot of big rocks and slopes, so be sure you have your helmet on!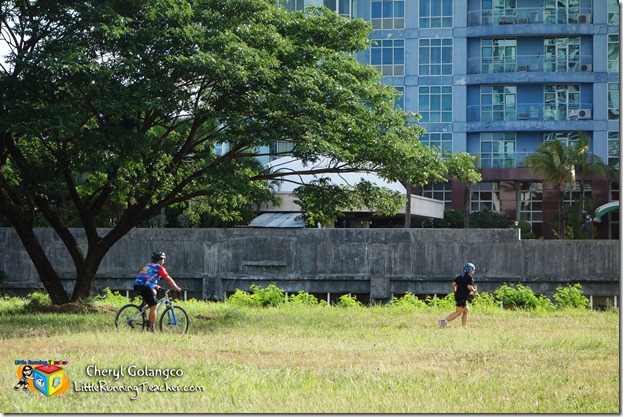 I never realized how much fun trail running was. What makes it more fun is running with a friend or loved one. It makes the moments and all the sceneries 10 times better. The trees, the lakes, the falling leaves… we were just one with nature. It was beautiful.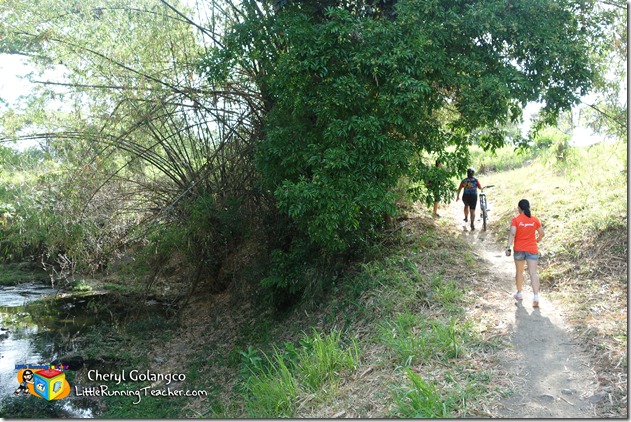 There was one area where we got to run under a tree that seemed to have toppled over. It was a steep but short run. Philippe, not really being much into running was exhausted, but being the nature-lover that he is, he was also extremely happy to see that there are still parts of the city that respects and maintains its greenery. Two thumbs up for Filinvest!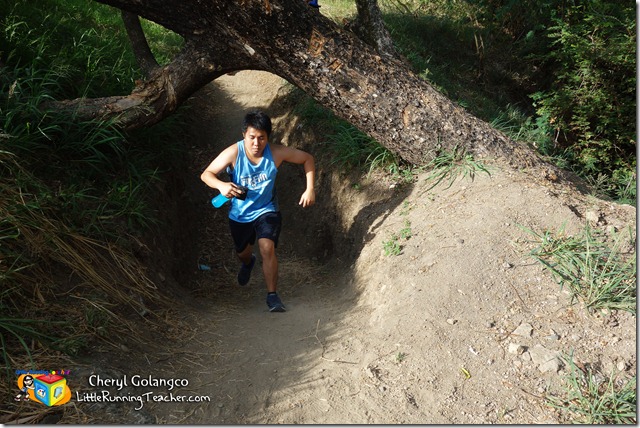 It was around 8:30am already when this photo was taken. Had we been running in the main city, we'd probably be suffering from the heat! Though it was still hot, the trees provided just the right amount of shade to keep us going!
Part of the route was flat, while others required us to run by the side of the river or up a small hill. I enjoyed those "obstacles" as it made me feel the trail even more. One thing I realized though is that you need to wear compression tights or something longer than a pair of shorts when trail running. Why? Well the long grass kept brushing against my skin and it got really itchy. I also got a few small scratches from sticks and stones along the route.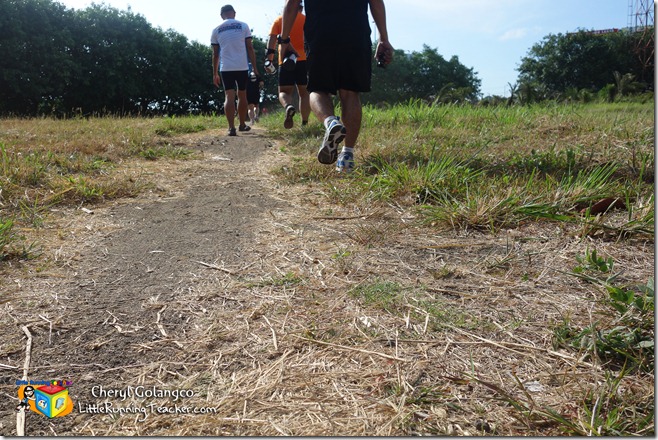 Hi-ho-hi-ho Hi-ho-hum! Bet I made you sing! haha Few more kilometers to go.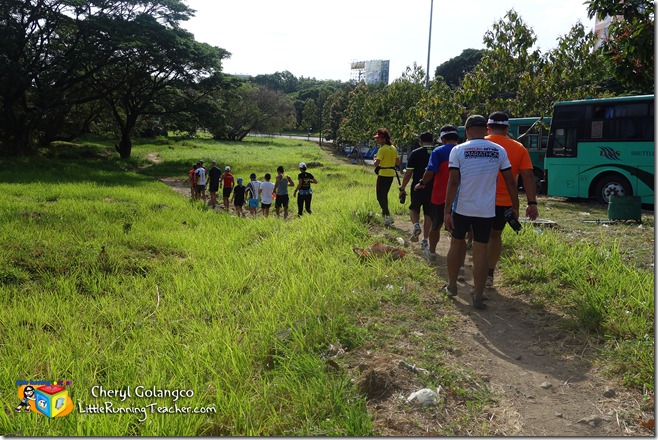 Did you know what the logo of Filinvest City stands for? The colors of the eight arrows (attributed to the eight rays of the Philippine sun) speak of a happy and vibrant lifestyle amid the garden city. Blue, blue-green, ochre yellow and earth – colors of business and lifestyle find a home against natural setting. Where arrows overlap, new colors are created-giving birth to endless possibilities one can only find at Filinvest City. Thus the tagline, "Inspiring Possibilities."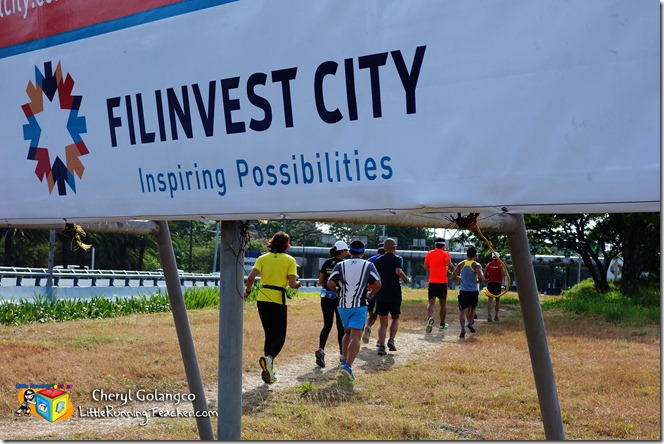 To those who want to check out these awesome trails, Filinvest presents CARLESS SUNDAYS! Every Sunday from 5am to 10am, certain roads inside Filinvest City will be closed to cars so that runners, bikers and others can enjoy some fresh outdoor fun!
Closed roads / route for Carless Sundays (Along the Promenade)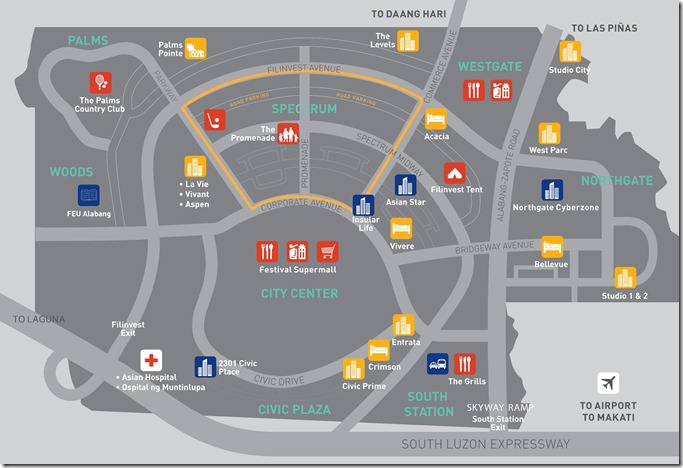 The Vaseline Men Xterra Off-Road Triathlon Series Mud Run will also be held at Filinvest City this coming May 26! Don't forget to register and who knows, you might just be getting down and dirty with Matteo Guidicelli. (No pun intended)
Thanks Filinvest for that awesome route! May you continue to be a Garden City and one with nature and may others follow your footsteps!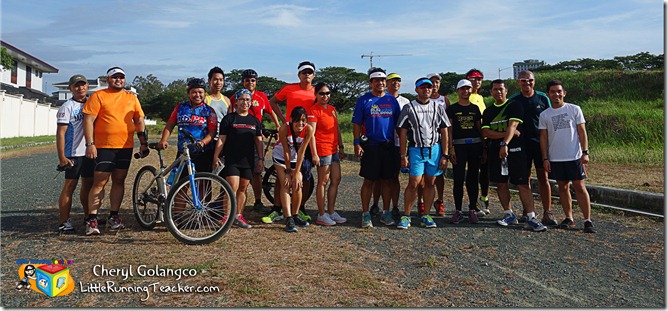 For more new and updates
visit https://www.facebook.com/FC.inspiringpossibilities
or subscribe to http://www.facebook.com/LittleRunningTeacherPage
What do you think of this Garden City? Any thoughts on future activities? Do share them in the comments below.