"The mediocre teacher tells. The good teacher explains. The superior teacher demonstrates. The great teacher inspires."  – William Arthur Ward
Teaching is a passion. We get into it not for money, not for fame but for the joy and happiness it brings to us to be able to impart knowledge and mold minds. 5 years ago, I decided to be a teacher, and I've never regretted that decision since. Now I won't lie, teaching 4-year olds isn't exactly a walk in the park. Yes, there are those days when everyone's just happy and all the kids instantly get the lesson. But then there are those days when they just won't sit still. Not to mention the occasional tantrums, wet pants, fighting and all. None the less, I love what I do. At the end of the day, seeing those beautiful smiles and receiving those tight hugs just make everything worth it.
Last October 5 was World Teacher's Day. To others it might just be a regular day, but to us teachers, it's that one day when our students, their parents and everyone else remind us why we chose this profession. Besides our own students, the rest of the country showed their appreciation through the recently concluded PLDT Gabay Guro Grand Gathering. Last Sunday, PLDT Gabay Guro (2G), the teacher advocacy group of the PLDT Smart Foundation (PSF) and PLDT Managers' Club Inc. organized the biggest-ever tribute to teachers as it celebrated National Teachers' Month in this year's Grand Gathering event at the SM Mall of Asia Arena.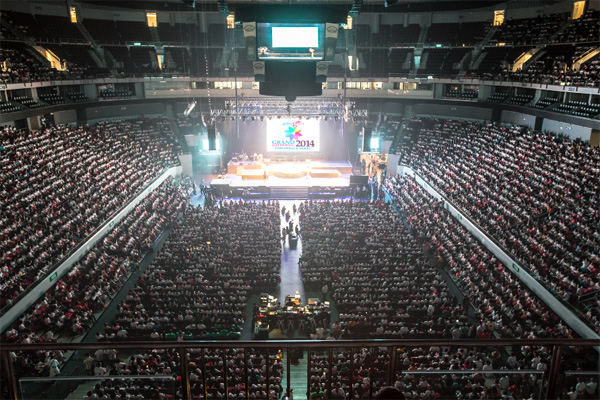 This was my first time to attend Gabay Guro and boy am I glad I did! It was definitely a GRAND event no one would soon forget. Over 20,000 teachers from different parts of the country attended this spectacular star-studded celebration. As soon as I entered, I saw the band Side A already performing up front, and I knew this was going to be a great day. I mean, c'mon, that's Side A! Little did I know many more surprise guests awaited us back stage.
PLDT Gabay Guro Grand Gathering: Celebrities and Guests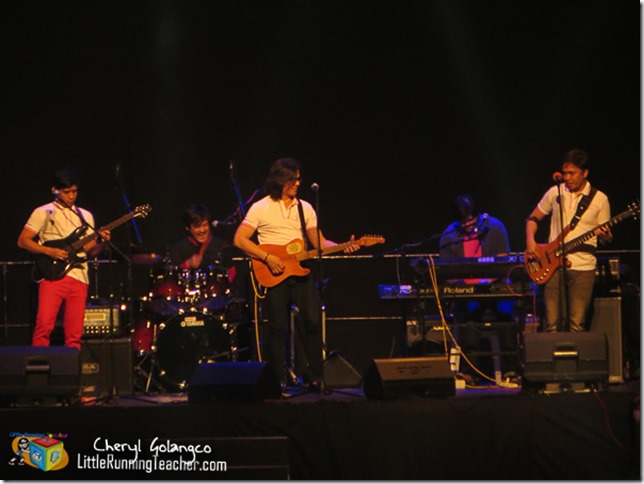 Side A was the opening act at the Gabay Guro Grand Gathering
After Side A's awesome performance, Eric Tai came out and greeted the audience. He approached a few groups and asked them to do samples of their favorite throwback songs. Of course he couldn't let the moment pass without taking a selfie and giving away some gift bags from sponsors. He then announced that they were giving away 500 retail phones kits from Sun and 500 more from Smart. While 15 pre-drawn winners each received a reload sim pack. I thought these prizes were already very generous, I had no idea what the organizers of Gabay Guro had planned for all the teachers, turns out, this was JUST THE BEGINNING.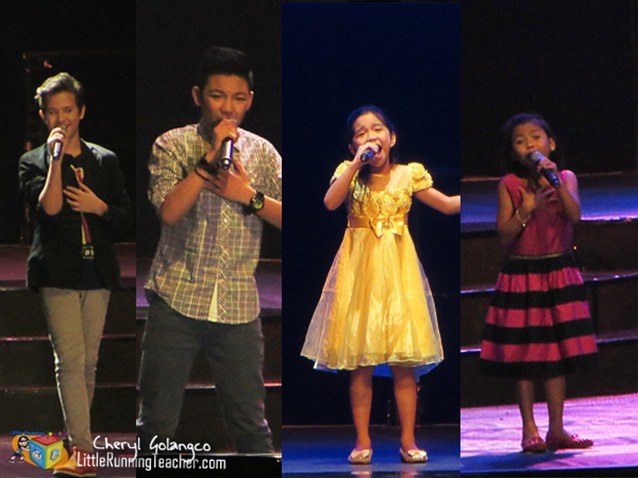 The Voice Kids winners – JK, Darren, Darlene and Lyca
Several more celebrities graced the stage that night including the UP Pep Squad, Pops Fernandez, Ogie Alcasid, Regine Velasquez-Alcasid, Derek Ramsey, Jonalyn Viray, Dulce, Rachel Alejandro, Manilyn Reynes, Jessa, Dingdong Avanzado, Iya Villania, Alice Dixson, Ate Gay, Sam Milby, Jodi Sta Maria, the Voice Kids winners and many more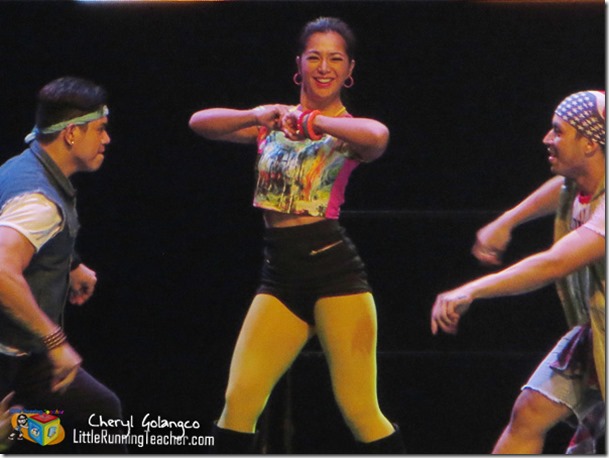 Alice Dixson energetic and beautiful as ever at the Gabay Guro Grand Gathering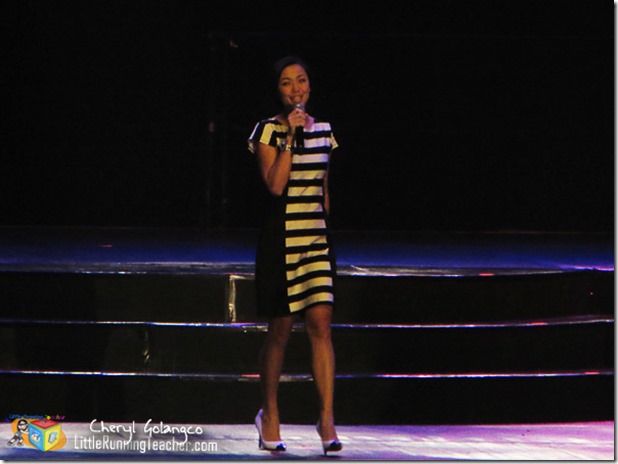 Jodi Sta. Maria graced us with a song at the Gabay Guro Grand Gathering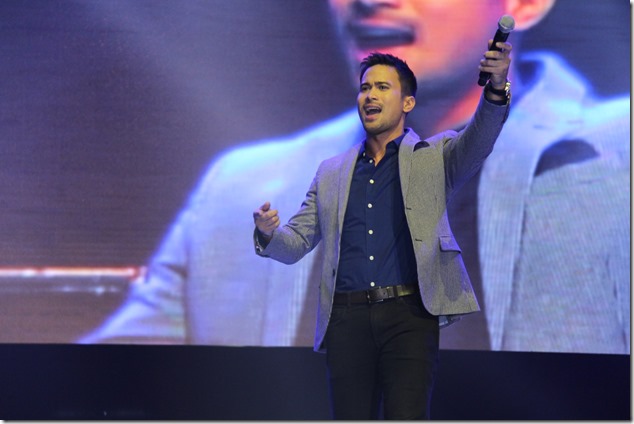 Ever handsome Sam Milby got teachers to scream their hearts out at the Gabay Guro Grand Gathering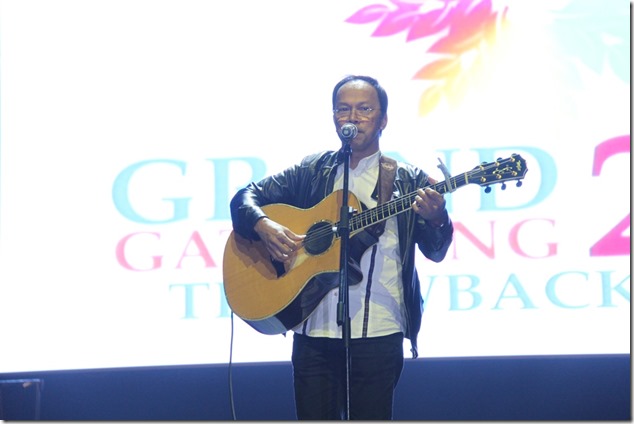 Noel Cabangon's songs always make me smile!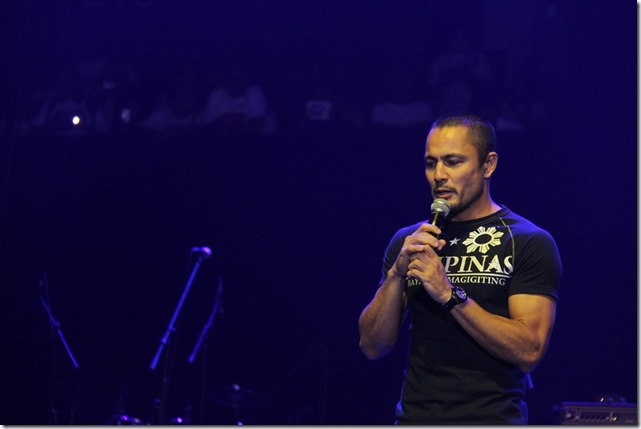 Derek Ramsay continues to support Gabay Guro on its 3rd year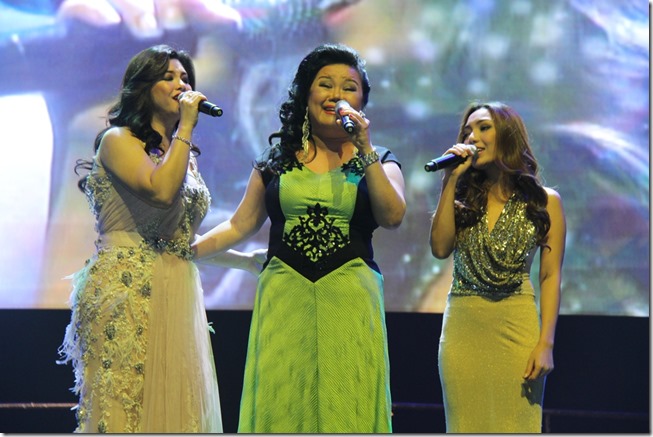 Regine Velasquez, Dulce and Jonalyn Viray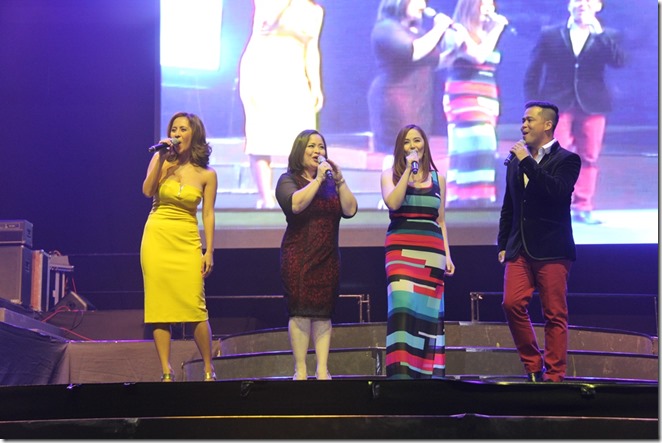 Rachel Alejandro, Manilyn Reynes, Jessa and Dingdong Avanzado
2G (Gabay Guro) has been supporting teachers and students who would like to take up the teaching profession for seven years now. All of 2G efforts are aligned with its six pillars, which are: Teachers' Training that presents new modules on Emotional Intelligence and IT Literacy and Sustainability; Housing and Educational Facilities; Livelihood Programs; Broadbanding and Computerization of Schools; and Teachers' Tribute, highlighted by the 2G Grand Gathering.
Gabay Guro Grand Gathering Raffle Draws:
Earlier, I mentioned that 2G gave away a bunch of phones and sim cards. Exciting right? Well, that isn't even half of what they gave away last Sunday. The Grand Gathering this year also featured the biggest raffle draws, with substantial major prizes that include a house and lot from Camella Homes, a brand new HAIMA car from Laus Group of Companies, an APE Piaggo three-wing van from Auto Italia, 10 PLDT KaAsenso Cyberya Internet Café setups, Retailer Phone Kits and Sims from Smart and Sun, and cash prizes.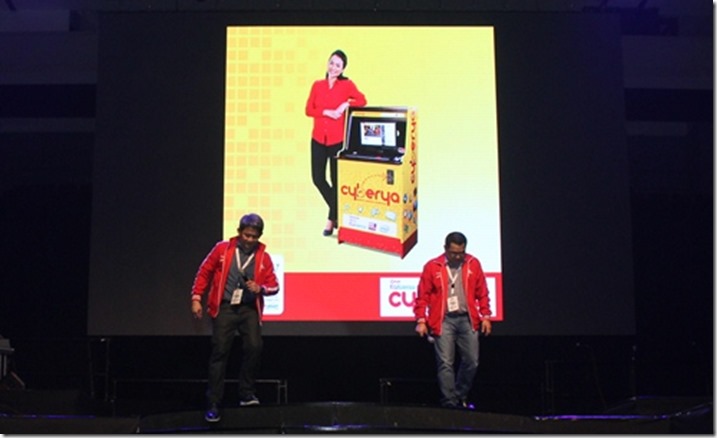 PLDT HOME group head Ariel Fermin and Department of Education Assistant Secretary Toni Umali presenting the PLDT KaAsenso Cyberya
"Give a man a fish and he'll live for a day, teach him how to fish and he'll live forever." The PLDT KaAsenso Cyberya was one of the most interesting prizes that night. Basically, it's a computer which runs on your coins. So as you continue using the internet, you need to continue dropping coins in the slot. Cool right? Not only is it more affordable to use/rent, it's also a good business for teachers and the like. Allow me to tell you more about this on a separate post.
Among the other raffle prizes are laptops from PLDT HOME Bro, laptop and tablet in-one from Microsoft, electric fan with oven toaster package from Fujidenzo, gift packs from various sponsors, myPad3 from myPhone, Cignal prepaid kits, quad core polaroid platinum tablets from PLDT HOME Telpad, Samsung tab 7, a trip for two to Hongkong, tricycle from Honda Philippines Inc., and a motorcycle from PR Savings Bank.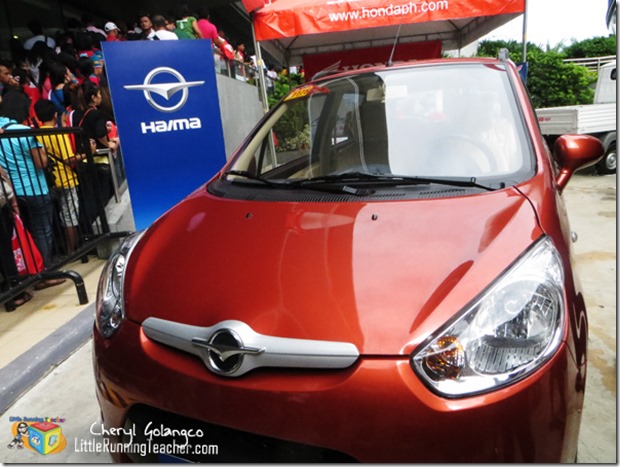 This Haima car was raffled off to one lucky winner!! WOW!
So far, 2G has awarded around 1,000 scholarship grants to aspiring teachers. It has enabled more than 300 scholars to graduate from its 40 partner schools nationwide. Five of the 2G scholars have continued their quest for higher learning and received Master's Degree scholarships from the Philippine Women's University.
In June this year, 2G and PLDT Hong Kong launched a scholarship program for Overseas Filipino Workers' (OFW) children and dependents. They also sponsored 110 OFW teacher-candidates in their review and venue fees for the Licensure Examination for teachers.
2G and its partners have also donated some 28 classrooms to various public schools in the country, especially those that are located in the calamity-ravaged areas. It was the first organization to build permanent structures in the form of sturdy classrooms after the 7.2-magnitude earthquake that devastated Bohol in 2013. It was likewise one of the first responders in the rehabilitation of typhoon-damaged Leyte.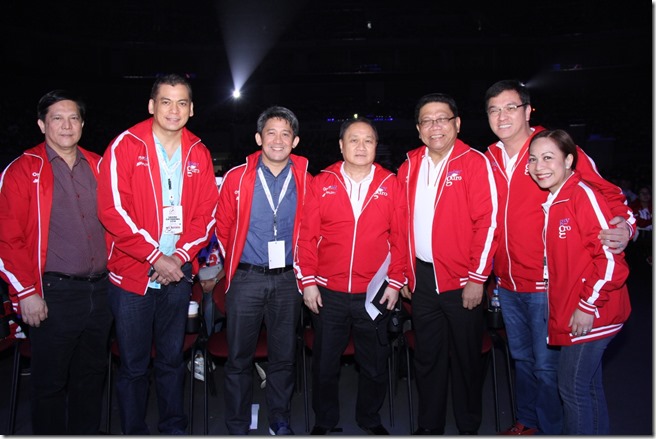 PLDT Gabay Guro Heads
I can't wait for next year's Gabay Guro event. I'll definitely invite my co-teachers to check it out!
For more information and updates on the next Gabay Guro Grand Gathering, follow:
For other updates or just to keep in touch
visit http://www.facebook.com/littlerunningteacherpage
twitter.com/cherylgolangco