After the success of the Reebok Zigtech Run last June 2011, Team Reebok decides to bring you yet another run to look forward to! After being signed under Reebok as brand ambassadors; Blas Ople Tiangco, Alex Em, Mark Rodica, Vicky Ras and Kassy Pajarillo express their gratitude to friends and followers who continuously support the brand and the foundations they ran for through a fun run and Zumba party.  The event is in partnership with Party Wizards and KAS Events Management, in cooperation with Reebok Philippines and Without Limits.
–
The run only targets 500 runners, but is of course open to several more! Unlike others that target thousands, this really hits the spot. A small intimate run for a good cause. Can't complain right?
–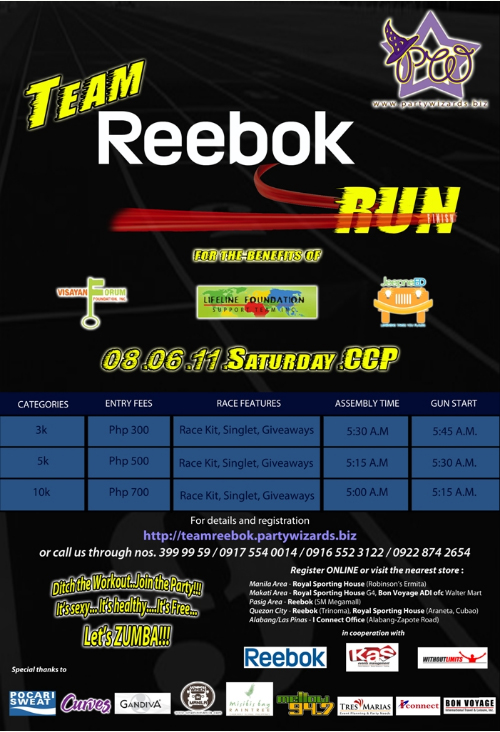 –
What: Team Reebok Run
Where: CCP Complex
When: August 6, 2011 (Saturday)
Race categories: 3K, 5K, 10K
Registration fees: 300php, 500php and 700php respectively
Beneficiaries: Visayan Forum Foundation, Lifeline Foundation, JeepneEd
–
Registration Details:
On-line registration (July 1-July 31, 2011)
Bank: BDO (del Monte Ave. branch)
Account no.: 1360097846 (savings account)
Account name: Partywizards Events Management
Amount: Entry fee + 100php delivery charge
Log on to http://teamreebok.partywizards.biz
*read all rules and regulations then proceed to registration
–
On-site registration
Robinson's Ermita – Royal Sporting House
SM Megamall – Reebok
Glorietta 4 – Royal Sporting House
Waltermart Makati – Bon Voyage Amazing Destination
Trinoma – Reekbok
Araneta, Cubao – Royal Sporting House
Alabang-Zapote Road – IConnect Office
–
About the Beneficiaries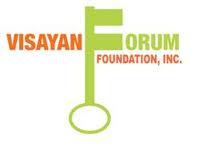 Visayan Forum is a Philippine based NGO recognized for its ground-breaking work for empowerment of vulnerable migrants particularly victims of human trafficking through building social movements.
Our vision: A world where vulnerable migrants are free, protected and empowered.
Our mission:
Mission 1: To develop and share models of interventions in source, transit and destination areas to reduce vulnerabilities to human trafficking, domestic servitude, slavery and other forms of exploitation.
Mission 2: To enhance core programs and specialized services to ensure the transformation of individuals from conditions of vulnerability to a state of empowerment.
Mission 3.To build and facilitate social movements that address root causes which perpetuate abuse and exploitation.

Mission 4: To advocate for the public and private sectors to adopt policies and effective measures that promote concrete, practical and sustainable solutions.
Mission 5: To promote international solidarity for awareness, action and resource sharing and mobilization.
For more info, visit their website at http://www.visayanforum.org/portal/index.php
–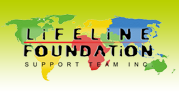 Lifeline Foundation is a non-stock, non-government organization based in Manila, a group of professionals and students who are dedicated to the relief of the oppressed and victim-minded.
"When a poor man cares for his dog, and shows his children the way of compassion—he teaches his children that no reason, no matter how difficult the circumstance is an excuse to cause suffering or harm to another breathing soul."
For more info about Lifeline Foundation, visit their website at: http://www.ineedalifeline.org/
–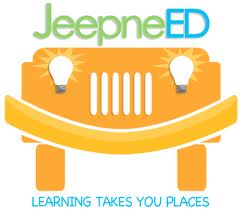 JeepNeed is a green mobile science lab for highschool needs in the Philippines. Their mission is to meet the invisible costs of schooling for underserved communities in the Philippines.
A mobile science and tech lab for rural schools in the Philippines
Our mission is to provide community-driven, sustainable, in-school support in science and technology on a redesigned jeepney that runs on used vegetable oil.
JeepneED serves as an engaging outdoor learning lab with 10 netbooks, a 3G hub for Internet connectivity, a printer and scanner, a projector, and other basic science materials for a community of 8 to 12 rural public schools.
For more info, visit their website at http://www.jeepneed.org/
–
–
The Team Reebok Zigtech and Zumba Party celebration will be held on August 6, 2011, 5am at the Cultural Center of the Philippines Complex! After the run, everyone including non-runners and spectators are free to join the Zumba party to be lead by certified Zumba fitness instructress Via Bonoan and Rowena Aquino. A Zumba party is a Latin-America hiphop dance! Nice!
Besides the already FUN Zumba Party, Team Reebok will also be raffling off a generous gift from Misibis Bay, your luxurious playground located in Cagraray Island, Bicol.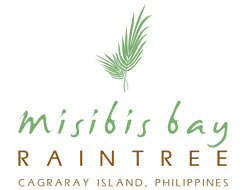 –
Registration is open onsite and online (partywizards.biz), proceeds will go to all beneficiaries; donations such as clothes, books, medicines for children and vegetable oil are well appreciated. 
The celebration emphasize their goal to promote active lifestyle, strengthening friendship and goodwill. Sponsored by brands they personally advocate: Pocari Sweat, Curves International, Ramen Bar, Tres Marias, Yadu, DermPlus, Dentiste Toothpaste & Oral Rinse, Flow Yoga Manila, and Reebok Philippines.
–
–
So what are 'ya waiting for guys? Register and be part of this FUN FUN RUN for THREE GOOD CAUSES!! See you all on Aug. 6!

–
For inquiries, email [email protected], visit http://www.partywizards.biz or you May call (02) 399-99-59, (0916) 5523122 or (0917) 5540014