It's baaaackkk!! I'm not sure if you heard of it, but 2 years ago, an enormously successful and fun Dance 4 Life was held at Venice Piazza, Mckinley Hill. It was the talk of the town as it wasn't something we normally have here in Manila. A lot of people have been asking when another Dance Marathon like this will come by and your prayers have been heard! Back by popular demand, Dance United will be happening this November 22, 9pm at Quirino Grandstand! The goal is to raise funds for the rebuilding of Yolanda stricken areas through a 4-hour dance marathon.
Last Nov. 8, 2013, Super Typhoon Yolanda (Haiyan) made landfall made landfall in Visayas bringing about chaos and devastation in several areas. People did not just suffer the loss of their homes and properties, but of families, friends and loved ones as well. It was a very gloomy time not just for those affected, but for everyone who witnessed its effects. However, there was one thing Yolanda didn't take from the Filipino people, and it was their undying spirit. The Filipino spirit has and always will remain strong and our faith in tact. The Filipino has refused to stay down, but with the help of others all over the world, has begun not just to build, but build back in new and better ways. Dance Unite is just one of the many ways we are uplifting the Filipino spirit once again!
What:        Dance Unite: A 4-Hour Dance Marathon for a Cause
When:       November 22, 2014 (Saturday)
Where:     Quirino Parade Grounds, Rizal Park, Manila
Registration Fees:                               P 550 (inclusive of bib, shirt and loot bag)
Target Number of Participants:       3,000 dancers
Start Times:                 5:00pm onwards
Race Organizer:          Food for the Hungry and Lifeline Foundation Support Team, Inc.
Race Objective:           One united move and groove to raise funds for the rebuilding of Yolanda-stricken areas
What is Dance Unite?
Dance Unite is a 4-hour dance marathon for a cause open to everyone who dare live up to the dance challenge. Similar to fun runs, participants will have their own singlets and marathon bibs, but this time in a single venue following a dance instructor.
1st hour: Evolution of Dance
2nd hour" Hiphop
3rd hour" Zumba
4th hour: Techno
While we dance our hearts out, we are raising funds for the projects and initiatives of Food for the Hungry Philippines and Lifeline Foundation Support Team, Inc. in the Western Visayas that were affected by Typhoon Yolanda.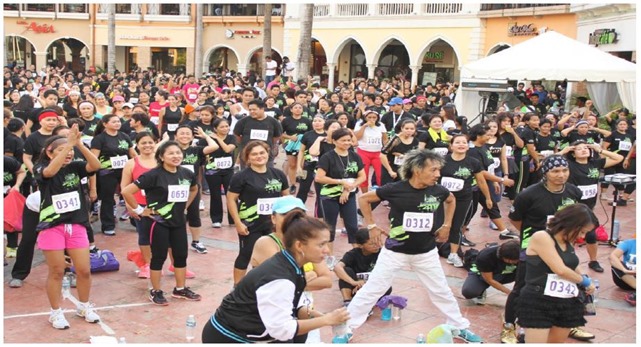 Registration Sites:
Online Registration: http://www.danceunite.org/
Food for the Hungry HQ – Unit 906 Dasma Corporate Center, #321 Dasmarinas Street, Binondo, Manila
Lifeline Foundation HQ – 2/F CMSR Bldg., 88 President's Ave., BF Homes, Paranaque City
Guhit Kamay – Alabang Town Center (G/F Cinema Area)
Selected Chris Sports Branches (until Nov. 8 only)
SM North EDSA (G/F)
SM Mall of Asia (2/F)
SM Megamall (2/F Bldg. B)
SM City BF Parañaque (2/F)
Glorietta 3 (2/F)
Festival Supermall Alabang (3/F)
Market! Market (4/F)
SM City Manila (G/F)
Robinson's Place Ermita (2/F)
Dance Unite Kit Claiming Details:
November 22 (onsite) from 3pm onwards
Dance Unite Shirt Design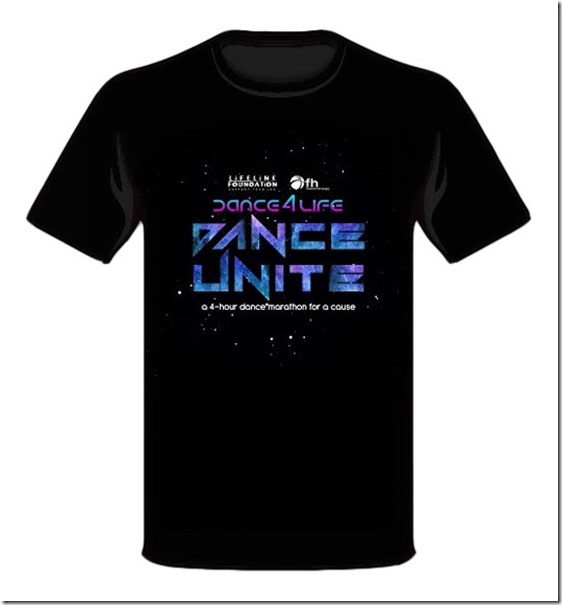 DANCE UNITE KIT GIVEAWAY!!!
Contest runs from Nov. 13-Nov. 18. Winners may claim their kits at the "dance site" prior to the start of Dance Unite.
CONGRATULATIONS TO Ahzel Pascual Miral, Jay Ramones and Ivica Rae for winning one kit each to Dance Unite this Saturday!!! Please email me at cheryl @ littlerunningteacher.com before 12midnight today (Nov. 20) for details on claiming. Thank you! ENJOY!!!
For more information visit
https://www.facebook.com/danceunite2014
For updates on other runs or to just keep in touch
visit http://www.facebook.com/littlerunningteacherpage
twitter.com/cherylgolangco