After the recent calamity brought about by Typhoon Yolanda, different groups and organizations have each tried to come up with ways to help out.  St. Luke's Medical Center is not an exception. They too have decided to help out through Run for Wellness.
Run for Wellness is a fun run where we can all unite to bring back to wellness our  fellow Filipinos devastated by the recent disaster. All proceeds of the fun run will go to the relief and rehabilitation of areas stricken by the recent calamity in the Visayas. It is also St. Luke's way of promoting community spirit, disease prevention and overall well-being for the general public.
The Run for Wellness will not be a typical fun run as it will include several fun and engaging stations along the route. Continue reading to find out more!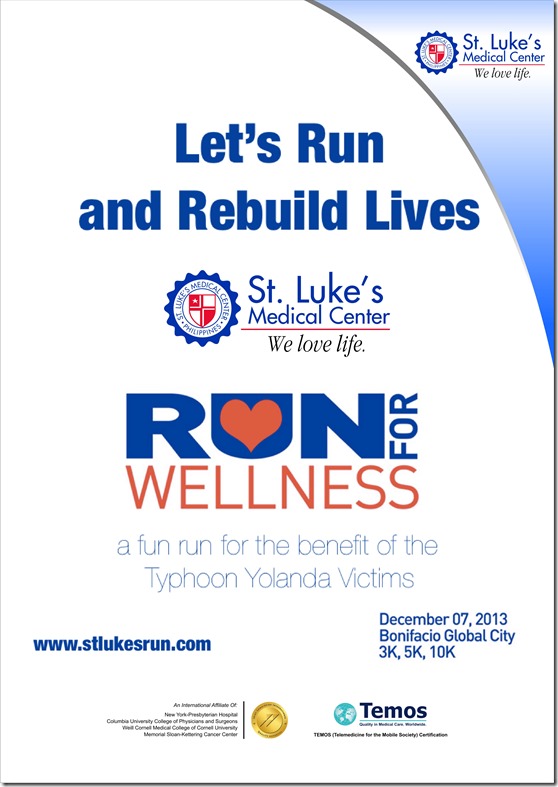 What:                          St. Luke's Run for Wellness
When:                         December 7, 2013 (Saturday)
Where:                        Bonifacio Global City
Race Categories:      10k, 5k, 3k
Gun Start Times:      6:00am, 6:15am, 6:20am respectively
Race organizer:        Proactive
Beneficiary:               Victims of Typhoon Yolanda
St. Luke's Run for Wellness Registration Details:
Registration Fee: 750 PhP for ALL categories
*Inclusive of race shirt, race bib and freebies
St. Luke's Run for Wellness Race Features:
Among the stations that runners will encounter during the race include the following:
Station 1: Water Gun Station where marshals will spray runners with water along 100 meters
Station 2: Color Me Blue Station where blue powder will be thrown as runners go through the course
Station 3: Air Blower Station where runners will be dried off and blown away as they try to reach the finish line.
*The fun doesn't stop when the race stops because other activities await participants such as a giant slide, creative photo booth and a balloon wall.
St. Luke's Run for Wellness: How to Register
There are 3 ways to register….
1. Online Registration (Payment via credit card)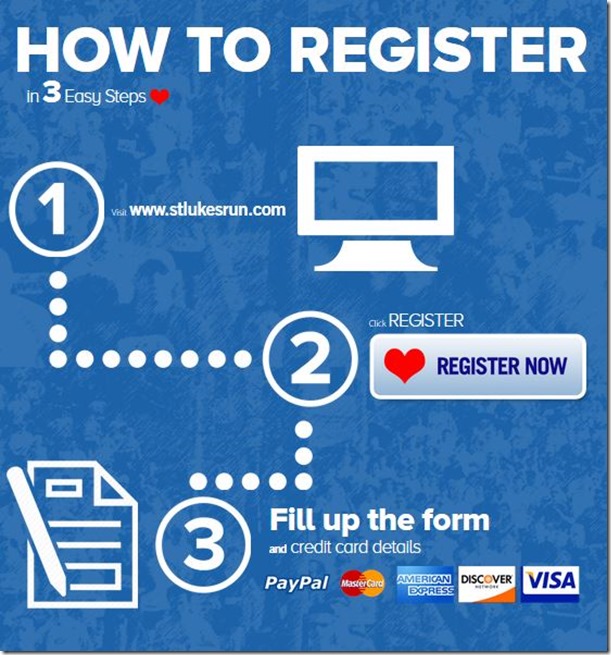 2. Register via PREPAID CARDS
Purchase a prepaid card at the following stores:
Toby's
MOA
Glorietta 2
Shangrila
Runnr
BGC
Alabang Town Center
Trinoma
St. Lukes Medical Center Global
*Follow the steps written at the back of the prepaid card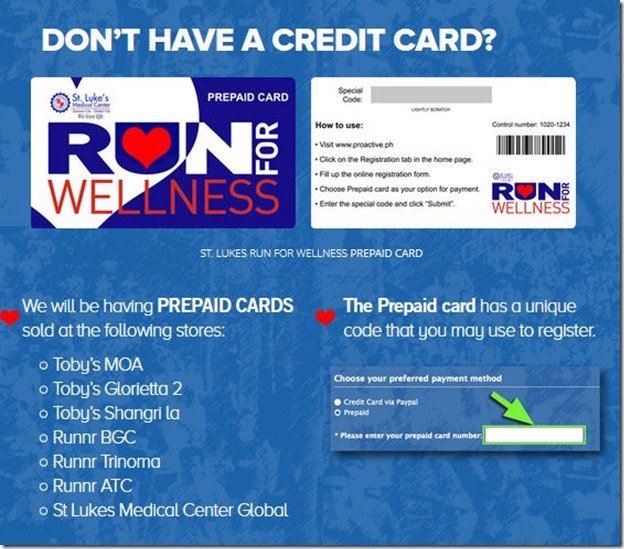 3. Register via SM TICKETS
Go to www.stlukesrun.com
Click Register Now
Choose SM Tickets at the payment tab
Enter Ticket ID found on the ticket
Wait for email confirmation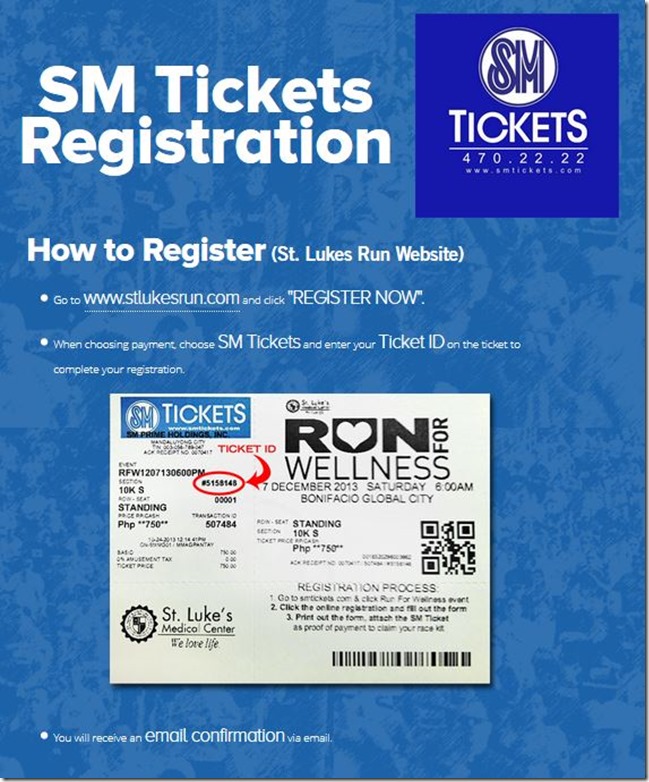 St. Luke's Medical Run for Wellness Race Kit Redemption
December 3-5 2013 (1pm-8pm) at ST. LUKE'S MEDICAL CENTER LOBBY, BGC
St. Luke's Run for Wellness Singlet Design: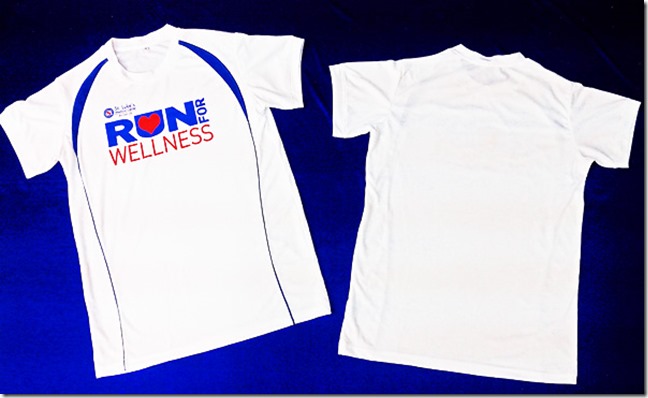 St. Luke's Run for Wellness Race Route:
3k Route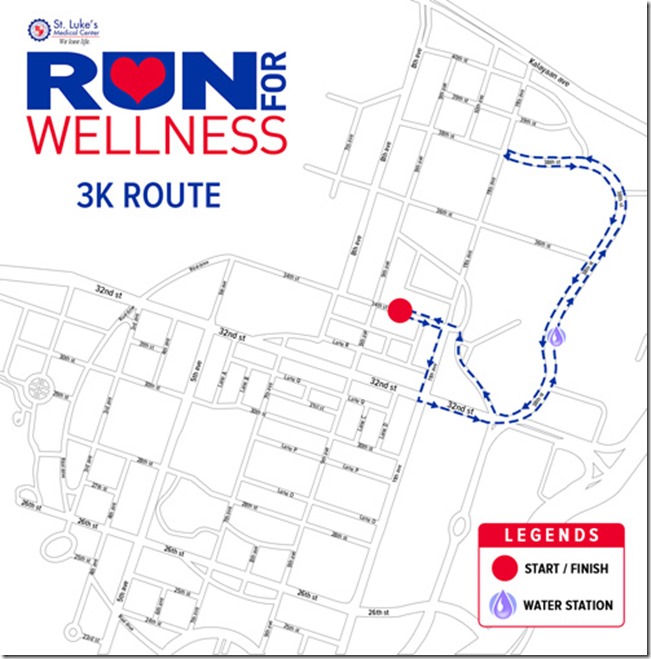 5k Route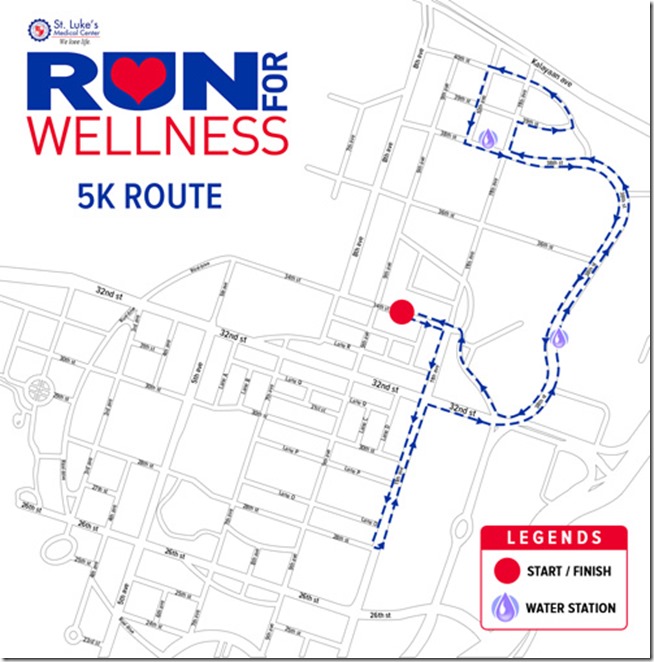 10k Route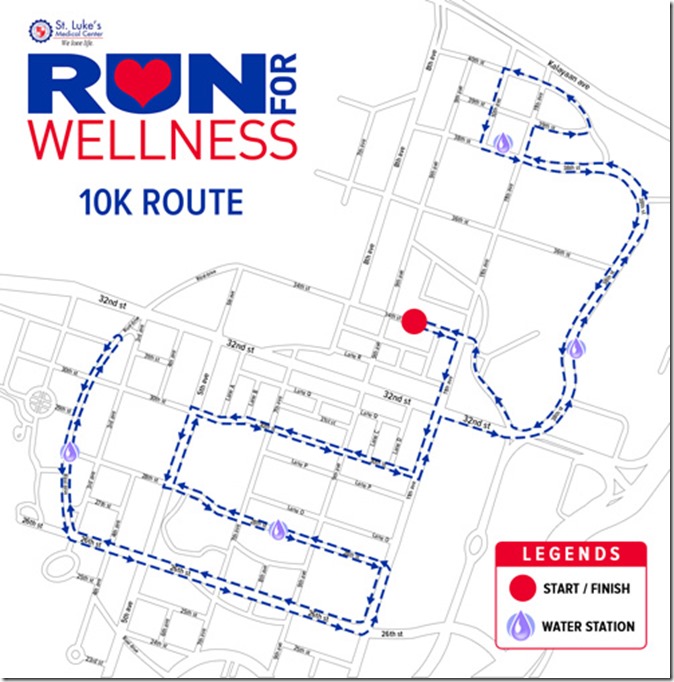 The unique stations throughout the route are just some of the things you should look forward to in this run. Not only do you get to help all those affected by Typhoon Yolanda, but you get to exercise and have fun too! So what do you think guys? Let's run!
RACE KIT GIVEAWAY!!!
Win a race kit to St. Lukes Medical City's Run for Wellness!! Here's what you need to do:
1. Share a link to this post (make sure it's public)
2. Tag this page when you share the link- Little Running Teacher
3. Also tag 3 friends in the link and ask them to join too!
4. Post the permalink as a comment below
5. DONE.
*additional entries if you tweet this and tag @cherylgolangco and 2 other friends
*post permalink of tweet on BLOG POST comment as well
READY? GO! contest ends on November 27 at 12mn.
For updates on other runs or to just keep in touch
visit http://www.facebook.com/littlerunningteacherpage
twitter.com/cherylgolangco