You asked for it, you got it! After the huge success of the first Color Manila Run held last February 2013, the organizers have decided to once again bring runners a fun and colorful run to start the year! Color Manila Run is back and will be making each of our lives more colorful this coming January 5.

What:                          Color Manila Run 2
When:                         January 5, 2014 (Sunday)
Where:                        Bonifacio Global City
Race Categories:     10k, 5k, 3k
Gun Start Times:      6:00am, 6:15am, 6:20am respectively
Race organizer:        Proactive
Beneficiary:               Victims of Typhoon Yolanda
Color Manila Run 2 Registration Details:
Registration Fee: 850 PhP for ALL categories
*Inclusive of Color Manila Run 2 Shirt, Color Manila Foldable Sunglasses, Finisher's Medal and Color Packets
Color Manila Run 2: How to Register
There are 3 ways to register….
1. Online Registration (Payment via credit card)
2. Register via PREPAID CARDS
Purchase a prepaid card at the following stores:
Toby's
MOA
Glorietta 2
Shangrila
Runnr
BGC
Alabang Town Center
Trinoma
*Follow the steps written at the back of the prepaid card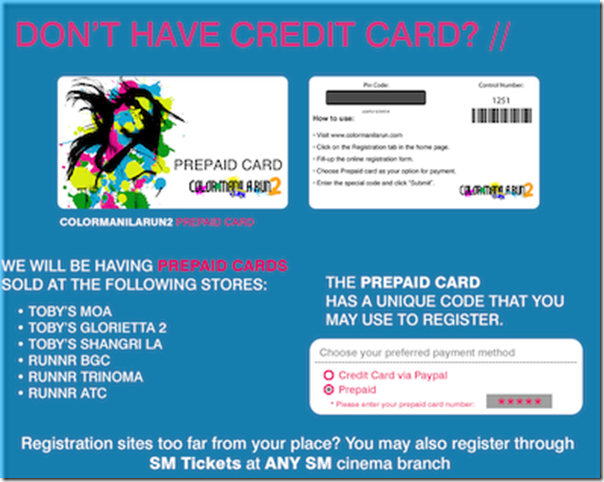 3. Register via SM TICKETS
Purchase your Color Manila Run at any SM cinema

Click on register and register for event

Enter the ticket ID

Wait for email confirmation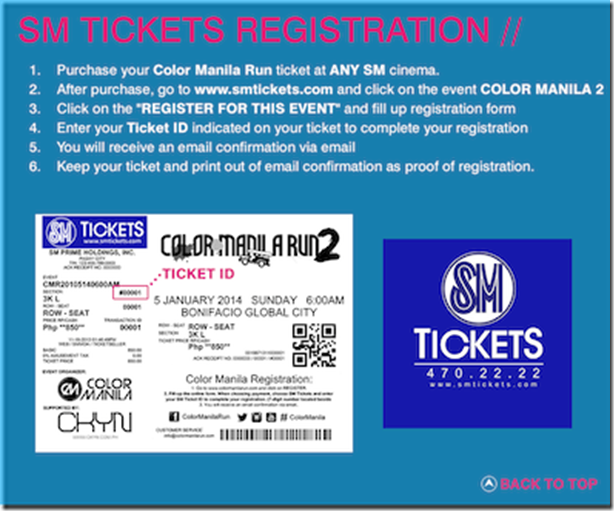 Color Manila Race Inclusions:
Color Manila Run 2 Shirt Design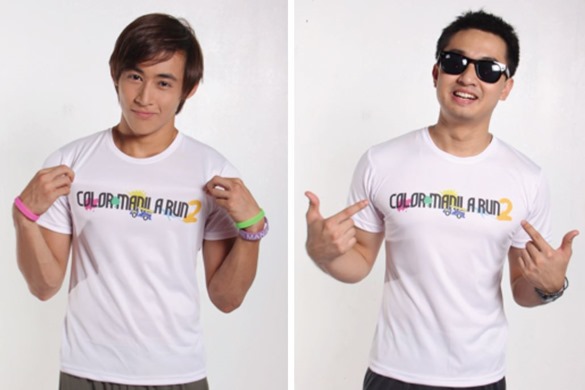 Color Run Manila 2 Shades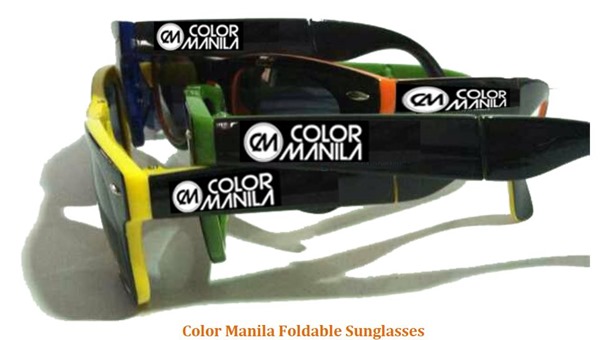 Color Manila Run 2 Finishers' Medal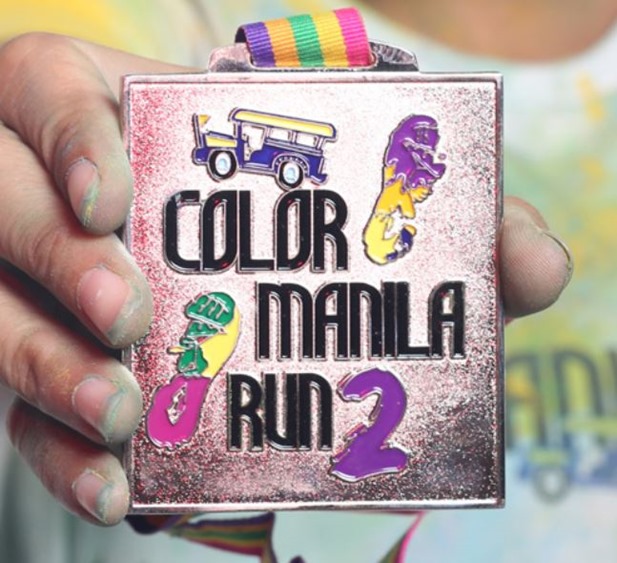 Color Manila Run 2 Color Packets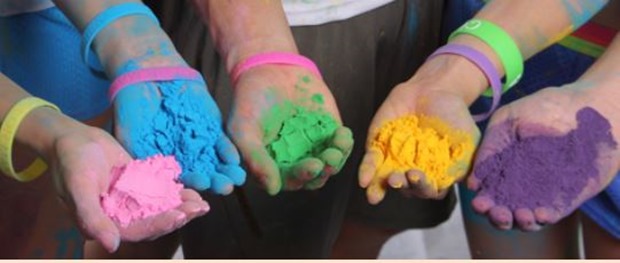 COLOR MANILA RUN Race Kit Giveaway
Want to win a race kit to Color Manila Run 2 this coming January? Just follow the mechanics below.
CONTEST OVER! Congratulations to the winners Arnold Ocon Roquero and Dianne David! and also to Irishielle Guevara for her photo submission on Facebook :) Her photo was very simple, but being a mom is definitely a very colorful adventure! Congratulations to all the winners and thank you for everyone who joined! To the winners, kindly email me at [email protected] with your name, cellphone number and email address until 12 midnight tomorrow (Dec. 12) to avoid forfeiture.
For more information visit
https://www.facebook.com/ColorManilaRun
For updates on other runs or to just keep in touch
visit http://www.facebook.com/littlerunningteacherpage
twitter.com/cherylgolangco
See you all on race day!!