According to the World Health Organization, Cancer still remains a leading cause of death worldwide, most of which occur in the low and middle income countries. In 2008, it accounted for 7.6 million deaths and is projected to continue to rise to over 13.1 million in 2030.
In the Philippines, recent studies from 2008-2010 have shown a steady increase in cancer incidence. It is also predicted that new cases of cancer will amount to roughly 82,468 new cases in both male and female. Cancer is definitely a scary and devastating disease, but it isn't impossible to fight. The sad reality however is that patients need a large amount of cash to fight it. While there are available sophisticated medical technology and equipment, cadre of experts in cancer treatment and management, and protocols equal to the patients' requirement for healing, the cost of therapy is prohibitively high. With the poverty rate at 45% in Q4 of 2011, most Filipinos cannot afford even the "standard-of-care" treatments.
My grandmother actually passed away just 2 years ago due to cancer. She was battling it for around 4 years and had to go the US just to get better treatment. May she rest in peace. Unless we all step into the ugly picture and stand up to cancer, it might continue to cripple more families and claim more lives.
ST. LUKE'S MEDICAL CENTER, the country's premier tertiary cancer center, partners with the St. Luke's Cancer Institute's CORRIDOR OF HOPE, INC., to help spread cancer awareness and bring hope to cancer patients and their families in a race through life through RUN AGAINST CANCER!
Cancer patients' healing journey is often long and arduous. We can help bridge the gap between indigent cancer  patients and their needed treatment if we'd altogether unleash the power of our feet. With our help, they just might be 3K, 5K, or 10K away from their recovery.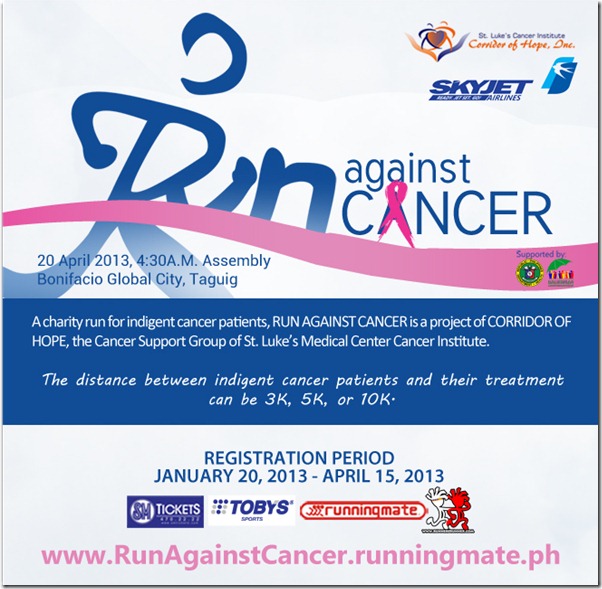 What: Run Against Cancer: A Charity Run for Indigent Cancer Patients
When: April 20, 2013 (Saturday)
Where: Bonifacio Global City, Taguig
Beneficiary: Cancer Patients
Registration details:
Race Categories: 3k, 5k, 10k
Registration Fees: P600, P700 and P800 respectively
*** Inclusive of race singlet, race bib and race chip
Registration Sites:
On-site registration (Jan. 20 – Apr. 18)
St. Luke's Medial Center Canter Institute (Quezon City and Global City)
In-store registration and race kit redemption (Mar. 30 – Apr. 18)
Toby's Arena (Sm Mall of Asia)
Toby Sports (Glorietta and Robinson's Galleria)
Brooks Store (Sm North Edsa)
Race Against Cancer Gun Start Times:

Race Against Cancer Singlet Design: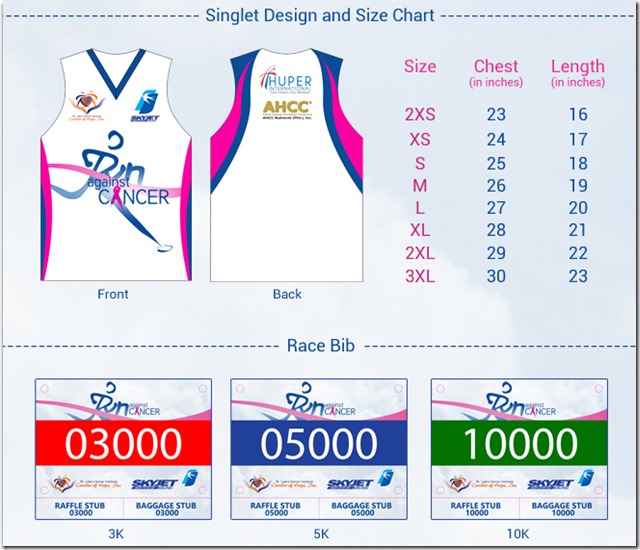 Race Against Cancer Race Route:
3km race route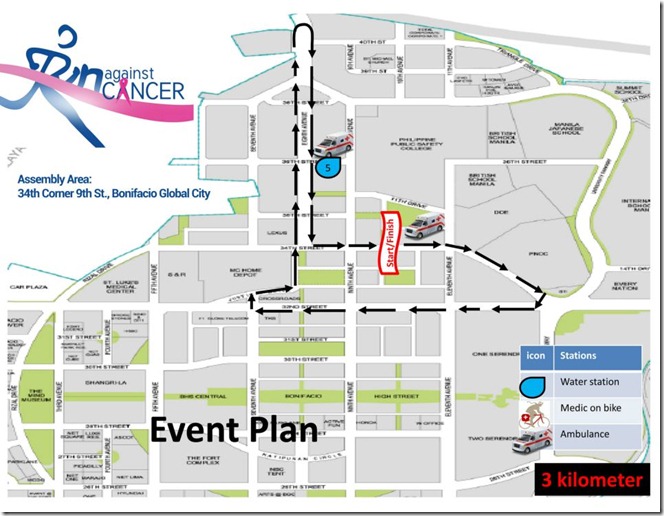 5km race route
10km race route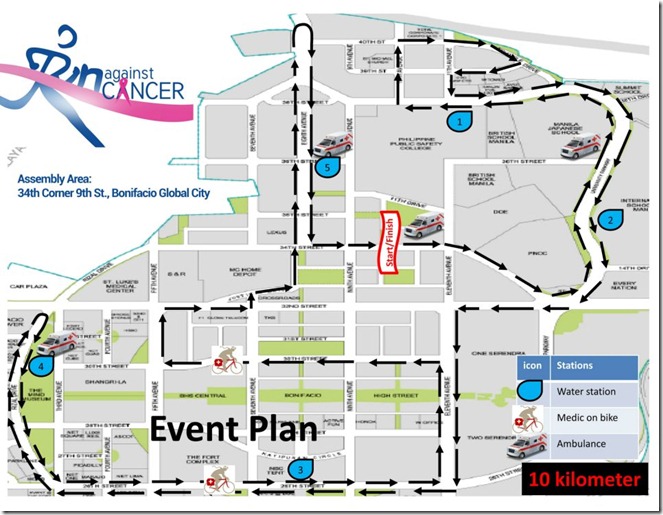 –
Support the race to life. Run against cancer.
For updates and other information: