We preschool teachers have a lot on our plate and it can sometimes be difficult to keep track of things. We need to give out home works, prepare lesson plans, give out memos, prepare for events, etc. A cork board in the classroom is really becoming a necessity! I however, refuse to use one in fear that one of my students would play with it and hurt themselves with the thumbtacks or pushpins.
Well, guess what? I found the perfect solution! My brother introduced me to this cool and stylish cork board… thing is, it wasn't any ordinary cork board. It's a magnetic board! Awesome!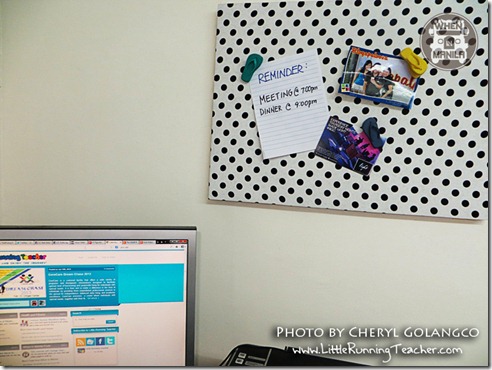 This specific board is in my room!
Now I can put up reminders, return slips and other important notes in the classroom without fear that one of my students might end up hurting themselves. I could even use these boards as part of the lesson using the magnetic letters we can purchase at the local bookstore.
So teachers, bring down those cork boards and put up these cool and stylish magnetic boards from Board It Up! Visit their page for more awesome designs!
Small boards (12X16) are priced at PhP 499.50 and the large ones (18×24) are priced at Php 799.50
Board It Up
02-5025482