Just recently, I shared a post on binoculars for the kids! This turned out to be a very successful activity! The kids not only enjoyed playing with it, but they also had fun making it!
This reminded me of an activity I did last year which I called Looking Through Colors. The materials are teacher-made, and the kids really look forward to using and playing with it.
What you will need:
Old cardboard or folders
cellophane paper
Popsicle sticks
glue
scissors
.
I prepared some card boards with cut-out shapes in the center. I then taped on a variety of cellophane colors for each. I stuck with the basic colors because I wanted the kids to discover the rest on their own. After taping the cellophane, I glued on the popsicle sticks. Once the glue dried it was game time for the kids!
.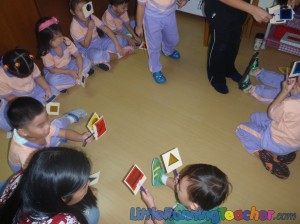 .
We handed them each 3 colors in various shapes. This would of course depend on your current lesson. You may focus only on the shapes, or only on the colors, it is really up to the teacher. We were discussing colors during this time, hence, we asked the kids to raise the color we would say up in the air! We would then ask them what shape it was and also give them a chance to see the room through that color! It was very successful and the kids had so much fun! They kept telling us how the room turned blue, then red, and so on.
.
.
Later on, some of them even discovered how to combine the colors on their own. They figured out that blue and yellow made green, red and yellow made orange, blue and red made violet. What better way to learn than through your own experiences right? So why not give it a try! Make your own classroom materials and let the children have some fun!
.
.
.
Let them explore this activity and discover the power of their eyes!