It's always fun to run for a cause, especially when it's for those who need our help the most. They say we should use whatever gifts we have to help others. Well, God gave me legs to walk and run, I think I should use them. What about you?
I Run For Life 2013 is a project of JCI Manila to help fund for the treatment of leukemic children under the care of the LIFE Foundation. Full treatment of leukemia is available but costs around P440,000 per child. The goal is to come up with this amount to help sponsor these children.
Purpose of the Project
To raise awareness of cancer stricken children and the efforts of the Leukemic Indigents Fund Endowment (LIFE)

To give back to society by raising funds through a health and fitness event to sponsor and provide the medical treatment of leukemic children patients

To partner with public and private institutions who could partner toward the realization of the project

To provide a day of fun for kids special condition & their families
Benefits to the community
The project aims to give hope and to educate cancer-stricken children through a fun, learning experience

Ultimately, the project fosters a sense of duty of each and every individual to help his fellow beings.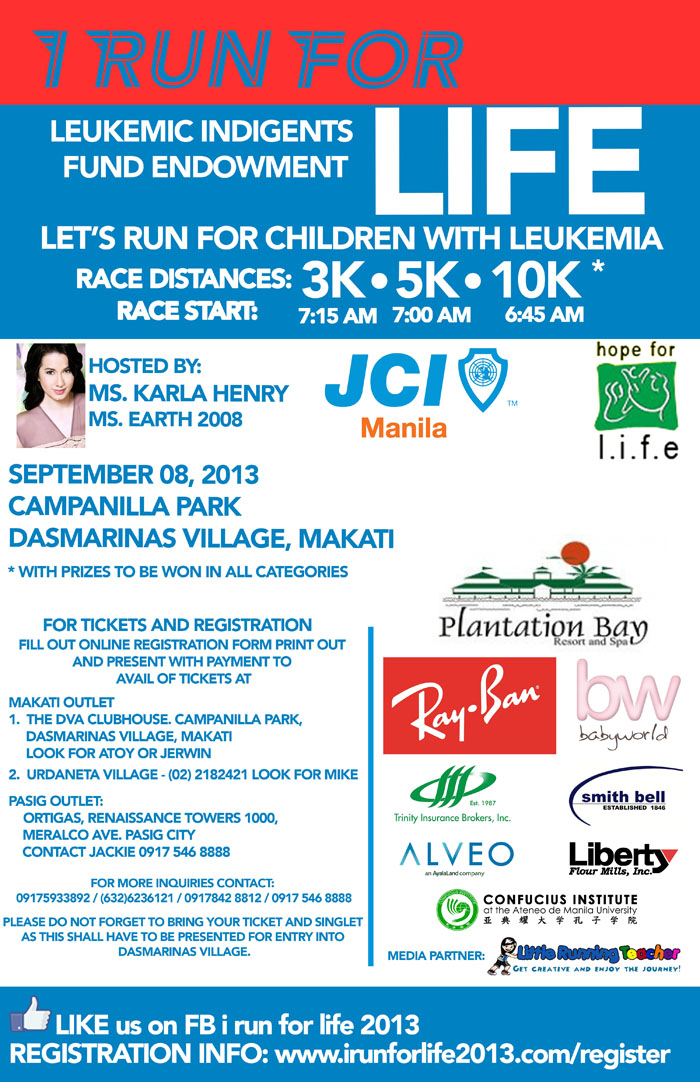 I Run for Life Details:
What: I Run for Life
When: September 8, 2013 (Sunday)
Where: Campanilla Park , Dasmarinas Village Makati (Park Pavillion)
Beneficiary: Hope for L.I.F.E. (Leukemic Indigents Fund Empowerment)
Guided by its vision, L.I.F.E. exists to serve two purposes. The first is to assist leukemic children  from indigent families achieve remission.  The second is to provide optimum care in response to the children's material, psychosocial, and spiritual needs.

More info HERE: http://lifeforleukemia.com
I Run for Life Race Details:
Race Categories: 3k, 5k, 10k
Registration Fee: 1,000 PhP for all categories
*inclusive of singlet and race bib
*ALL proceeds will go to the Hope For Life Foundation.
*Most of you might be hesitant to join and say the registration fee is too expensive, but please note that ALL proceeds will be given to the Hope for Life Foundation to help these children with Leukemia. C'mon and share a little of your blessings.
Assembly Time: 6:00am
Gun Start: 10k – 6:45am, 5k – 7:00am, 3k – 7:15am
* I was hesitant about the start time, but according to organizers, there's a lot of shade in the area and runners are usually there until 12 noon!

*Hydration Stations will be available every 1.5km
*Top Finishers per category will receive medals or trophies
I Run for Life Registration Sites:
Download registration forms HERE
Fill out online registration form print out and present with payment to avail of tickets at the following venues:
The DVA clubhouse. Campanilla park. Campanilla St. Dasmarinas AVillage Makati. (Look for Atoy or Jerwin)

Urdaneta Village – (02)2182421




Admin Office = Village Park, look for Mike.

1405F Ortigas, Renaissance Towers 1000, Meralco Ave. Pasig City




Contact Jackie 09175468888

Toby's branches in Megamall, MOA, Greenbelt and ATC

Runnr BHS
* For more inquiries contact 09175933892 / (632)6236121 and 0917842 8812
I Run for Life Singlet Design: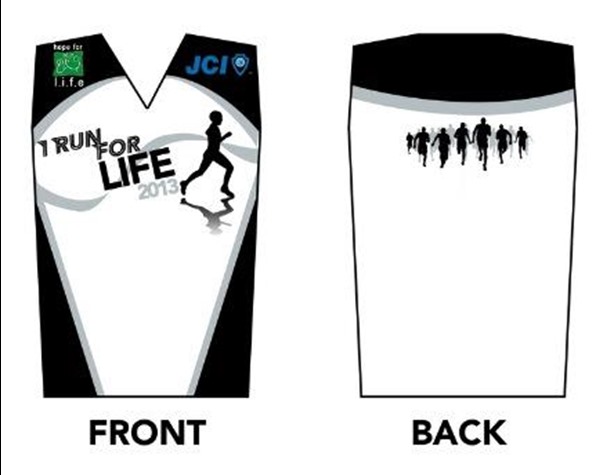 I Run for Life Race Routes
I Run for Life 3k Race Route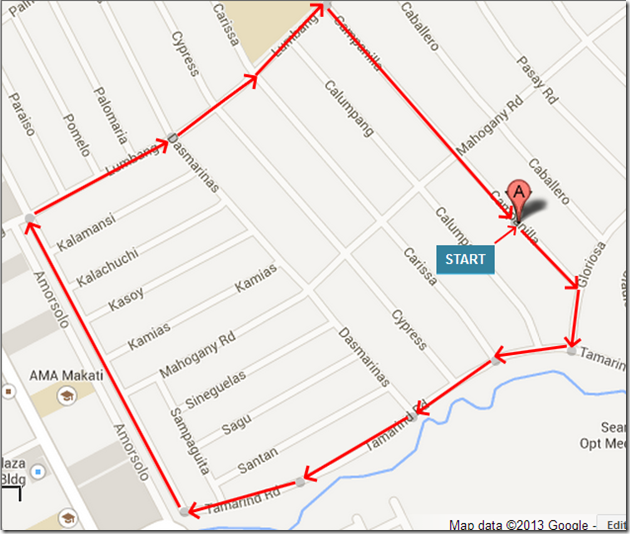 I
Run for Life 5k Race Route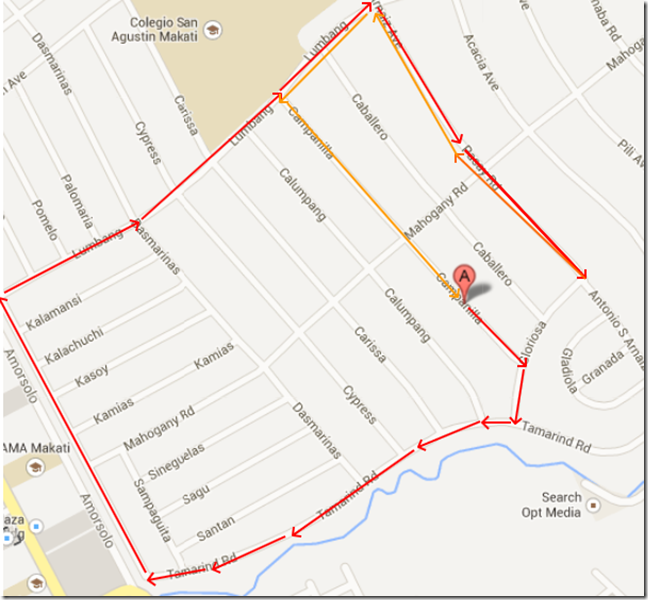 I Run for Life 10k Race Route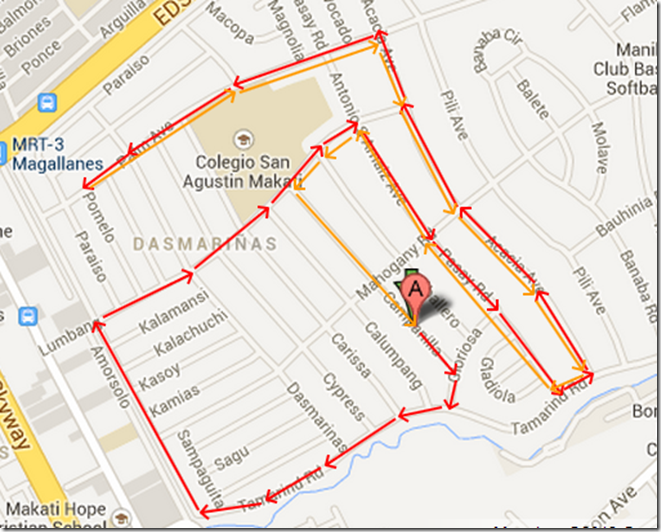 We are lucky and blessed to be where we are today and to have whatever we have today… regardless of how much or how little. Won't you share your blessings to these helpless children and give them a second chance at life? Let's run to save at least one child battling Leukemia!
For more information,
http://www.irunforlife2013.com/
https://www.facebook.com/IRunForLife2013
To stay updated on running and fitness,