"When you create smiles, you change lives, and you heal humanity." This is what Operation Smile believes, and I have to strongly agree with them too.
–
A month ago, I wrote a blog about MILES FOR SMILES. This run was for the benefit of children with cleft problems. The run was successfully held last week and though I registered to run, I unfortunately DID NOT WAKE UP! I was really sad and down but just thought to myself, at least my registration served as a donation to these kids. This coming November, another run will be held for the benefit of children with cleft problem. The organizers are different and there is NOTHING similar to the two except their goal to help these kids. Are you ready to be part of Operation Smile?
–
What: The 500 Smile Run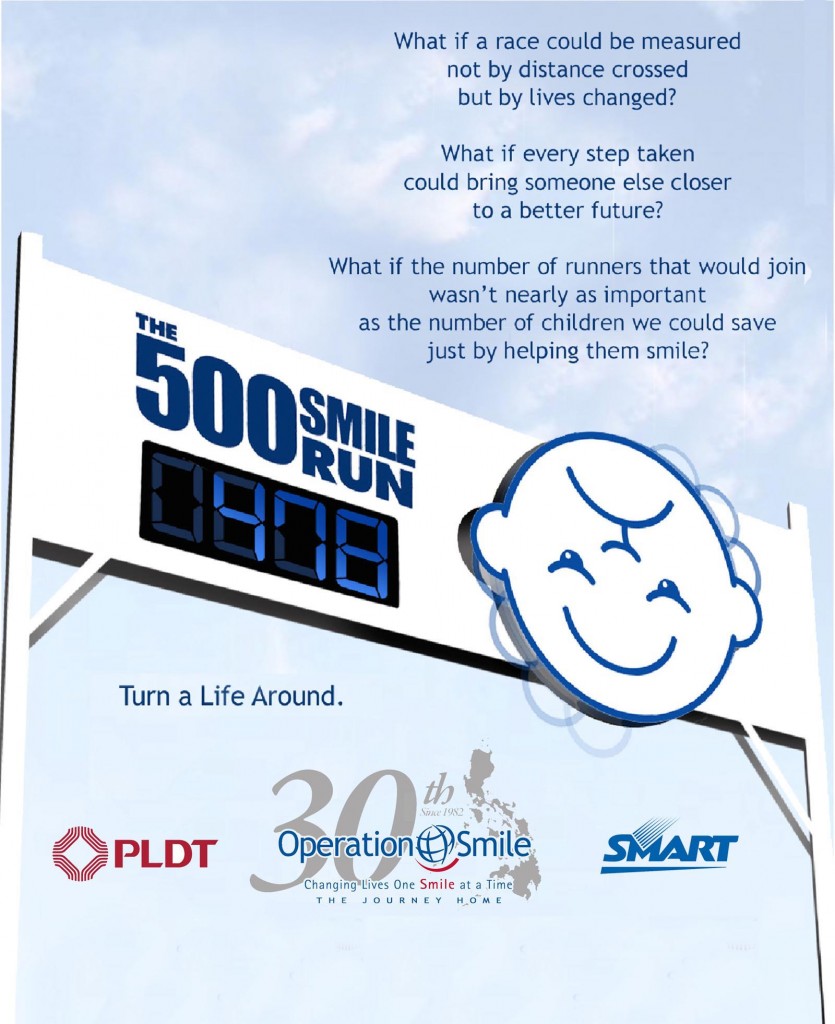 MANILA LEG
When: November 6, 2011 
Where: Quirino Grandstand, Rizal Park, Manila City
Race Categories and Fees:
500meter dash for kids – P300
3 km run – P500
5km run – P500
10km run – P650
16km run – P800
–
Gun start
500meter dash for kids – 7:00am
3 km run – 5:25am
5km run – 5:15am
10km run – 5:05am
16km run – 5:00am
–
Registration Sites:
1.) Chris Sports (Registration Period: September 23 – November 3, 2011):
– SM Fairview
– SM Manila
– Robinsons Place Ermita
2.) Puma Stores (Registration Period: October 7- November 3, 2011)
– Bonifacio High Steet
– Trinoma
– Greenbelt 5
– Cash N' Carry (Buendia)
3.) Smart Business Centers (Registration Period: October 7- November 3, 2011)
– Ayala Avenue Head Office
– Megamall

–
DAVAO LEG
When: November 27, 2011
Where: Rizal Park, Davao City
Race Categories and Fees:
3km, 5km, 10km – P350
16km run – P650
–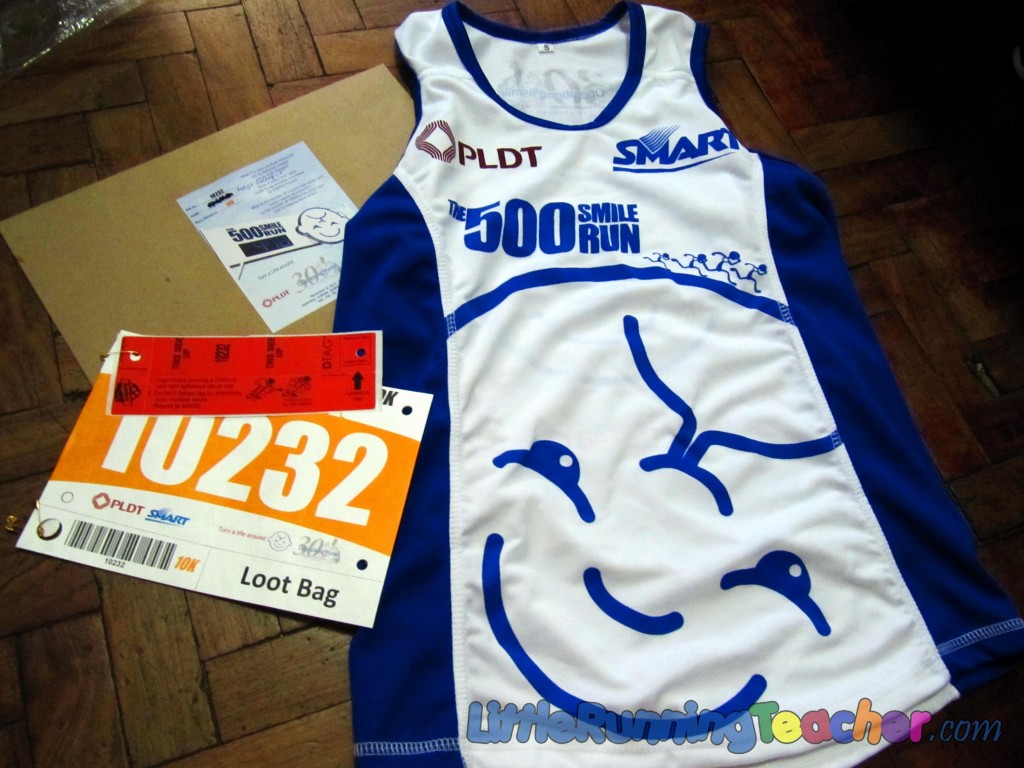 What is Operation Smile?
Operation Smile is a private, non-profit organization and worldwide medical charity for kids that's headquartered in Norfolk, Virginia. They provide reconstructive surgery and related health care to indigent children and young adults. Medical volunteers repair cleft lip, cleft palate and other childhood facial deformities while also building public and private partnerships to provide training to healthcare professionals and improve local capacity in partner countries.
–
How does Operation Smile work?
Operation Smile conducts medical missions in its partner countries. With the help of various sponsors, foundations and government units; Operation Smile is able to mobilize volunteers and give FREE reconstructive surgery as well as build awareness on its programs.
–
Operation Smile focuses MAINLY on childhood deformities. Just as I mentioned in my previous post about CLEFT LIP in my blog for MILES FOR SMILES, facial deformities or having a cleft lip does not only affect the child physically but can also lead to malnutrition, respiratory ailments, ear infections, and psychological and sociological implications. Children with cleft deformities are often bullied and ridiculed, and often stop going to school.

–
In the Philippines alone, it is estimated that one out of 500 children is born with a cleft lip, cleft palate or both. Though this deformity can easily be corrected with a simple surgery, the cost is still too high for families coming from low-income groups. The cost of surgery is P15,000 per child and in just 45 minutes, this child's life could be turned around.
–
Since its beginning in 1982, Operation Smile Philippines has done almost 24,000 FREE reconstructive surgeries to underprivileged Filipino children, while Operation Smile International volunteers have provided FREE reconstructive surgeries to over 200,000 children and young adults around the world. Surgical missions have been done in over 60 countries and currently has presence in 76 countries including the Philippines, Cambodia, China, Egypt, Ethiopia, India, Jordan, Kenya, Laos, Mexico, Morocco, Paraguay, Peru, Russia, Thailand, Venezuela and Vietnam among others. They also have worldwide offices in Hong Kong, London, Dublin, Brisbane, Rome, Los Angeles, and New York City that raise funds and awareness to support international programs.
–
Operation Smile began back in 1982 when Dr. William Magee (plastic surgeon) and wife, Kathleen Magee (nurse) went to Naga City, Philippines for their medical mission. There were around 300 families who arrived, all hoping to get reconstructive surgery for their children's cleft lips and palates. Unfortunately, the team back then could only treat 40 children. Now as deeply touched the Magees were for those they have helped, what left a bigger mark on them were the hundreds remaining that they had to turn down. They then made a promise to return and treat MORE children. So back home in Virginia, they solicited donations of surgical equipments and supplies, raised funds and eventually assembled a volunteer group of doctors, nurses and technicians for another medical mission in the Philippines.
–
It truly is inspiring how one small medical mission has now turned into a WORLDWIDE VOLUNTEER ORGANIZATION. I get goosebumps just thinking about it. I applaud the couple for their wonderful work and for the thousands of children whose lives they've changed.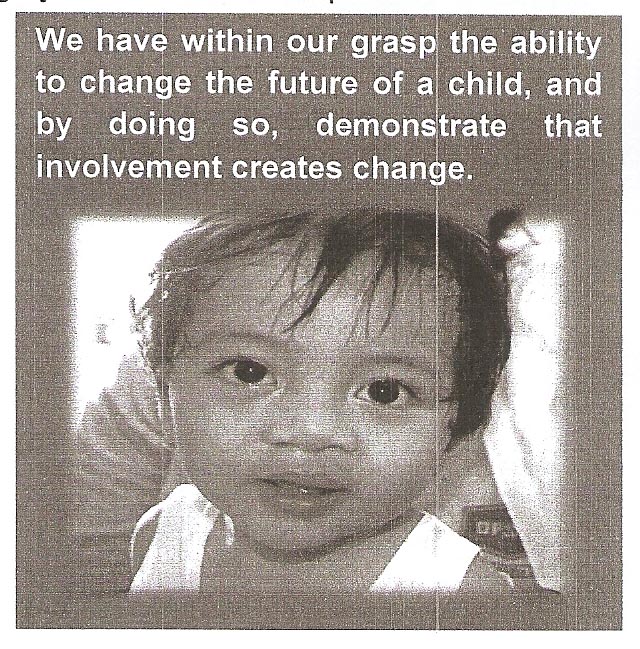 –
As Operation Smile approaches it's 30th anniversary next year, they will have a special homecoming mission to the Philippines to give back to the country that gave birth to this now global children's medical charity organization.
–
OBJECTIVE:  to provide FREE life changing reconstructive surgery to at least 1,500 Filipino children and young adults in 10 days through 8 simultaneous surgical missions in Bacolod, Cavite, Cebu, Cagayan de Oro, General Santos, Naga, Pampanga and Makati. This will start on November 2011 to November 2012 and several medical and non-medical volunteers from the 60 Operation Smile mission countries across the globe will participate.
–
If that wasn't enough to move you and make you want to help out, I don't know what will. I'm no doctor so the best way I can help out is to register for this fundraising events and hopefully.. through the power of this blog.. encourage you all to join as well!
–
BONUS: In case you didn't notice it earlier… check out the LOGO one more time and turn it around….
Wouldn't you rather have that kid smiling? Let's turn their lives around.
Remember, the more runners we have… the more smiles we can give.
 –
What do you say guys? Ready to run again for MORE SMILES? :)
 –
For more information,
check out their website HERE
or email [email protected]ile.org.ph