The zombies are back and just when you thought they've already taken over the creepiest places, they go and find something new. This April 5, 2014, the zombies are hunting for brains in the historical site of Intramuros for Outbreak Missions.
Outbreak Missions had its first debut last October 18 and 19, followed by an encore on November 16, 2013. Participants called it the best Outbreak Manila yet, with over twelve thousand people completing a course of challenges, special characters, and clues—all while being chased by a horde of undead.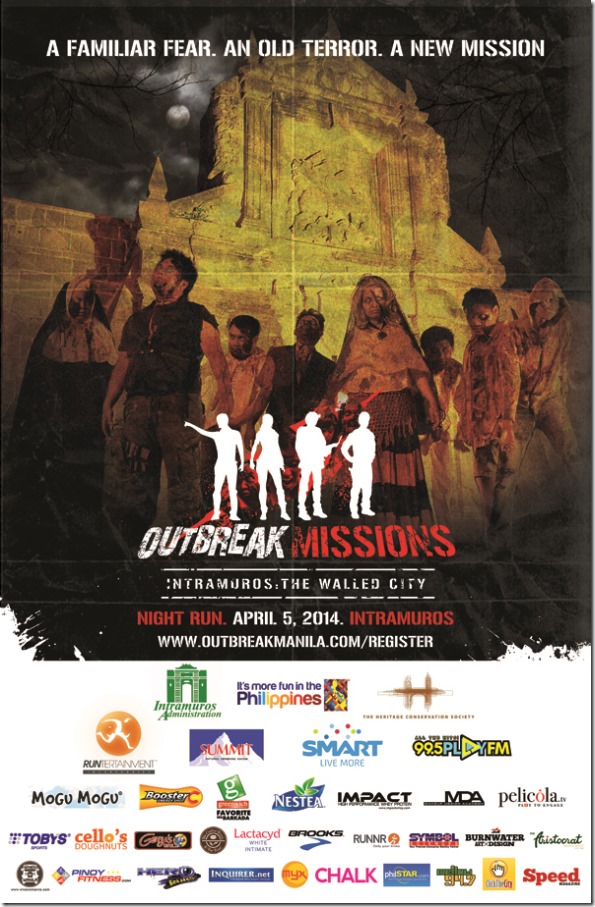 Outbreak Missions Intramuros Race Details:
What:        Outbreak Missions
When:       April 5, 2014 (Saturday) *Night Run
Where:      Intramuros, The Walled City
Race Organizer:        Runtertainment
Outbreak Missions Intramuros Registration Details:
In-store registration from Feb 28 to April 4
Download Registration Form HERE
Registration Fee: Php 1000
*inclusive of Outbreak Missions souvenir shirt, stainless Outbreak Missions authorization card, "life-representing" flag, collectible dog tags for all those who finish "alive"
Outbreak Missions Intramuros Wave Schedules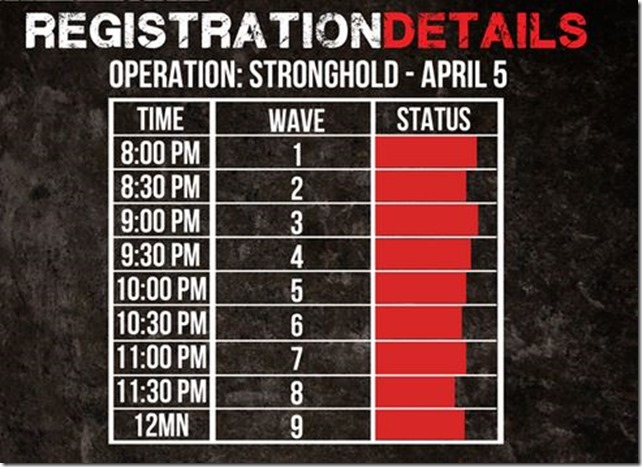 *Want to have a wave named after your company/ school org? Email at [email protected]
Registration Sites:
Toby's Sports:
Shangri-la Mall (full and closed as of March 11)
MOA
Glorietta
SM Manila
Runnr
Alabang Town Center
Bonifacio Global City
Brooks
Outbreak Missions: Operation Stronghold
After his failed Filinvest experiment, Dr. Alfonso Adarna heads to Intramuros to continue his research. Upon reaching the walled city, Adarna is ambushed by the brotherhood, a fanatical band whose plans are more evil than his. The key to this lies in a strain of smallpox dating back to the Spanish occupation, well-preserved and hidden inside Intramuros.
A rescue attempt has freed Alfonso from the clutches of the brotherhood, but the group got scattered en route to the outer walls. Now it's a race against time to find Dr. Adarna. Find the doctor. Stop the brotherood.
RACE KIT GIVEAWAY!!!
Winners will be announced on April 3 on the Little Running Teacher FB page, failure to reply within the day will mean forfeiture of slot! Deadline for entries on April 2!
For other questions and concerns,
check out http://outbreakmanila.com
or https://www.facebook.com/outbreakmanila
For updates on other runs or to just keep in touch
visit http://www.facebook.com/littlerunningteacherpage
twitter.com/cherylgolangco