Once you've finally decided to live a healthier lifestyle through running, the first question you ask would probably be, "what shoes should I buy?" Though the idea of buying new shoes surely excites most people, we have to take note of the type of shoes that would best fit us. Some shoes are meant for speed, others for comfort, others for stability and so on. Moreover, the type of shoe you purchase would also depend on your foot type. Runners with flat feet would need running shoes that can offer better stability, hence you'd often see some shoes with a small heel at the back. Because of the specific demands we have when it comes to shoes, more and more companies are coming up with running shoes and designs that are better able to cater to these needs.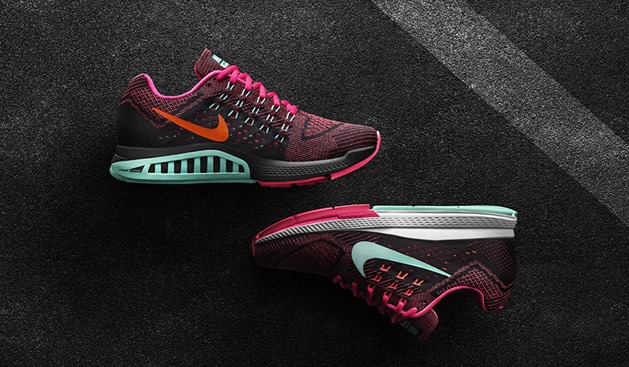 Now in its 18th version, the Nike Air Zoom Structure raises the bar for a running shoe that delivers both speed and stability.
"Over the last two-plus decades, Nike designers have debunked the notion that stable means slow. They've constantly pushed to make the Nike Structure shoe lighter, smoother and more responsive without sacrificing any of its vaunted stability features. The design of the Structure 18 is a quantum leap from past versions where designers revolutionized it from top to bottom."
Nike Air Zoom Structure 18: Triple Density Support System
"The Nike Air Zoom Structure 18 delivers uncompromising stability through the combination of an upper featuring Asymetrical Dynamic Flywire and a triple-density Dynamic Support system in the midsole. The new contoured last — created to provide a better fit and more responsive ride — combined with Nike Zoom Air cushioning, provides added toe spring for the snappy, quick-off-the-ground feel athletes expect from Nike Zoom Air."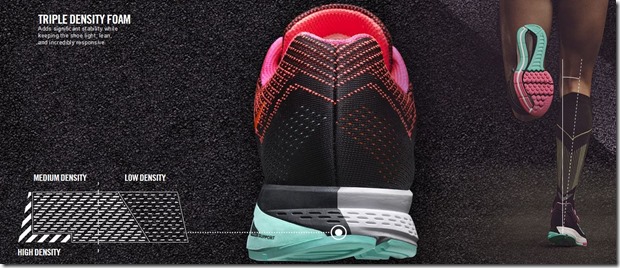 "Designed to provide runners with support and cushioning, the innovative Dynamic Support system uses opposing wedges of foam with different densities to help slow the rate of pronation. Designers enhanced the support in the Nike Air Zoom Structure 18 by adding a third, high-density foam to the existing system. When needed, the three-density Dynamic Support system kicks in to help provide added support and enhance the smooth transition upon foot strike."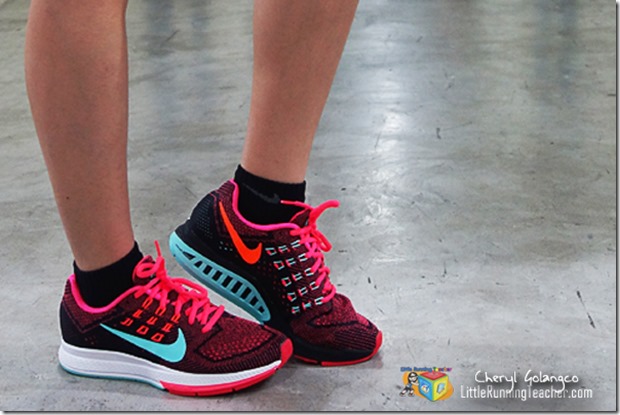 The Nike Air Zoom Structure 18 is uses a triple-density Dynamic Support system in the midsole which is able to provide proper support for each runner's level of pronation or running style. This means that the first layer will mostly do the work at first, however as your stride begins to change (possibly because you start feeling tired or the like), the 2 other layers start to kick in to keep your gait cycle on track. The ribs on the medial posts in also help reduce the weight of the Nike Air Zoom Structure 18.
Nike Air Zoom Structure 18: Zoom Air Cushioning
"Nike's Zoom Air technology is the fastest, most responsive Nike Air cushioning, making it the cushioning of choice for many elite and everyday athletes. Highly responsive Nike Zoom Air cushioning in the forefoot combined with the added toe spring of the new Zoom last, provides the Structure 18 with a responsive snap and fast transition."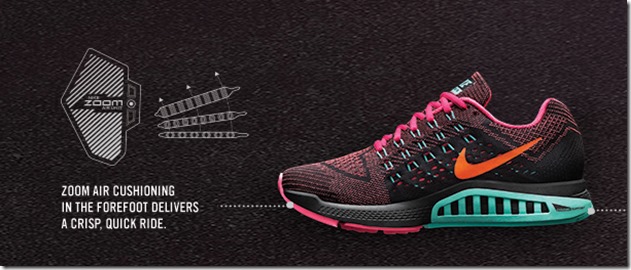 The Nike Zoom Air technology is technically a pressurized airbag built into the shoe which helps give the shoe a quicker response time.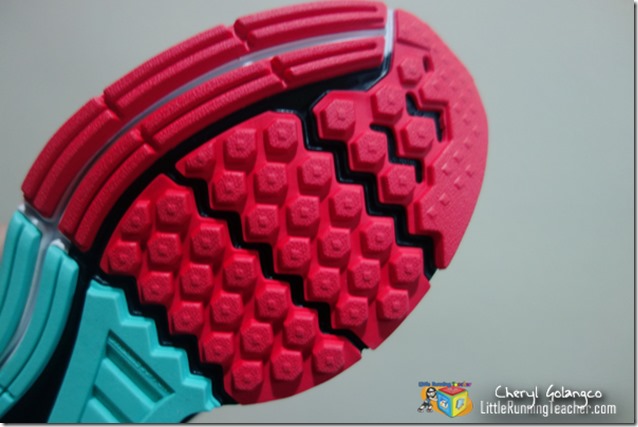 See those tiny bubble-wrap like things on the bottom? Basically, instead of putting all that air in one area, they dispersed it to give runners that "pop-like" feel with every step. When I tried running with these, it kind of felt like I was running with tiny springs on my feet. Not only did it feel super light, but it kept me bouncing throughout my run. My running buddies wanted to "sedate" me as they said I was hopping around like a bunny! (haha)
Nike Air Zoom Structure 18: Engineered Mesh Upper
"The design also features a Nike Engineered Mesh upper with Asymetrical Nike Flywire cables that wrap the foot and provide support without the bulkiness of previous models, letting the foot move naturally. Nike Engineered Mesh also improves comfort and breathability. Nike Engineered Mesh enables designers to precision-engineer ventilation and lightweight support where needed most, improving comfort and breathability."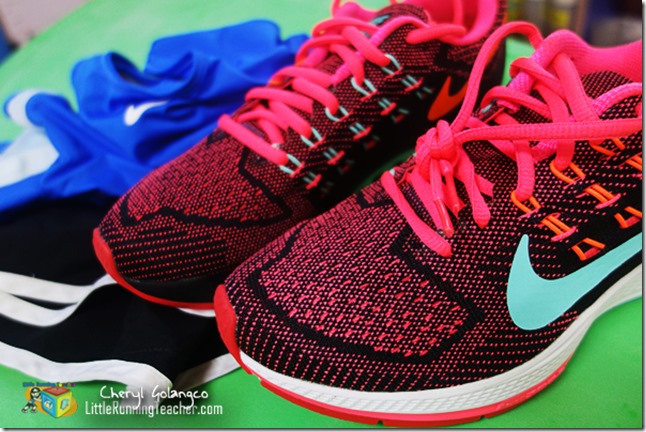 To prevent bulkiness or even sores caused by the way shoes are made, Nike utilizes a specially engineered mesh which is one whole piece that goes on the top of the foot. This helps reduce not just the seams, but the weight of the shoes as well. The engineered mesh also feels very snug on the feet that I felt it was really adapting to every small move my feet were making as I ran. Moreover, those tiny holes you see on the mesh make the shoe super breathable and very comfortable.
Nike Air Zoom Structure 18: Outsole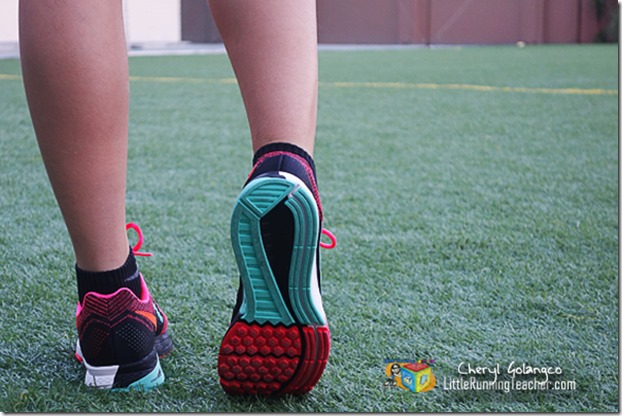 Lastly, what I noticed about the Nike Air Zoom Structure 18 was also the outsole/sole. Besides those "air-bubbles" I mentioned earlier, notice also how the sole is divided in the right areas where the shoe is supposed to bend. This really helps a lot when running as it is able to properly support your feet and gives you a more flexible feel.
Nike Air Zoom Structure 18: Conclusion
I was able to test out the shoe through a short 10k run and felt light as a feather. It was very snug while at the same time felt very comfortable. It was also very bouncy and somehow made me feel more energized and in the mood to run on a lazy day.
The Nike Air Zoom 18 is a stability shoe, it is ideal for runners who over pronate. Then again, neutral runners can still use this pair. The shoes breathability and light weight would be perfect for a marathon. However, I cannot fully recommend it as I haven't tried running further than 10km with it. Go try it out yourself at the nearest Nike store! You won't be disappointed.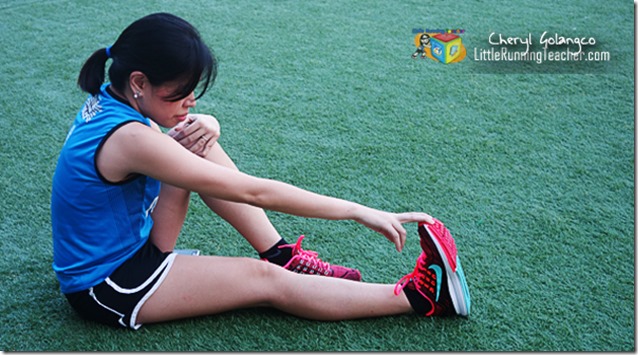 CUSTOMIZED Nike Air Zoom Structure 18
For the first time, the Nike Air Zoom Structure 18 will be available for customization with NIKEiD on nike.com starting Sept. 25. NIKEiD will exclusively provide choices in widths, sockliners and personalization with colors, color-fade graphics and characters. The inline Nike Air Zoom Structure 18 will be available on nike.com starting Oct 2.
The Nike Air Zoom Structure 18 is part of a collection of Zoom Air running shoes that includes the Air Zoom Pegasus 31, Air Zoom Elite 7 and Air Zoom Streak 5.
Suggested Retail Price for the Nike Air Zoom Structure 18 is PHP6,095.00 for both Men's and Women's models.
For more information
http://news.nike.com/
https://www.facebook.com/NikeRunningPH
@Nike
For updates on other runs or to just keep in touch
visit http://www.facebook.com/littlerunningteacherpage
IG and Twitter: @cherylgolangco