New? Visit the Little Running Teacher Facebook page for updates and photos of this and other future runs!
–
When Nike first released news on their upcoming run, people started flocking to the registration sites to save a slot. The singlet and finisher's shirt were enough to keep these runners happy… including myself! So as race day drew closer, so did the excitement! Not only were we all getting to be part of this memorable run, but we also got an awesome singlet and finisher's shirt, plus a concert from Chicosci, Never the Strangers, Spongecola, Apl de Ap and more! Can anyone say S-U-L-I-T?!
–
I joined last year's We Run Manila so I had a bit of an idea with regards to the crowd. Imagine 15,000 runners! That's A LOT! Even my cellphone noticed the number of people that I could hardly call or text due to the congested network! Still, it was surprisingly very well organized amidst the number of runners! Good job to Nike, Ogilvy Productions and RunRio!
–
Nike We Run Manila 2012 Race Proper
As soon as I arrived at the event grounds, I could already see the thousands and thousands of runners all walking toward the starting line. It was really really crowded! Everyone was just as excited as I was. Amidst the crowd though, I was surprised to  see Apl de Ap standing right beside me. I wasn't even sure until a bunch of runners started murmuring, "Siya yan diba?" "Uy, siya nga yan!". I had to go back and take a photo with my phone! haha
–
Because of the overwhelming number of runners, we had to be divided into waves. I'm not really sure what wave I joined as I could hardly hear the host, but I know I started around 10 minutes after the gun start for the first wave.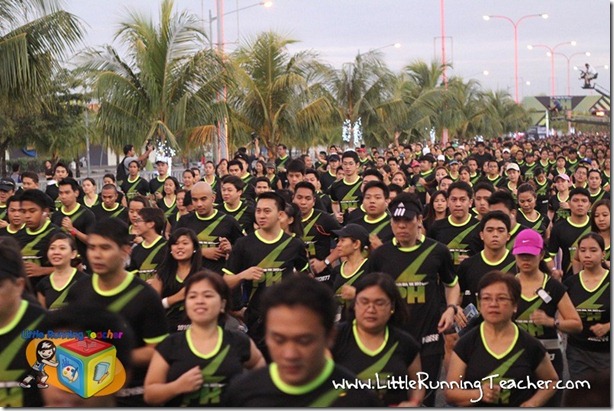 –
There were so many runners that it became difficult to cut in between them. Several faster runners ended up  running on the sidewalk, it was all manageable still. Surprisingly, the number of runners did not make the race any less organize. It was well planned indeed!
–
My favorite part of the run was hearing the music and my adrenaline pumping up. Dj/ Sound booths were placed in 3 different areas along the route. One at the beginning, another at the 2.5km/8km mark and another in the middle, or at the 5km mark! The music really got runners hype and re-energized! Thanks Nike!
–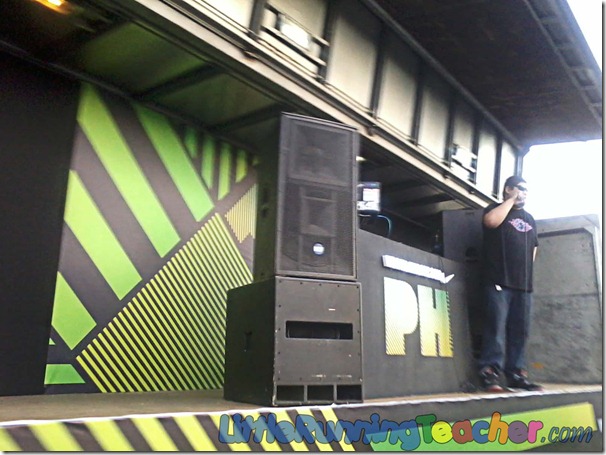 *Forgive the blurry pic, took it using my cellphone only
–
Nike We Run Manila 2012 Post-Race
Claiming of the finisher's shirt was overly organized! I did not expect it at all. I expected runners to go to the booth where their shirt size was located and just get the shirt and go. Instead, the finisher's shirt size was already pre-determined. Whatever shirt size you registered with for the running singlet was the same shirt size you get for the finisher's shirt. Marshals removed the runner's D-Tag and the shirt size you ordered is actually printed there.
–
Runners need to pass in between the booths to claim the shirt and exit the other way. They can no longer re-enter that area afterward and are encouraged instead to visit the Nike Activity Area. Outsiders or unregistered runners however, were not allowed to enter.
–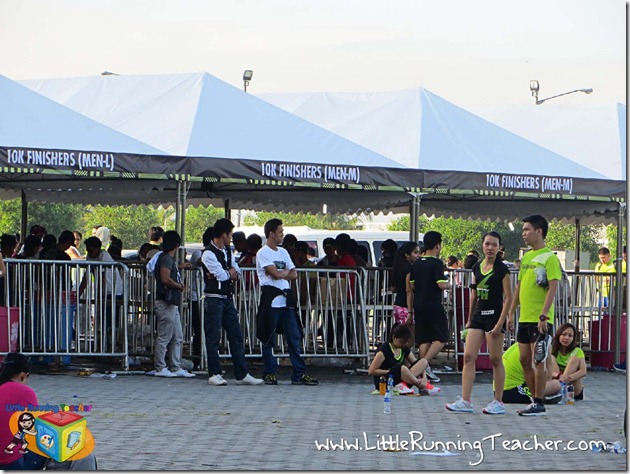 Claiming of Finisher's shirt. We have to pass in between the two tents and end up on the other side.
Activity area: Only registered runners allowed here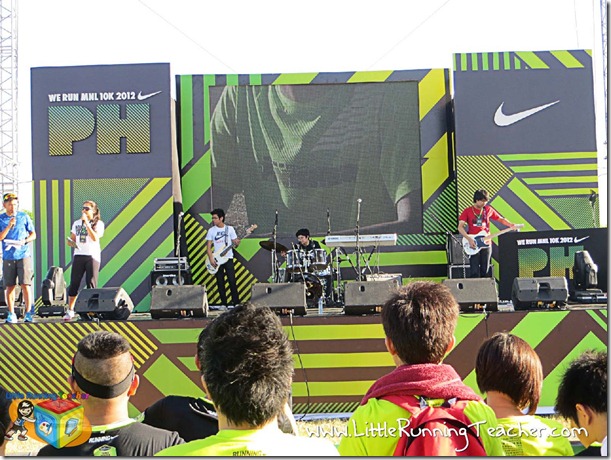 There was also a short concert from several bands though I wasn't able to stay and watch anymore.
–
Overall, it was a very fun, clean and SUPER organized run! Looking forward to Nike We Run Manila 2013!
–
Check out the Little Running Teacher Facebook page for photos and other updates on the run
–
–
Nike We Run Manila: Thoughts and Experiences