In my past posts, I shared different ways to help children recognize their own names. I shared music, and pre-reading skills.. So this time, let's do some art!
It's always important that the kids at least become familiar with the first letter of their names
.
What you will need:
Any small objects that can be glued (bottle caps, sequins, glitter, sand etc.)
Print out of their name with the first letter emphasized
.
.
Just let the kids color and paste on the first letter of their names! Continuously emphasize what that letter is and how it sounds. Another thing you could also do though, is to give the child small cutouts of objects that also start with the same letter. This will later on help with pre-reading skills.
.
You could print the whole name and just let the kids decorate the first letter….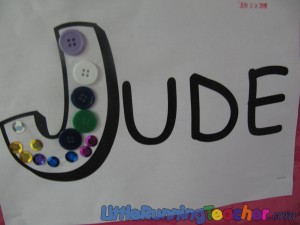 .
OR
.