After a tiring week at work, school and blogging, I was looking forward to a good ol' 10k run to reenergize me. Thing is, i didn't have enough energy to get up in the first place and missed the gun start for the 10k runners. I know you're probably thinking that it's not a big deal and i still could've run, to me however, it IS a big deal, especially since i was running alone. I wasn't confident enough to think i could catch up with the other runners so i decided to just observe for once…. and it actually turned into a blessing in disguise.
I sat at the corner of 9th and 10th avenue and watch the runners slowly approach the finish line one by one. It was a surreal experience watching them. I've never seen runners from this angle before… I was always one of them.
A Rainbow of Runners
As they neared the finish line, i could see in their faces their feelings of excitement and exhaustion…especially the 10k and 21k runners. I saw the Kenyan trying to beat the Filipino runner but without luck… It made me proud. I saw the old man who looked around 60+ rank in the top 10! I saw friends challenged each other, playing a game as to who can make it to the finish line first, it encapsulated what running is supposed to be like… FUN. I saw the pacer who pushed his girl all the way to the last stretch, it was teamwork at its finest. I saw the man with one arm appreciate the gifts God gave him by running speedily towards the finish line. I saw the man with one leg joyfully rush towards the finish with the help of his friend and reliable crutches, it was heartwarming. I saw the runner who was slightly crippled but still ran as fast as he could toward his goal! I saw a man with schizophrenia push hard to the finish and even stop and pause for the camera. I saw several runners ignore their disability and focus on their ability just to finish their race. So what's your excuse?
*Photo in the middle from PinoyFitness.com
There's a saying that goes, "if you aren't a runner, you won't understand." I'm a runner, and I understand. I understand the struggle we feel in the first 500m as we slowly warm up, i understand the "tiredness" we feel in the last stretch as we use up our remaining energy. I understand the courage it takes to start running, i understand the mentality we need to go further, i know the triumph we feel after we've finally crossed the finish line and I know the pride we feel when we beat our time.
Why we love to run:
Most people walking around Bonifacio Global City that day may not understand it. To them, these runners were just getting in the way of whatever they needed to do as roads were closed and runners took over the streets. But to me, i saw something else. I saw obstacles being conquered, fears being beaten and dreams coming true.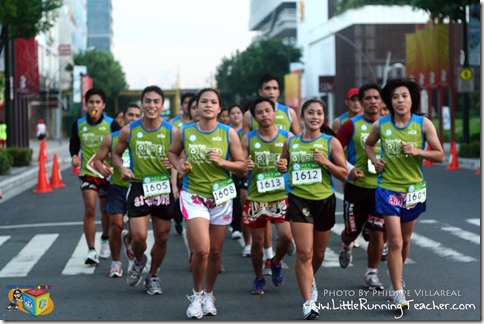 No wonder running is so addictive. We get to tap on so many emotions in just a few minutes. We get to experience life in just a few kilometers – the ups and downs, the struggles and challenges, and the will to win. If you haven't started running, you should definitely try it. I'd love to join you through your quest.
I felt bad that I wasn't able to join, but I don't think I would've ever seen runners in this light if I did. Congratulations to all the finishers of the Tetra Pak Run, and to the Hypersports for a well organized run!
Check out the LittleRunningTeacher FB page for more photos
Moved by Runners at Tetra Pak RFR