Happy Anniversary to me! Yey!!! Thank you everyone for your undying support! To celebrate, I'll be having a month long contest c/o my wonderful sponsors!
As a runner, it's a must to go out in the sun! We run regardless of the weather as long as we get our training right! Though running helps tone our muscles, we also need something to tone our skins. So for our first week, with special thanks to Ardent World, I will be giving away a Gluta-C loot bag worth P639.00 SRP!!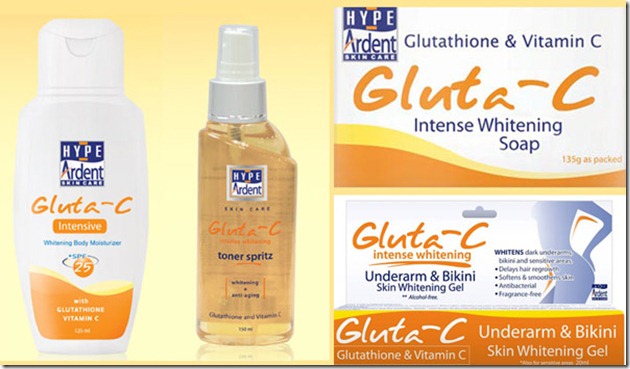 Up for Grabs!
Gluta-C Intense Whitening Soap
Gluta-C Intense Whitening Soap is a gentle yet deep cleansing soap that not only cleans but also effectively whitens and moisturizes the skin with the powerful combination of antioxidants Glutathione and Vitamin C.
Glutathione reverses the production of melanin, which causes dark spots, uneven skin tone and blemishes. Vitamin C helps improve the skin`s appearance and promotes a healthier, whiter complexion.
Gluta-C Intense Whitening Toner Spitz
Gluta-C Intense Whitening Toner Spitz is made of natural plant extracts such as witch hazel and mangosteen, which have antibacterial, antiseptic and anti-aging properties. The toner spritz gently cleanses the face of impurities and effectively removes residual makeup. It helps smoothen the skin's texture by controlling oil production, minimizing pores and moisturizes the skin.
Gluta-C Intense Whitening Lotion
With the Gluta-C Intense Whitening Lotion, you're sure to get EXTREME WHITENING ACTION, ANTI-AGING TREATMENT, ADVANCED SKIN NOURISHMENT and EFFECTIVE SUN PROTECTION!
Gluta-C Intense Whitening Underarm and Bikini Skin Whitening Gel
So, are you ready to win all these and more? The mechanics are simple! Just be guided by these steps, the more tasks you get done, the more entries you have! I will be selecting the winner after 3 days! Ready?
Little Running Teacher 2nd Year Anniversary Week 1 Contest Giveaway:
Contest winners must be AVAILABLE to meet in after 4pm in Ayala (Greenbelt/Glorietta) on weekdays or Fort Bonifacio Taguig on Thursdays
Contest duration: Aug. 27-29, Winners will be announced on or before August. 31! :)
Gluta-C loot worth P639.00 SRP:

1 Gluta-C Intense Whitening  Soap (135 g) SRP 104.75

1 Gluta-C Intense Whitening Toner Spritz (150ml) SRP 169.75

1 Gluta-C Intense Whitening  Lotion with SPF 25 (125ml) SRP 164.75

1 Gluta-C Underarm and Bikini Skin Whitening Gel SRP 199.75
For more info on these awesome goodies, check them out here:
Website: http://awi.com.ph/whatsnew.php
Facebook: https://www.facebook.com/GlutaCIntenseWhite
–
*Disclosure: This giveaway is sponsored by Ardent World Incorporated