While on the topic of hands, we also learned about hot and cold objects! What a perfect opportunity to cook with the kids! We wanted them to be able to see how cooking can soften up something and so we decided to make some Mashed Potatoes!
To start off, we danced to the song HOT POTATO by the Wiggles! My students last year loved this song, and so did the kids this year! We played it more than 10 times during free play the following day due to popular demand! I attached a video here from You Tube if you'd like to check it out! It's a really fun song which helps get the children take out their excess energy and get them ready for circle time!
After singing and dancing to the wonderful song, we showed the kids a potato. I let them touch it and describe how it felt. They told me it was hard! So what can we do to make it softer? The kids answered that we should cut it (they did the action using their hands), and so I did! But it was still hard! They told me to cut it some more, but it was still hard! So I showed them a pot, and some were able to guess that we needed to cook it!
.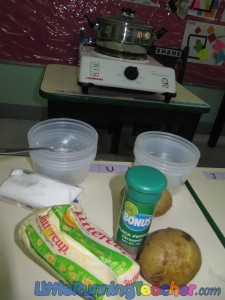 What you need:
Potato
Salt
Pepper
Butter
Small containers for the kids
Fork/Potato Masher
Electric Stove
.
Step 1: First of all, make sure that you position the stove in such a way that the kids will not be able to touch it and get hurt.  I have toddlers in my class so just saying NO doesn't always work. Also, make sure that all materials are ready before you begin.
.
Step 2: Cook the potato at home since it takes a while for it to soften. Just bring some uncooked ones for the children to feel.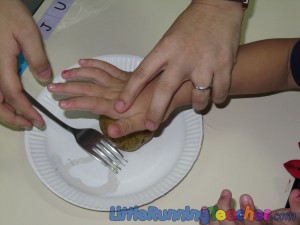 Step 3: Turn on the stove, and fill the pot with water. Let the kids put in the uncooked potatoes. Also boil the cooked potatoes again just to heat it up a little.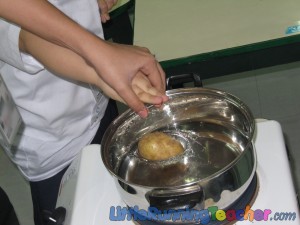 Step 4: After a while, take out the cooked potatoes and let the kids peel it.
Step 5: Mash the potatoes! If you have time, it would be great if they could each mash their own. If not, it could be done as a group.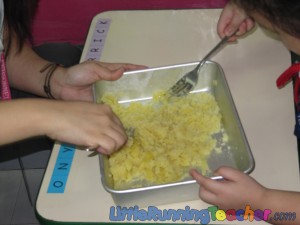 Step 6: Mix the butter, salt and pepper.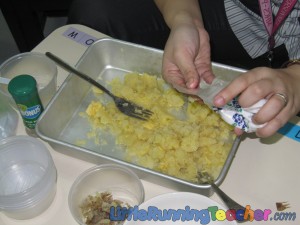 Step 7: Distribute and EAT!