As athletes, it's a common thing for us to feel muscle pain, cramps and the like. As soon as this pain become intolerable, we head straight to our doctors and therapists. Seems about the right thing to do… right? Wrong!  Often times we've been told that prevention is better than cure, unfortunately, we only apply this to most  things except our physical health.
As Dr. Martin Camara shares, imagine a car with 4 perfectly working tires. Now, over time, these tires wear out. They get damaged and misalign. We don't notice this until something sudden happens. The same example works for our body. We use our body everyday, obviously. Our bones, our muscles wear out and get tired. However, we usually only notice that we need a check up when we're already in excruciating pain. So before you tear another hamstring or experience one of the many running injuries, go visit INTERCARE and get assessed.
What is Intercare?
Intercare has been around for 20 years and specializes specifically on pain management. Its philosophy has always been about integrating the disciplines out there regardless of what it is…Pilates, acupuncture, etc.If it works, then they integrate it.  They combine these disciplines to come up with complete, comprehensive, effective and powerful treatments that puts patients in the center.
(as taken from their website)
INTERCARE is a global pioneer in the exciting new field of Complementary Alternative Medicine (CAM).
They specialize in making clients feel better by helping them to return to a state of natural balance, empowering them to live a pain-free life. They offer treatment for muscoskeletal pain and injuries using natural, non-surgical, and non-invasive methods. They also integrate traditional, medically-oriented models of care with alternative and complementary methods such as chiropractic, acupuncture, Myotherapy and rehabilitation medicine.
These are some of the services they offer.
 For a more detailed description of their services, visit their website. Link available at the end of this post.
I wish I could explain them all to you, but I'm no pro, the best way for you to find out what soothes you best is by giving them a call or dropping them a visit. I did however get to try SOME of their services. Let me just tell you now that I never knew the solutions to my problems were all in one place.
Acupuncture – Acupunctures are usually done to restore the natural flow of energy in our body. According to the doctor I spoke to, it is also a good treatment for those with hyperacidity! Since I didn't have anything wrong at that time, I decided to just try what it felt like on my hand. As soon as the needle was in there, my whole hand started feeling some strain. The strain felt good though. This meant that the nerve was tapped.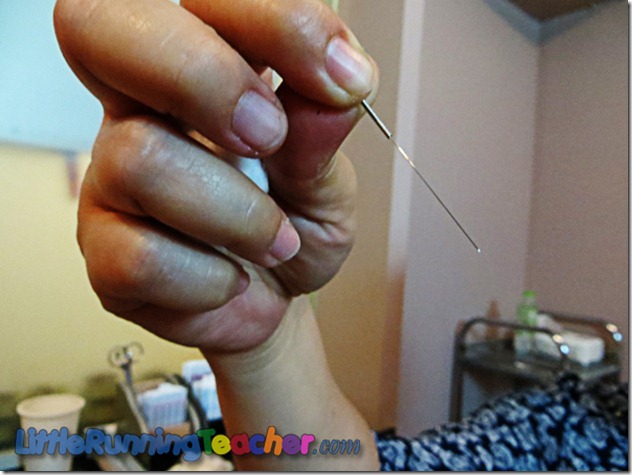 I'm afraid of needles, but this really ISN'T painful at all. You'll love the comfort in it more.
Optogait – I wasn't really able to try this fully, but through the assessment, I was told that I needed to stretch more often because my body was just not reaching the point it needed to reach. See the photo below? My leg should be able to bend all the way up, perpendicular to my body. Unfortunately, what you see in the picture is as far up as I can go.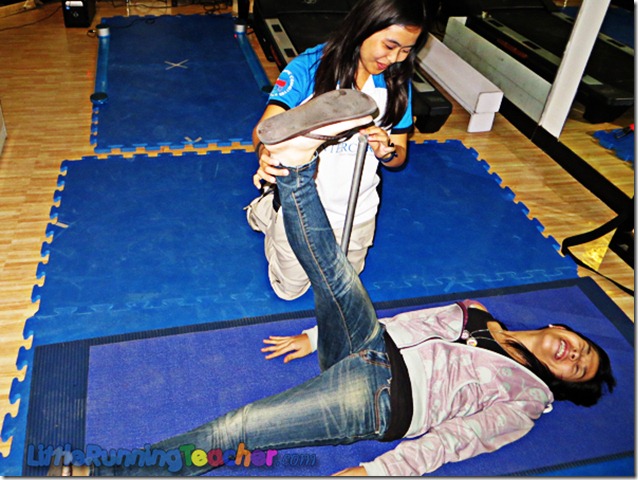 Don't worry, it's not painful! hah I was just playing around!
Chiropractic – They say you'll hear your bones crack as you go through this. I was naturally afraid that it might be painful. However, when I asked the other bloggers how it went, their reactions were all, "You have to try it!' and so I did! Every single time Dr. Camara cracked something, I had to stop myself from letting out a loud "uh!" It just felt SOOOOOO GOOOOODD!! I want to do this more often and I suggest you guys give it a try now!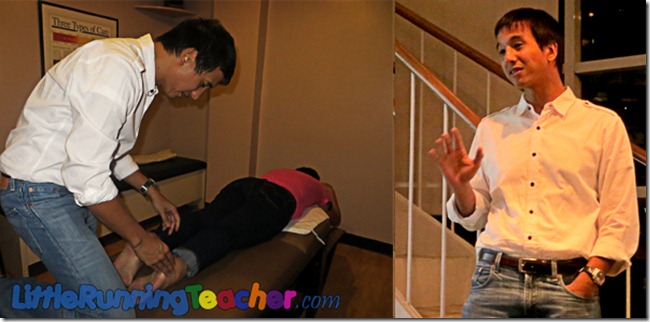 Dr. Martin giving a chiropractic massage to the Running Diva
Sport Taping – last but not least, I got to try being taped! Intercare uses only the best of the best, and after experimenting with different kinds of tape, they finally found it. Rocktape.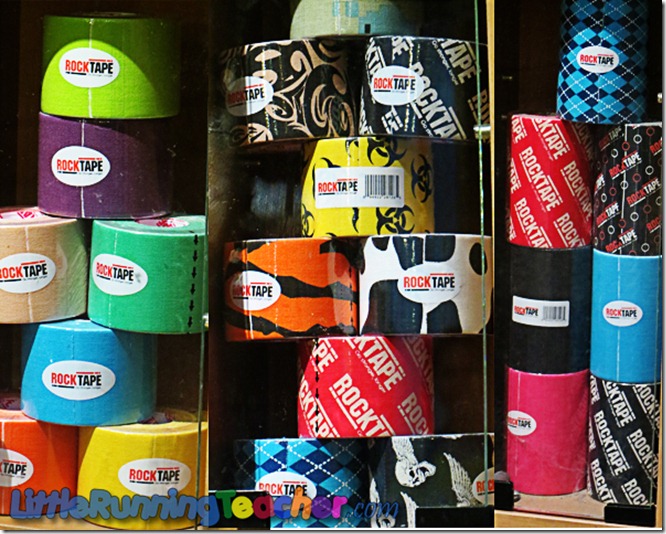 A variety of rocktape designs for the fashionistas
Unlike traditional athletic tape that binds and doesn't stretch, ROCKTAPE is engineered to mimic the human skin. This stretchiness is the secret behind ROCKTAPE. ROCKTAPE stretches up to 190% of its original length but has amazing 'snap-back' or recovery. This is what gives ROCKTAPE its performance advantage over other tapes.
It helps enhance performance when applied to a specific muscle group by:

Promoting blood flow to the muscles

Promoting lymphatic drainage

Assisting in the removal of lactic acid

Reducing muscle vibration
These functions enable ROCKTAPE to provide athletes with additional endurance and promote recovery.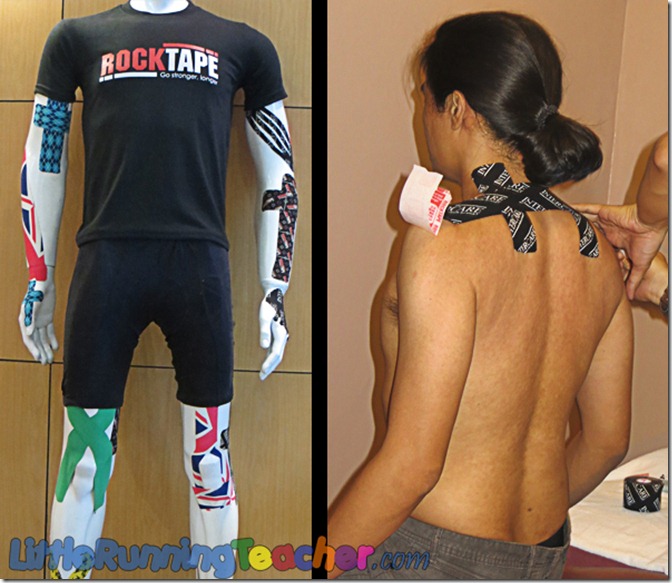 "Machete" on the left and Barefoot Runner Daves on the right
Don't wait for your muscles to get worn out, visit Intercare now and prevent any sports injury from happening.
Intercare has 3 different branches across the metro, visit the one closest to you today.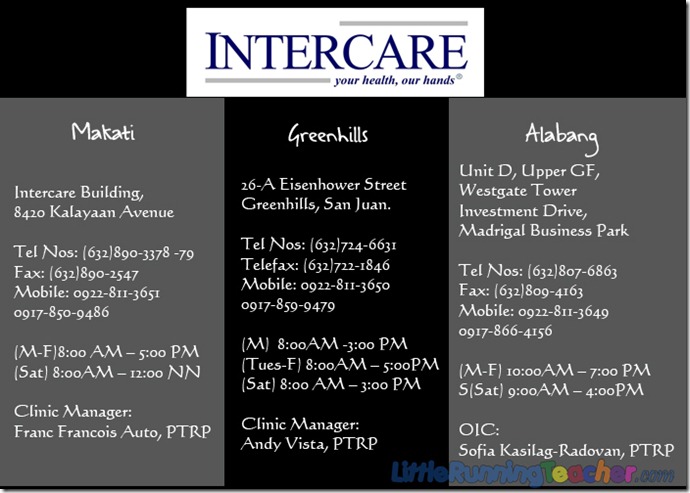 Intercare Philippines
https://www.facebook.com/IntercareChiropractic
Rocktape Philippines