Are you a parent? Do you want an easy way to have your own HP mini? Then this contest is for you! (If only I were a parent, I would join too!)
.
Promo Title: Win HPMini Promo
Promo Duration: October 8, 2010 to November 4, 2010
.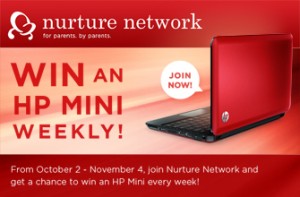 I.The Promo is open to all parents (pregnant mothers are not qualified to join) who are contactable.
III. Interested participants can only register once throughout the whole promo duration; should there be incidents when a participant registers more than the allowed limit, only her 1st entry submitted entry (regardless from which properties) will be honored.
IV.For each successful registration of participants, Wyeth will be contacting them to process other information needed.
V.All prizes are transferable, but not convertible to cash.
VI.Winners will be determined via an electronic draw. The draw will be held at Snapworx Office, 3/F Glory Building, #5 General Lim St., Brgy. San Antonio Village, Pasig City
VII.
| | | |
| --- | --- | --- |
| Draw Date | No. of Winners | Prizes |
| 22-Oct-10 | 1 | HP Mini |
| 29-Oct-10 | 1 | HP Mini |
| 5-Nov-10 | 1 | HP Mini |
| 12-Nov-10 | 1 | HP Mini |
VIII. All drawn entries are subject to verification.
IX. Non-winning entries will still be eligible for the succeeding draws until the end of the promo period.
X. Weekly winners of the prize will be announced and notified as to how they can claim their prize via Nurture Network Fan page, Call and Email. They will be required to present two (2) valid IDs, birth certificate/s of children, and print out of the email notification upon claiming the prize. Prizes will be forfeited if unclaimed within 60 days (from the time winners were notified) and will be turned over to Wyeth Philippines, future use of these prizes will be under the discretion of Wyeth Philippines.
XI. Promo will run from October 8, 2010 to November 4, 2010.
XII. All employees of Wyeth, its suppliers, agencies, and their relatives up to the second degree of consanguinity or affinity are disqualified from joining the promo.
So what are you still waiting for??
SIGN UP
now and get the chance to win your own HP mini laptop!