Several months have passed since Yolanda struck the Philippines and altered the lives of thousands. Several people and families were left with nothing but the clothes on their bodies and a fighting spirit. Since then, government groups and volunteers have already organized various programs and ways to help the survivors. We've gone a long way since and a lot of people have already gotten back on their feet, however, there's still a long way to go and a lot more to do, especially for the children.
This run will be the 15th run for a cause of DZMM but their first ever color run!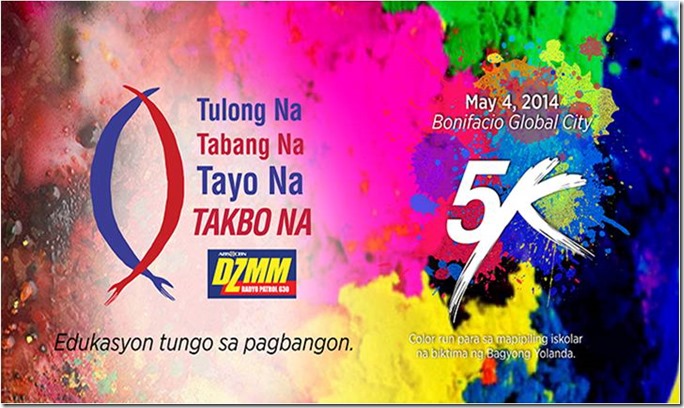 DZMM Run – Tulong Na, Tabang Na, Tayo na, Takbo Na Race Details:
What:        Tulong Na, Tabang Na, Tayo Na, Takbo Na
When:       May 4, 2014 (Sunday)
Where:      Bonifacio Global City (34th street)
Race Organizer:        RunRio
* This run is an advocacy of RunRio, hence, they have decided to WAIVE agency fees for organizing this run. 100% of the proceeds will go to the beneficiary!
Target Number:        10,000 Runners
Race Categories:     5k Color Run
Assembly Time:        4:00am
Gun Start Time:        6:00am
Beneficiary:  Chosen scholars from the victims of Typhoon Yolanda
*Public schools offer free tuition fee, however, children still need to spend money for their food and transportation. It is after all difficult to focus on an empty stomach. An estimated budget of Php 800 is needed to cover each student's food and transportation, not to mention their uniform and school supplies. Through your help, DZMM and the ABS-CBN foundation will be able to help more children get proper education and give them a brighter future.
The Integrated Public Service will coordinate with social workers for Typhoon Yolanda affected areas and screen children and scholars who will benefit most from this program. Currently, DZMM is already helping more than a hundred children complete their education, these children will also be further assisted with the funds raised from this run.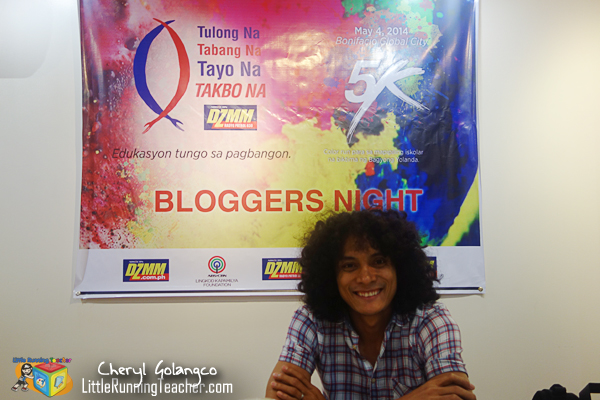 Coach Rio is ALL IN for the DZMM Color Run
DZMM Run – Tulong Na, Tabang Na, Tayo na, Takbo Na Registration Details
Registration Fees:
Early Bird rate: Php 550 (from March 17 – April 4)
Regular rate: Php 630 "sais trente"
* 20% discount will be given to senior citizens (even if they register early!)
*inclusive of singlet, race bib (with D-tag), finishers' kit containing cap and towel
Registration Sites:
Online Registration: https://regonline.activeglobal.com/Register/Checkin.aspx?EventID=1519635
(March 17 – April 20)
*Delivery of race kits will start on March 31
In-store Registration
R.O.X. – Level 2 R.O.X. Bldg. Bonifacio High Street, Taguig City (Mon- Sun, 12nn–8pm, Tel # 8564638)
Toby's SM Mall of Asia – G/F Entertainment Mall, Roxas Blvd., Manila ( Mon- Sun, 12nn–8pm, Tel # 556-0445)
Toby's SM North EDSA The Block (Mon-Sun, 12nn – 8pm)
ABS-CBN Tulong Center – Eugenio Lopez Drive, QC (Mon-Fri, 9am – 5pm)
DZMM Color Run Singlet and Race Bib: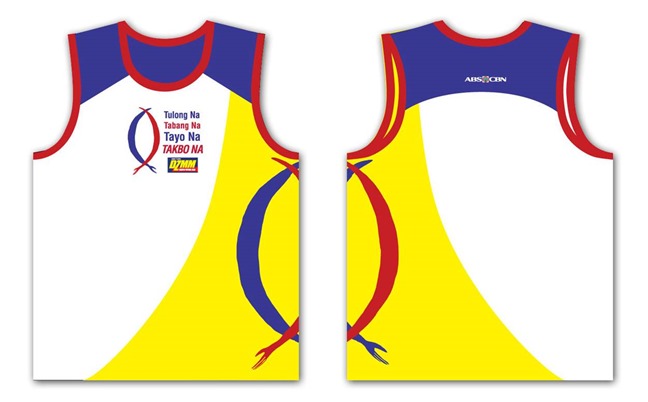 *Actual singlet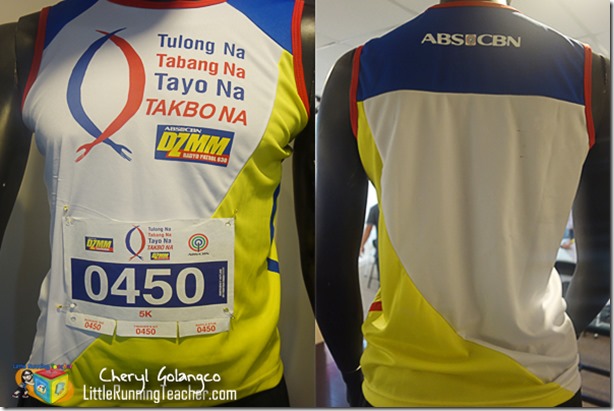 DZMM Run – Tulong Na, Tabang Na, Tayo na, Takbo Na Finisher's Towel and Cap:
DZMM Run – Tulong Na, Tabang Na, Tayo na, Takbo Na Color Powder: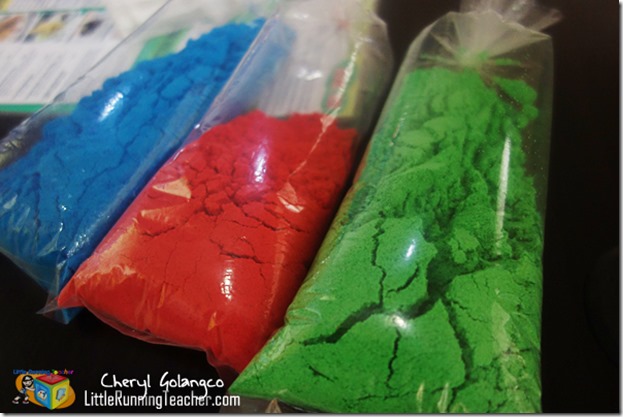 *Runners must prepare to get wet and be thrown with color powder
*COLOR POWDER is made of 100% food grade cornstarch + water + food color = all natural and safe
*Runners may bring shades/eyewear/goggles to protect their eyes.
DZMM Run – Tulong Na, Tabang Na, Tayo na, Takbo Na Race Route: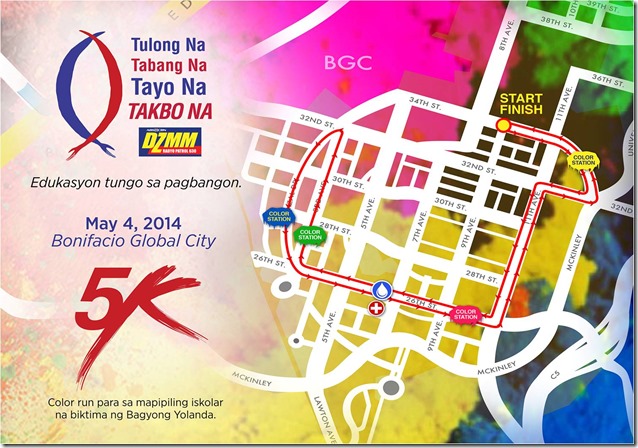 *There will be 4 color stations and several OTHER surprises!
Well if ALL that hasn't made you want to register yet, let me summarize it to 4 points!
WHY YOU SHOULD JOIN the DZMM Tulong Na, Tabang Na, Tayo Na, Takbo Na Color Run on May 4:
It's a color run! Throughout the race, color powder will be thrown at you in celebration! (It's super fun but remember to bring shades to protect your eyes)
It's a run for a cause! The more runners register, the more scholars from the victims of Yolanda can be helped and given a better chance at education
GIANT INFLATABLE SLIDE amongst many other surprises! Before crossing the finish line, there will be a giant inflatable slide which runners are encouraged to have fun with! (you can pass at the side if you choose not to). Besides this, Rio is cooking up EVEN MORE surprises
Coach Rio will DONATE 200,000 PESOS if the targeted number of runners is reached! Besides this already being an advocacy run and Coach Rio already waiving the charges to organize the run, he has also decided to DONATE 200,000 pesos if the targeted number of runners (10,000) is reached! So what do you say we all help out?
For more info,
visit http://dzmm.abs-cbnnews.com/takbo
or call DZMM, tel. nos. (02)4152272 local 5674/5621/5603
or Run Rio (02)8876194
For updates on other runs or to just keep in touch
visit http://www.facebook.com/littlerunningteacherpage
twitter.com/cherylgolangco