What's up Manila?! Running is little by little becoming one of the trending sports in the country, and there are more and more runs and organizers coming up with their own flair or gimmicks to make their runs unique. So what do you guys think of a COLOR RUN? Start black and white but finish in multicolor! Now that's the perfect run for me! I just love color!
I first heard about this idea early this year when it was done in the US. I enjoyed watching this video so much and was hoping someone would come up with the same concept here. I guess someone heard my thoughts. Thanks Pro-active! Before anything else, check out how the COLOR RUN did in the US.
Manila, it's our turn to make the world see our colors!! Color Manila Run 2013 is the first of its kind running event in the country where runners are showered with colored powder in different stations, eventually producing throngs of happy human canvas at the finish line. We start at white but we'll end up covered in all kinds of color! Be cheered by an army of cheerleaders in Magic Yellow station, enjoy the beats with the drum line at the Ocean Blue area, party like a rock star at the Funky Pink mosh pit, move and groove with fertility dancers at the Evo-Green spot, and get hot with poi dancers at the Fiery Purple stop over.


What: Color Manila Run 2013
When: January 6, 2013, Sunday
Where: Bonifacio Global City
Beneficiary: Republikha and Hop-E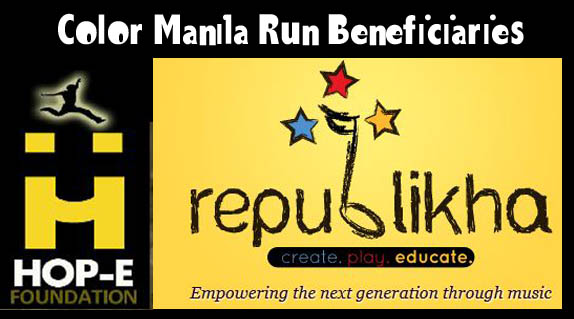 RepubLIKHA is a non-stock, non-profit organization that reaches out to children through music. Sharing messages that teach them to build and not destroy. It is their goal to shape the nation using the power of music.
Hop-E on the other hand is a foundation moving towards helping eradicate poverty through the four elements, Education, Empowerment, Employment, and Events. They are now giving free education to the children and parents mountains of Rizal amongst other things.
Race Categories
Registration Fees:
P750 for all categories
*Inclusive of Color Manila Run Sunglass, Finisher's Shirt , Finisher's Medal, Race Bib and Color Packet
Registration Sites:
(Registration from October 24 to December 24, 1pm to 8pm daily)
Runnr – Bonifacio Global City, Rockwell, Trinoma

Toby's – SM Mall of Asia, Megamall, Greenbelt 3
Is the Color Powder safe?
Absolutely! The powder that will be use for Color Manila Run 2013 is household flour!
This run is made possible by Proactive. The same people who brought you KOTR.
So what do you say Manila? Are you ready to bring out your true colors?  Let's get ready for KangaROOS' Color Manila Run 2013
For more info, visit the Proactive Facebook page HERE
Color Manila Run 2013: Time to Fill Manila with Color