Back in 2013, Color Manila hosted the first and biggest color fun run in the country. The run was like no other as it literally filled the streets of BGC with color. Thousands, including both running enthusiasts and non-runners participated in this one-of-a-kind fun run for all ages. The goal, more than just running for fitness, was to just let everyone have fun.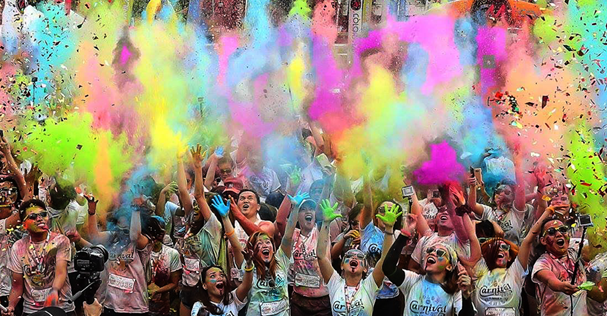 The Color Manila Run Franchise:
The first Color Manila run turned out to be such a huge success that they continued to organized more color runs eventually coming up with three concepts of the event: The Color Manila Run (morning run with colored powder), the Color Manila challenge (with obstacle course) and the Color Manila Blacklight Run (a night run with glow in the dark powder). This year, they will also be launching the Color Manila Costume Run, so make sure you stay tuned for more details on that.
A color powder race with several color stations along the race route. Unlimited fun and happiness await the participants as an after party always follows the Color Manila festival where everyone throws powder into the air while dancing it out to our DJ's beats.
This is a race route like no other. Participants have to go through obstacles, color stations, and mazes before they can cross the finish line. This route will make the participants crawl, run, skip, and roll – the fun way of course.
A one-of-a-kind night run, Color Manila Blacklight Run is filled with neon colors that illuminate in blacklight. A race and a party rolled into one, this is definitely one run you don't want to miss.

Color Manila Blacklight Run
When: May 28, 2016 (Saturday)
Where: Filinvest, Alabang
Race Organizer: Color Manila
Race Categories: 10k, 5k, 3k
Gun Start Times: 9:30pm, 9:40pm, 9:45pm respectively
Race Beneficiary: Color Manila Foundation Inc.
Purpose: To be regarded as the rainbow bridge of hope for people and our planet, creating life-changing relationships in our local and international community, by brining color to people's lives.
"At the Color Manila Foundation, inspired by the colors of the rainbow, we have embodied a culture that embraces causes, each represented by one of the rainbow's seven hues:"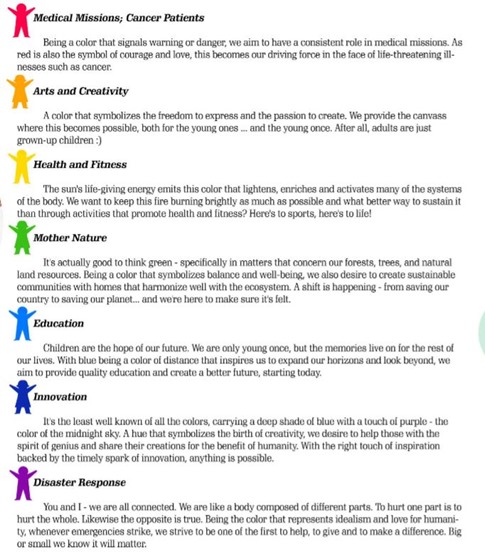 Color Manila Blacklight Run Registration Details:
Deluxe pack
P950 for all categories
inclusive of CM Blacklight Drifit Shirt, LED Headlamp, Drawstring Bag, Finisher's Medal, Race bib, Color Packet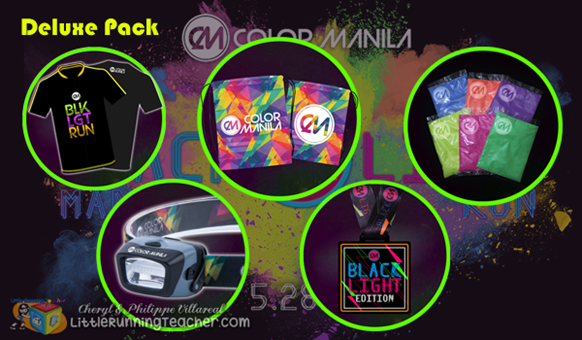 Rockstar pack
P1500 for all categories
inclusive of CM Singlet & CM Blacklight Drifit Shirt, LED Headlamp, Drawstring Bag, CM Towel, Finisher's Medal, Race bib, Color Packet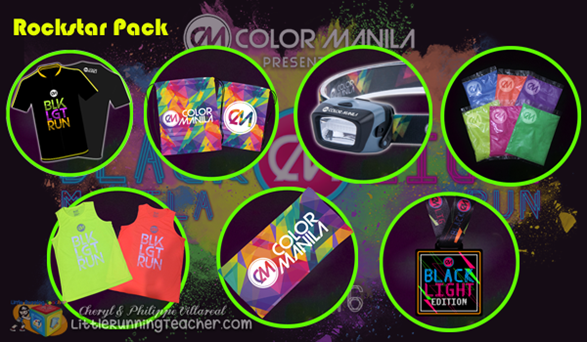 Superstar pack
P6000 for all categories
Inclusive of 2Days Crimson Hotel Accomodation, CM Singlet & CM Blacklight Drifit Shirt, LED Headlamp, Drawstring Bag, CM Towel, Finisher's Medal, Race bib, Color Packet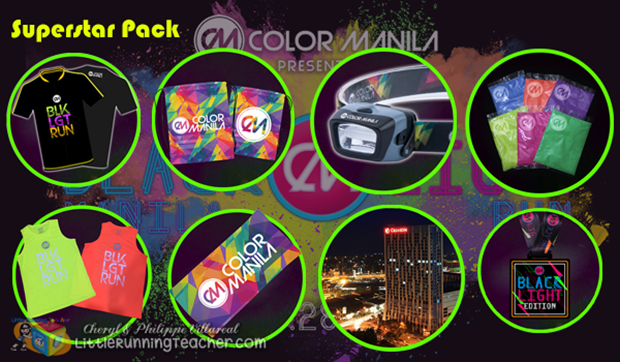 –
How to Register:
1. Paypal
Visit the Official Color Manila Website: www.colormanilarun.com
Click on REGISTER NOW!
Fill up the online registration form
Fill up your PayPal details
Wait for your confirmation email
Claim your kit
2. Prepaid Card
Head over to one of the prepaid card selling venues and purchase a prepaid card
-Runnr ATC
-Runnr Trinoma
-Runnr BHS
-Tobys Glorietta
-Tobys MOA
-Tobys Aura
-Tobys Megamall
Visit the Official Color Manila Website: www.colormanilarun.com
Click on REGISTER NOW!
Choose Prepaid cards as payment options and enter the code found on your prepaid card.
Fill up the online registration form
Wait for your confirmation email
Claim your kit
3. SM Tickets
Purchase SM TIckets at any SM Cinema Ticketing Center
Visit the Official Color Manila Website: www.colormanilarun.com
Click on REGISTER NOW!
Fill up the online registration form
Enter your SM Ticket Number
Wait for your confirmation email
Claim your kit
Color Manila Blacklight Run Race Kit Claiming:
Dates:  May 20, 21, 22
Where: Crimson Hotel Alabang
Schedule: Mall Hours
*******************************************************************************
For more information visit
https://www.facebook.com/ColorManilaRun
–
For updates on other runs or to just keep in touch
visit http://www.facebook.com/littlerunningteacherpage
Twitter/ Instagram: @cherylgolangco