It was a night of glamour and fashion matched with not only beautiful and elegant dresses, but radiant and young-looking skin! As a way of celebrating their 30 years in the industry, FCC or Facial Care Centre started October with a night to remember. Held at The Conservatory of Manila Peninsula, FCC marked their 30 years of beauty!
I walked up the stairs to The Conservatory and already I felt star struck. Though a lot of celebrities were present, the non-celebrity guests also looked amazingly beautiful and I couldn't help but stare. Most of the people present were clients of Facial Care Centre, and if they can look that good, then I'm definitely saving up for a session with FCC soon!
The event  was hosted by the ever handsome Marc Nelson and graced by the likes of Tim Yap, Jenni Epperson, Carmi Martin, Bernadette Allyson and more. Throughout the night, 3 raffle draws were also given for each letter from FCC. F for fifteen thousand worth of facial care, C for 10 Charriol braclets and C for one Classic Chanel bag! Whew! Talk about glamour! Congratulations by the way to all the winners. One special giveaway they had was 100k worth of services from FCC for the beauty of the night. After announcing the winner, I was pleased how the woman chosen, Pauline Juan won because of her simplicity that night. She barely wore make-up and wore a very simple red dress, yet she still looked stunning. Simplicity really is beauty.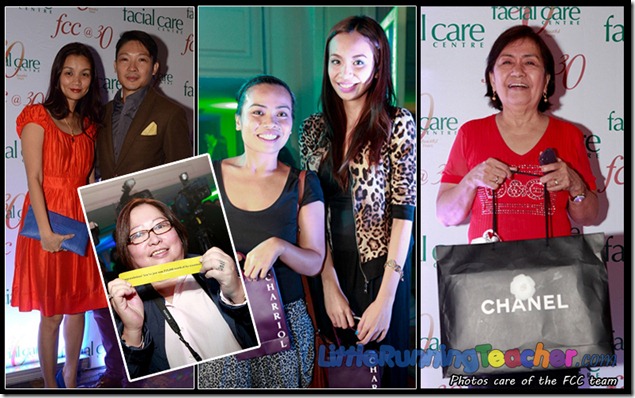 To commemorate this momentous event, Facial Care has come up with a BEAUTY calendar that will depict various interpretations of beauty, because nowadays, it comes in various forms. FCC's 2013 calendar shows off the true grace and elegance of Filipinas by featuring several of the most stunning beauties there are. Included here are the beautiful and sexy Agot Isidro, Dawn Zulueta-Lagdameo, Patty Betita, Bianca Araneta-Elizalde, Amanda Griffin-Jacob and more.
It all started with the question, "what makes a woman beautiful?" We all have different interpretations of beauty but some of the basics still apply such as having radiant, luscious and younger-looking skin. To me, I think besides those, beauty is also about confidence. The way a woman carries herself and the way she feels about herself. Facial Care understands what women want and need, they understand that women don't want surgery just to feel beautiful because we would rather choose an uncomplicated skin care regimen that's precise and delivers quick results, making it easy for us to look and feel  most beautiful, every day.
I've seen women tonight who were nearing their 50's but looked 30! That's the power of Facial Care!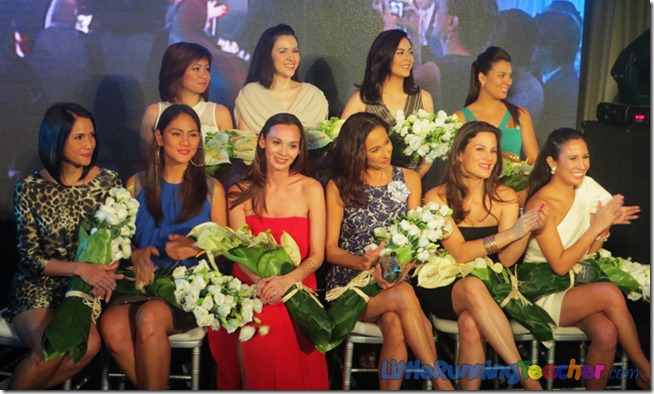 The FCC beauties
"Once a Facial Care beauty, always a Facial Care beauty." Most of the endorsers have been with Facial Care for many years. Patty Betita has been with Facial Care for more than 15 years, RX 93.1 disc jockey Delamar for 9 years, Dawn Zulueta-Lagdameo for 7 years, and the others are following suit as well. The concept assigned to each endorser was based according to her personality, so the shoot was a lot of fun for them. Despite their different backgrounds, personalities, and varying ages, there are attributes that bind them all and make them the perfect FCC beauties – they are confident, empowered and discerning. These women know their worth and they never compromise their standards. They never settle for less. They epitomize the essence of being a Facial Care Woman.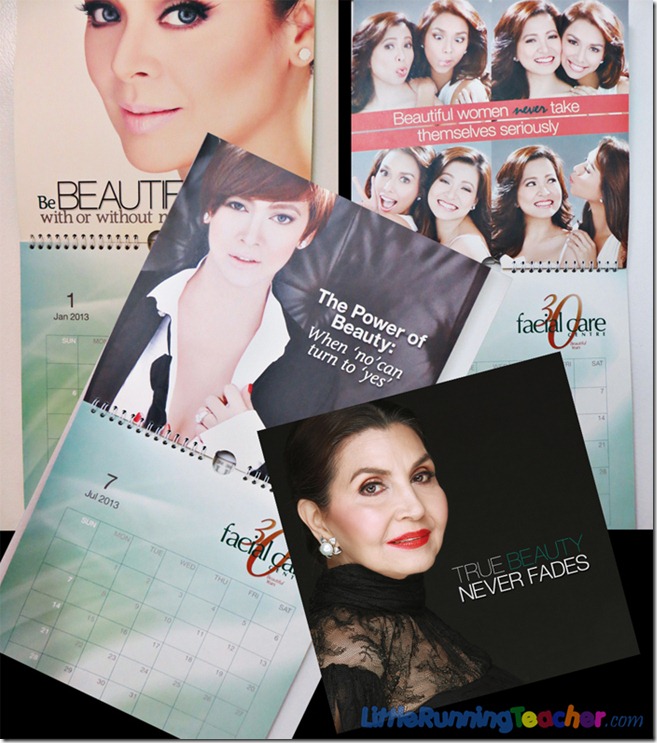 Photos from the calendar were taken by the very talented Raymund Isaac
Facial Care Centre knows the wants and whims of the discerning woman. And after 30 years, Facial Care continues to provide high-quality skincare solutions that use only the latest non-surgical and non-invasive technologies.
For instance, why get a facelift when you can experience an instant lift from Skin Tone Re-energizer or ReFirme? Skin Tone Re-energizer is a painless treatment that uses microcurrent technology to tone and re-energize facial and neck muscles, while ReFirme uses radio frequency and infrared light to tighten and lift sagging areas and diminish more pronounced wrinkles and creases. For stubborn blemishes, get gentle exfoliation from the Diamond Peel, and a no-pain blemish eraser treatment with OptiLight. Facial Care Centre also has a variety of facial treatments, from the Basic Facial to the more advanced and intensive Repechage 4-Layer Facial or the ultra-moisturizing Collagen Facial. They also offer LaserLight Hair Removal, whitening treatments, and other procedures for virtually every skin need. Over the years, women like Cherie Gil, Dawn Zulueta–Lagdameo, Amina Aranaz-Alunan, Agot Isidro, Patty Betita, Bianca Araneta-Elizalde, Amanda Griffin-Jacob and Delamar Arias have trusted Facial Care. Recently, Shalani Soledad-Romulo and Giselle Tongi-Walters have also joined Facial Care's roster of beauties.
 ************************************************************
For more information:
FCC Website: http://facialcarecentre.com.ph/
FCC Facebook: https://www.facebook.com/facialcarecentre
Call Facial Care Centre at 892-SKIN (7546) and reward your skin today.