Don't you just hate it when you drop your brand new phone and it gets this huge ugly dent? Worse when you drop it and completely destroy it! If you're as clumsy as I am, then you better make sure you get some protection for your phone and tablets. You spent thousands on your gadget, might as well spend a little more to make sure it stays protected. But if you want to find cases at affordable prices, then why don't you check out Case Mate's grand opening sale this weekend!
Smart Phone Cases: Case-Mate Philippines
Case-Mate is coming to the Philippines and they are having a grand opening sale this weekend at SM North! The Case-mate brand is synonymous with high quality, durable and fashionable cases. Top quality materials, detailed finishing and durable construction goes into the making of every case. Case-mate has various partnerships with leading global device brands and manufacturers, ensuring that its cases are tested and verified as fit for their devices.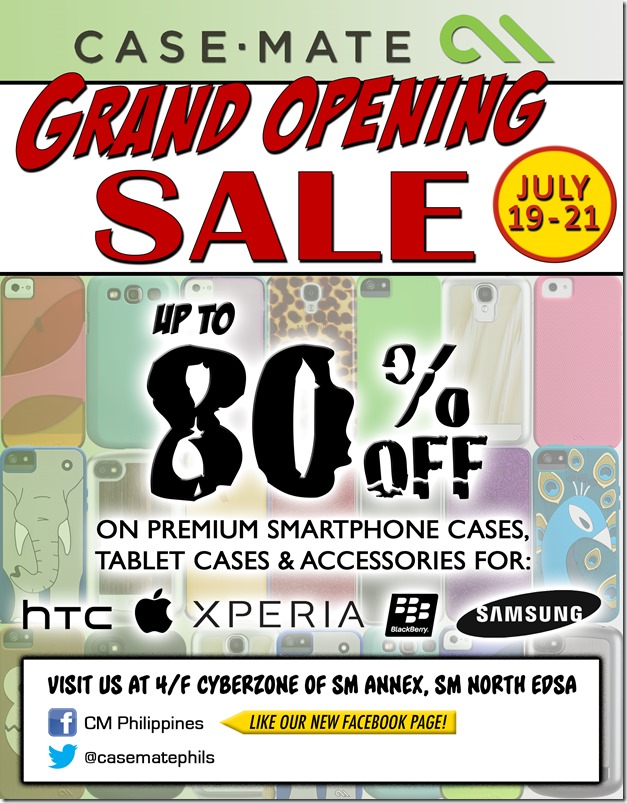 With lifestyle and protection in mind, Case-mate has created different lines of cases and covers suiting the various lifestyles. They've got the Case-mate Glam series for the female fashionistas, the Case-mate Creature collection for the kids-at-heart,  the sophisticated Case-mate Men's collection, the sporty metallic look with Case-mate brushed aluminum and the exotic and nature-like Case-mate Woods series. Whatever your style, you'll surely find one that'll match.
Some of the cool Iphone cases I spotted at Case-Mate
So what're you waiting for? Save the dates, July 19-21 and visit the Case-mate kiosk at SM North Edsa, Annex. Find a whole range of cases for devices such as the iPhone, iPad, iPad mini; Samsung Galaxy, HTC, Sony Xperia and Blackberry.
"We are excited to be opening the very first Case-Mate concept kiosk in the Philippines. With the rapidly growing smartphone and tablet industry, we would like to offer the Filipino consumer a wide array of top quality and fashionable cases from a distinguished global brand to complement and protect their devices." said Bong Poblete of Advance Retail and Services Concepts.
Case-Mate Philippines
Case-Mate, where cases are crafted, not made.
Visit http://www.case-mate.com/ to check out the different designs
Facebook page: https://www.facebook.com/cmcasesphilippines
Twitter @casematephils